University and Samuel Gompers School Partnership Grant Creates New Basketball Court and Programming at the K-8 School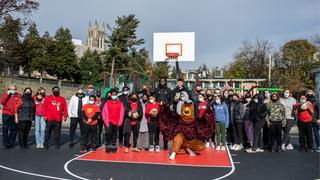 Saint Joseph's University and Samuel Gompers School hosted a ribbon-cutting ceremony on Dec. 2 to unveil a new outdoor basketball court at the nearby K-8 school. The court was funded through a recent $100,000 partnership grant from Saint Joseph's aimed at enhancing the school's sports and well-being programs. The new court will be used for recess, competitive outdoor basketball and after-school programs with organizations like the Philadelphia Youth Basketball Network and Wynnefield Rebels. 
"This grant means a lot to our students and the future of Gompers," says Rennie Parker, community school coordinator at Gompers. "We're able to offer our students and the community a safe place to play basketball, network and just have fun, and a lot of that is because of Saint Joseph's and the relationship we have."
Gompers and Saint Joseph's have a deep-seated relationship that dates back decades. Parker, a former Gompers student himself, says that the schools' commitment to one another is stronger than ever. He credits the University's faculty and staff.
"It's because of people like Dr. Terosky, Don DiJulia, Jill Bodensteiner, Dr. Reed, and really just the whole staff," he says. "They listen. This is what we needed, this is what our students wanted."
In addition to the basketball court and related programming, the grant has also paved the way for a recess lunch program at Gompers, led by Saint Joseph's graduate assistant, grant coordinator and organization development and leadership student Laura Kelly. The program launched this school year and helps provide additional structure during non-academic hours twice a week to all grades through activities such as organized sports, games and arts and crafts. 
"I'm immensely impressed by our students who volunteer their time and offer emotional support to the Gompers students on a weekly basis," says Kelly. "They are willingly giving of their time and are dedicated to providing programming and support to the students." 
The student volunteers represent a number of different centers and organizations on campus, including the Student-Athlete Advisory Council, the School of Health Studies and Education, the Faith-Justice Institute and Campus Ministry.
"The grant supports the reciprocal relationship between St. Joe's and Gompers. It allows University volunteers to provide consistent well-being programming for Gompers students, while at the same time offering opportunities for our students' learning," says Aimee LaPointe Terosky, Ed.D., professor of educational leadership. "The new court is a sign of our ongoing, strong partnership with Gompers."