University Researchers Strive to Improve Early Childhood Special Education Services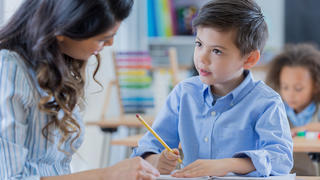 Mollie Sheppard, Ed.D., assistant professor of special education, and Kaitlin Moran, Ph.D., assistant professor of teacher education, teamed up nearly three years ago to focus on improving services for young children with disabilities and their families in Philadelphia. 
Sheppard has a background working with health care intervention for preschool-aged children for when a child has a  delay or disability, and Moran has a background in urban early childhood education. Their community-based research project, referred to as the EARLY Project Needs Assessment, stemmed from recognizing that early care providers' (ECPs) roles were not well defined in a child's special education plan. 
ECPs are adults who provide care to children outside of the home, often holding titles such as home care provider, lead teacher, floating teacher or assistant teacher. A unique part of special education is that the government requires that states and school districts provide services for children under the age of five who qualifyand services are frequently delivered in early care settings while children are in the care of ECPs.  
The Saint Joseph's team recognized that children under five with disabilities and their families are often supported by a broad coalition of special education and general education teachers. The integration of these services has been a challenge for families and providers for children with disabilities at this age, especially in large cities. 
Sheppard and Moran's research shows that ECPS are often overlooked as contributing members of the child's care team and are frequently excluded from Individual Family Service Program (ISFP) and Individual Education Program (IEP) meetings and development plans. While this presents a challenge, their research shows that ECPs act as important advocates for the children and are essential resources for their families. They interviewed a wide array of ECPs across the city, and findings show that ECPs are critical to effective teaming and inclusive practices, and essential to the implementation of IFSPs/IEPs.
Based on their findings, Sheppard and Moran are advocating for the system to move toward a more collaborative teaming model that recognizes the effectiveness and important contributions of ECPs. In addition, ECPs are critical advocates for inclusion and insist that therapists are embedded into the children's therapy routines. 
"While special education environments are complex, there's a lot that can be done to maximize the collaboration and communication that these children and families need," says Moran. "There's a lot more we can be doing, especially for this young age group." 
The team is expanding their research beyond Philadelphia during phase two of the project.  
"Now that we are aware of the challenges, we are shifting our research focus to how we can address those challenges in the community," explains Sheppard. 
Phase two involves working with education colleagues from California. Sheppard and Cindy Collado, Ph.D., associate professor and program and field placement coordinator of early childhood special education at Sacramento State University, met while working together on a national education committee in support of advancing inclusive education for children and youth with disabilities. Along with Collado, Andrea Golloher, Ph.D., associate professor of special education and associate director of the Early Childhood Institute at San Jose State University, is also assisting with the research. 
The goal of phase two is to develop interdisciplinary professional learning modules and implement coaching strategies to support the efforts of ECPs and build workforce capacity, particularly in underserved communities. These modules and strategies can then be rolled out to communities nationwide. 
"This is important to us as we truly want to affect change for our young ones with disabilities who have a right to play and grow alongside their peers without disabilities," says Collado. "It was incredible how we instantly clicked as researchers and colleagues, so it's been amazing to so naturally and easily collaborate on developing the survey and focus group protocols together as we easily build on one another's strengths and ideas to make this study incredibly strong." 
As the research team looks ahead, they hope to focus on medical care providers in phase three of the project.