What Can Safe Zone Training Teach You?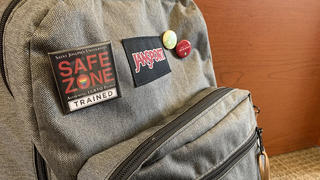 Since 2001, Saint Joseph's University has offered its students, faculty and staff an opportunity to learn what it means to be an ally to members of the LGBTQIA+ community. Held several times per year, these Safe Zone Trainings are composed of self-reflective activities, lessons on the history of inclusive social change, common misconceptions, and suggestions for applicable ways to make everyday interactions inclusive for all members of the SJU community.
The training itself — the next will be held on Tuesday, April 9 — is best experienced in person, but there are some important takeaways that all members of the SJU community can put into practice in their everyday lives.
1) It's not your box to check.
When someone comes to you looking for an ally, they deserve to be welcomed in without judgement or question. It is not your role to question the legitimacy of anyone else's identity.
2) Cura personalis is a good guide.
The Jesuit tenet of cura personalis — or care for the whole person — means that all people should be treated with dignity and respect in all aspects of their lives. Keeping this in mind will make you a stronger ally.
3) Report bias when you see it.
If you see or hear anything that does not align with Saint Joseph's mission to cultivate a culture of inclusion and respect in which each person feels a sense of belonging and care, there are channels to help, including the Bias Incident Reporting form, which alerts trained professionals across campus when an incident occurs.
4) It's important to continually strive to learn more.
It's ok not to know everything about the LGBTQIA+ community right away. What's not ok is to make assumptions or ignore the opportunity to learn more about the individuals around you. Ask questions in a non-judgmental manner and remember to listen carefully to the answers. A willingness to learn and change your viewpoint when new information is presented is an important skill.
For more information on Safe Zone Training or to sign up for an upcoming session, visit the SJU Inclusion and Diversity website.