Women's Tennis Player Shines on the Court and Through Her Artwork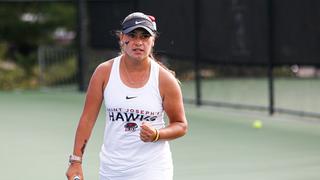 Amanda Nava '21 first became interested in tennis as a 4-year-old watching her mom play at a local club in Mexico where she grew up. At the time, Nava was much younger than the other kids, but her parents convinced the coach to let her play with the 6 and 7-year olds. 
In the summers, she would visit her grandparents and attend day camp at Episcopal Academy, which is now the James J. Maguire '58 campus at Saint Joseph's University. 
"I pretty much grew up there doing the camp," Nava says. "Every time we played tennis I was always on the court and I didn't want to leave. I just continued playing and I haven't dropped the racket since." 
For Nava, Saint Joseph's was a natural fit. She was familiar with the area and, when she stepped on campus, it felt welcoming with a diverse student body. The coaching staff on the tennis team also welcomed Nava to the school.
Women's tennis head coach Ian Crookenden remembers one of Nava's first tournaments as a freshman. During a changeover in her match, Crookenden noticed Nava sitting in her chair on the court looking agitated. He asked his graduate assistant to check on her, who returned a moment later to let him know, 'Amanda is upset because she wanted to beat her opponent 6-0 and lost a game.' From that moment, Crookenden says he never questioned Nava's competitiveness. 
On the tennis court, Nava has demonstrated she's a tenacious athlete — soaring to become the Hawks' #1 singles tennis player, representing Estado de Mexico in the Mexican National Olympics and competing in the Pan American Maccabi Games. Nava also unexpectedly flourished as an art student; before coming to Saint Joseph's, she had never taken any formal art class. 
Swapping the racquet for the paint brush, art became a way for her to unwind and de-stress. What started as a few classes turned into a minor and ultimately a double major in fine arts along with her major in criminal justice.
"I started using those classes as a way to relax, but at the same time I was learning so much and I was really enjoying it, so I just started taking more and more classes," Nava says. "It was a major I didn't expect to have, but I think that's what happens when you start exploring and figuring that out."
For Nava's capstone project she wanted to create pieces that encapsulated the different aspects of her life; in particular she wanted to highlight inclusion and diversity through her art work.
Her series of drawings and paintings, called Geometric Conversations, display a visual language of colorful geometric shapes that overlap and interweave. The vibrant bold colors are also a representation of her own Mexican heritage.
In creating these pieces, I want to bring about an awareness that although we are each different from one another, we can support, respect, value and empower each other.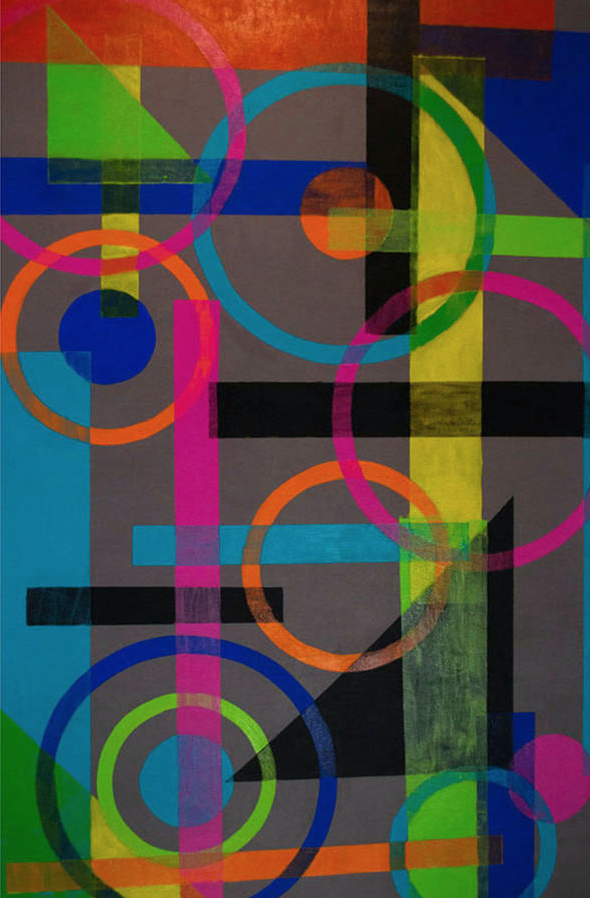 "In creating these pieces, I want to bring about an awareness that although we are each different from one another, we can support, respect, value and empower each other," Nava says in the artist statement from her exhibition.
Krista Svalbonas, MFA, assistant professor of art, taught Nava in her senior projects class. She says she often has students that are picking up a roll of film, a paint brush or a lump of clay for the first time. 
"For me it's very exciting to have a student discover something about themselves that they never knew existed before," Svalbonas says.
Nava's exhibit drew viewers in with their beautiful sense of composition, which allowed viewers to think about their own relationship and connection to community, Svalbonas says. 
As an athlete, Nava has blossomed into an initiator and captain who leads by example, remarks Coach Crookenden. He also highlights her contributions off the court, like volunteering for the Special Olympics and the Cynwyd Heritage Trail. 
"Her community activity is stimulating the squad to be constantly committed and consistent with off-court activities," Crookenden says.
As Nava gained a sense of kinship at Saint Joseph's, she has worked to help other students feel like they're a part of the University community.
Currently, Nava is pursuing a master's degree in criminal justice and her eyes are set on professional tennis with plans to travel to Israel this coming summer to compete in the Maccabi Games. 
Throughout her time at Saint Joseph's, from the tennis court, to her community activism, to her artwork, Nava is always trying to be better.
"I always strive to do more and do the best I can at everything I do," she says.