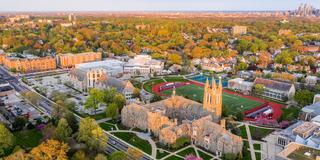 Environmental Health & Radiation Safety
As part of the Saint Joseph's University mission, the University is committed to providing a safe and healthful campus community. The Environmental Health & Radiation Safety Department (EHRS) at Saint Joseph's University provides assistance to all Departments, employees and students to insure that the University's commitment to health, safety and environmental protection is achieved.
The EHRS Department provides the expertise and guidance to University staff under the direction of the Director of Environmental Health & Radiation Safety and the Associate Vice President of Administrative Services. 
Important Information
EHRS has written policies, procedures, forms and guidelines that can be accessed in the Nest, in the Document Repository, with your SJU credentials. Additionally, to access the SJU Emergency & Crisis Management Plan/Pandemic Response Plan, emergency evacuation procedures, and other emergency resources from the Office of Public Safety and Security, please visit the Emergency website.
EHRS Training
To provide a safe working environment and comply with federal and state regulations, your job may require that you complete certain orientation or annual refresher training courses. Many training requirements are completed on-line through the MSDSonline Training System. Follow this link to the on-demand training site to complete your safety training assignments:
In an emergency? Call 911 and alert your campus' Public Safety office