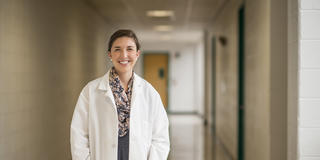 Preparing for a Health Career
Preparing for a career in the health professions requires careful consideration of your academic and personal strengths and interests. Most professional programs require specific prerequisite courses which can vary greatly based upon the specific health field and individual school preferences.
Overview
Although the vast majority of undergraduate students who apply to health professional schools have majored in a science field, particularly biology, it is possible for students to choose other non-science majors if they carefully use their electives to take all of the necessary prerequisite courses. Remember, there is no "perfect" major that will guarantee admission. Professional schools are interested in an applicant's overall academic preparation and ability to manage a rigorous course load. Your decision about your major should be based on an honest assessment of your interests and talents. Your undergraduate years are a time for intellectual growth and should not be seen as a period of narrowly focused training for a specific career.
This is a valuable resource where you can take an assessment, connect with alumni who share your interests and find out more about the careers you are considering. Visit the site and schedule an appointment or consult with the health professions advisor for more tailored suggestions.

Road Trip Nation has been traveling the country in a green RV to talk to people who love their jobs for the past 20 years. They share the career information of almost 4,000 people they have learned about their day-to-day lives, their educational paths and hurdles that they overcame along the way. Choose to watch over 1,000 videos and multiple documentaries to learn how people like YOU found work that they love.
Experiential Preparation
In addition to establishing a sound academic record, it is also important for students to develop their personal qualifications as they prepare for the next steps towards a career in the health professions. Engaging in leadership, community service, research and shadowing medical professionals are all essential to developing an understanding of your chosen field of graduate study as well as determining whether the path you have chosen is a good fit for you and your personality. Graduate programs will review the unique combination of experiences that you have chosen to determine your readiness to pursue your intended career.
Campus Ministry offers numerous weekly service programs that offer experience in health settings including: Lankenau Hospital, Inglis House (wheelchair community), Simpson House (nursing care facility for the elderly), as well as soup kitchens and Project HOME for the homeless. There are also service immersion trips during summer and break periods. For more information, check out the Campus Ministry Weekly Service website or contact Beth Ford McNamee.

There are several clubs and organizations for you to engage in to develop your interests in pursuing a career in the health professions. Please review the clubs and reach out to the contact listed for further information or to join.

There are many chances to assume leadership roles in clubs and organizations on campus, including the following:

Teaching Assistants – talk with biology, chemistry and physics chairs about becoming a TA for a basic science course that you have taken and in which you have excelled – this also allows you to reinforce your basic science skills that are tested on the MCAT, DAT, etc.
Resident Assistants – beginning in the sophomore year, you may apply to Residence Life to become an RA in one of the campus dormitories, houses or apartments.
Orientation Leader – "Red Shirts" are selected through a competitive process to lead the freshman orientation groups in the summer – apply through the Student Activities and Leadership office in Campion.

it is very important for you to test your interest in a health career by getting some clinical exposure to patients and health professionals who work in your intended career field. You are encouraged to shadow professionals in their practice. Ask your own health care providers or professionals in your hometown if you can spend time with them in their daily practice. Members of the SJU Medical Alumni are also often willing to mentor students, you will need to make some initial contacts through the SJU Connects platform or do some exploration and research on LinkedIn. We encourage you to schedule an appointment with the Career Center on Handshake for additional support.
Timeline for Preparation
Sign-up for the health professions email list. (click to submit)
Begin taking the appropriate prerequisite coursework in the sciences such as chemistry and biology. If unsure about your course selection, make an appointment with with your faculty adviser to discuss your academic progress, future plans, etc.
Attend programs and events sponsored by the Health Professions Advising Office and the Medical Alumni.
Get to know your professors.
Research your intended career and talk to people in the field.
Join at least one activity in which you are interested and that offers leadership opportunities.
Get involved in a community service project or volunteer in a health care setting to test your interest in the field.

Continue taking the appropriate prerequisite coursework.
Attend programs and events sponsored by the Health Professions Advising Office and the Medical Alumni.
Continue to build relationships with your professors as you will be asking them for letters of evaluation in junior year.
Read about current issues and topics in health care. Stay informed about your intended career field.
Get clinical experience in your area of interest through shadowing or volunteering in a health care facility.
Consider research opportunities including the SJU Summer Scholars Program.
Sophomores are eligible for induction into the pre-health honor society, Alpha Epsilon Delta (AED). If qualified, apply for membership.
Get involved in an activity that interests you and seek a leadership role.

Complete any missing prerequisite coursework.
Attend programs and events sponsored by the Health Professions Advising Office and the Medical Alumni.
Attend the HPAC information session and prepare your file for HPAC review.
Ask your professors for letters of evaluation.
Determine how you will prepare for the required admission tests (MCAT,DAT, GRE, etc.) and register for a course if desired. SJU offers an MCAT review course on campus.
Meet with the health professions advisor about your HPAC file and school choices.
Complete your HPAC interview and meet with your assigned committee member about your review.
Continue getting clinical experience in your area of interest.
Make plans for a summer internship or research experience if desired.
Register and take the appropriate admissions entrance exam and send scores to the health professions advisor.
Complete online applications for admission by mid-to-late summer
Request your letters of recommendation to be sent to the appropriate schools or application services.

Prepare for and schedule interviews. Attend mock interview sessions if possible.
Wait for decisions on your applications.
Fill out financial aid/scholarship forms.
Keep the health professions advisor informed about all decisions on your application.
If you need to improve your academic record prior to applying to a health professional school, consider a post-baccalaureate enhancement program and apply if needed.
Summer Internships
There are several good websites that list summer internships and research opportunities. Here are a few resources to consult for more information about these summer programs.
Course Prerequisites
Use the links below to see a list of typical prerequisite courses for various health professional fields. Please note that requirements vary between programs and you are urged to check into the specific requirements for the individual schools that you may be considering. You are also encouraged to meet with the health professions advisor to plan your curriculum.
Application Process
Most health professions schools use a common application service to process their applications and to make it convenient for students to apply to multiple schools at the same time. The key element in applying to any and all schools is to apply early - well in advance of any deadlines. The process can be time-consuming and expensive, so students should be sure that they are well qualified and prepared for admission before committing to the application process. Students are urged to meet with the health professions advisor before submitting their application to review their list of schools and to discuss the details of their application. Many application services offer a Fee Waiver Program for students who meet eligibility requirements. You may research this option on each application service website. 
Check out the links below to access the various application services:
Standardized Tests for Admission
All of the standardized tests required for admission are computerized and are offered at various times throughout the year. For information on the tests and registration procedures, consult the links below.