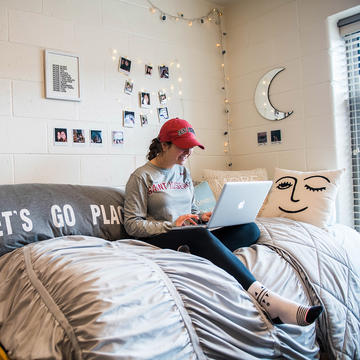 On-Campus/Off-Campus Living
At Saint Joseph's, you'll find a close-knit community that fosters your growth and sense of belonging, whether you live in a residence hall or off-campus housing. Our Office of Residence Life provides secure housing, services and programs that encourage a positive living-learning environment. If you plan to live off-campus, our Off Campus Student Life office can assist you as you navigate your housing search and get acclimated to your neighborhood. If you're a commuter student, you can stay connected with campus life and find community resources through our Office of Student Transitions.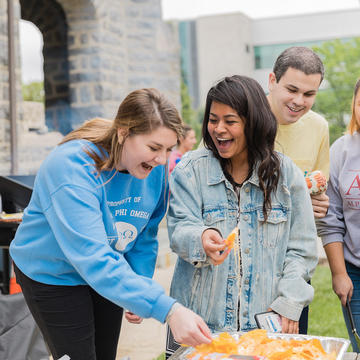 Student Engagement & Involvement
College life is more than just academics. It's also about meeting new people, exploring new interests and having fun along the way. Home to 90+ student organizations, our Student Leadership and Activities office provides opportunities for you to spread your wings, engage in new experiences and make an impact — from joining Greek life to participating in the University Student Senate. You can also jumpstart your college experience by participating in the Iñigo: First Year Experience, which includes early arrival programs and events for first-year students.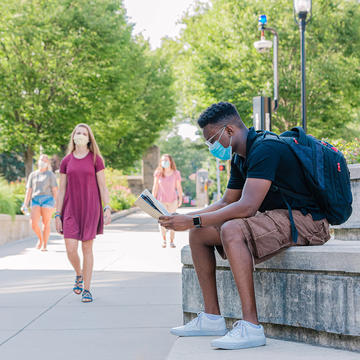 Health and Well-being
Guided by the Jesuit concept of cura personalis or caring for the whole person, Saint Joseph's is committed to providing a safe and comfortable environment where you can tend to your physical, mental and emotional needs. Take advantage of unlimited wellness and sick visits at our Student Health Center, which offers services ranging from allergy injections to infection care. You also have access to a variety of therapeutic interventions and outreach programs from our Counseling and Psychological Services office and Behavioral Intervention Team. And if you find yourself going through a difficult situation or critical incident, our Office of Student Outreach and Support is here to help.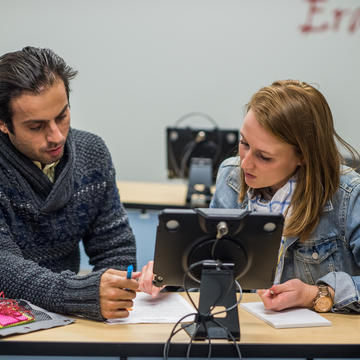 Student Success & Educational Support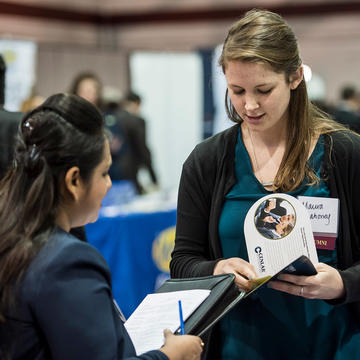 Career Exploration & Preparation
Our mission is your future. As a Hawk, you have access to various services and resources that'll help you explore your passions and interests, develop your skills and prepare for your chosen career path. Connect with our Career Center to take a career assessment, get graduate/professional school guidance, schedule a career counseling appointment, network with alumni and companies and more. You'll also have access to free career assistance even after you graduate.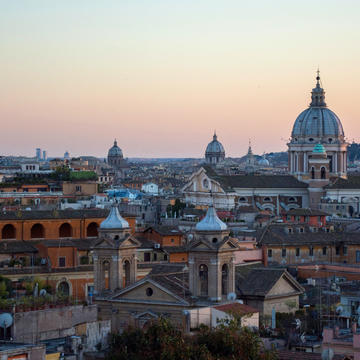 Study Abroad & International Programs
While at Saint Joseph's, you'll find numerous opportunities to gain a global perspective. Travel to a new destination and immerse yourself in a new culture through the Center for International Programs' study abroad experiences in countries such as Italy, South Africa, Japan, New Zealand and Cuba. We also have close academic relationships and exchanges with leading universities in China, stewarded by our Office of China Programs.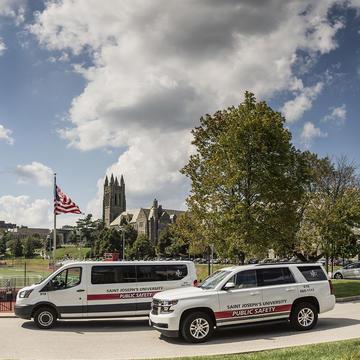 Community Standards & Student Safety
We strive to ensure that Saint Joseph's is a safe, secure, inclusive and welcoming place for all members of our community. Our Office of Community Standards designs and enforces policies to sustain this type of educational environment. Meanwhile, our Office of Public Safety and Security maintains the highest level of security possible on campus and offers important services such as walking and vehicle escorts, parking services and emergency preparedness training.