Student Resources
Overview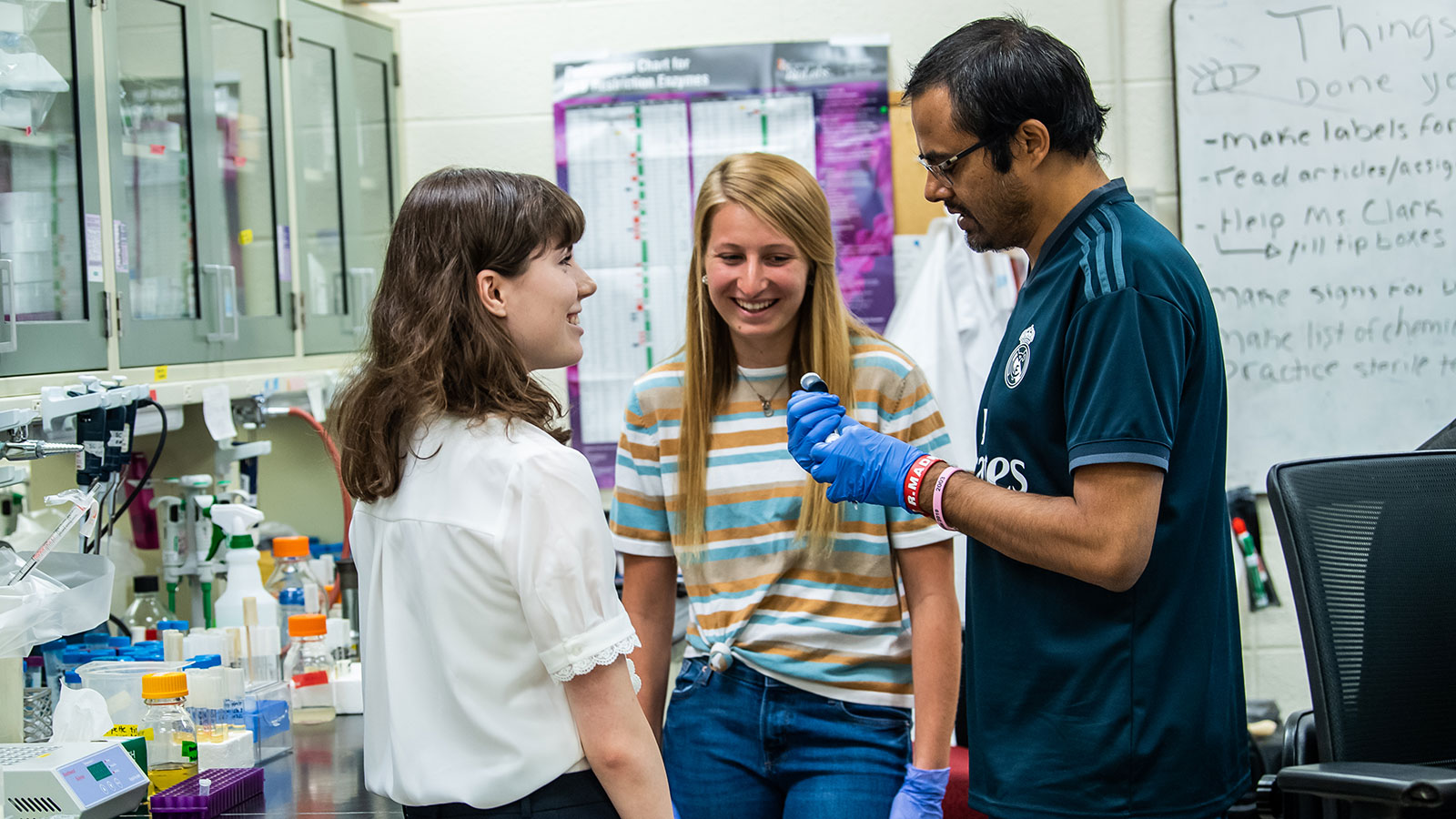 The resources listed below offer guidance and support during your time as a biology student here at Saint Joseph's University. If you don't find the information you are looking for, please contact your academic advisor. If you'd like to recommend a resource for this page, please contact us.
Incoming Students
B.E.A.G.L.E. Program
The Biology Experience Aimed at Growth, Learning and Excellence (B.E.A.G.L.E.) program is a four-day intensive for incoming freshman biology, chemical biology and environmental science majors at Saint Joseph's. The program is supported by the Office of Admissions, Learning Resource Center, Department of Biology and the Office of Residence Life.
Phage Safari 
Phage Safari at Saint Joseph's University is a two-semester phage genomics lab course for first-year biology, chemical biology and environmental science majors. This lab experience exposes students to cutting-edge skills in scientific research and gives them a taste of what it's like to conduct their own. It satisfies the lab components of BIO 101: Cells and BIO 102: Genetics, as well as the first-year seminar requirement.
Academic Advising and Registration Information
If you don't find the information you're looking for here, please ask your academic advisor. They will be happy to help you.
Student Opportunities
Health-Care Related Opportunities/Internships
Bartholomew Tortella, '75, MD, MTS, FACS, is the chief of Trauma Services at MCP-Hahnemann Hospital. He has invited interested SJU undergraduate and graduate students to come to the hospital and spend a day with him in the Trauma Center.

Arrangements are to be made directly between students and Dr. Tortella's assistant, Ms. Dolores Williams (215-762-5000). Given the nature of Dr. Tortella's schedule, it may be best to try and visit the Trauma Center during a break.

Cooper Health System's Emergency Department is offering an experiential opportunity for pre-med students, called the Academic Associates Program (AAP). This program is offered during the fall, spring and summer semesters. For more information, please contact Brigitte Baumann, MD, DTM&H, or visit the program website. Please note that transfer credit from this program will NOT be accepted by SJU as a biology course but that it may be counted as a free elective with the permission of your chair/program director and the associate dean.

Many SJU alumni are currently engaged in health care in various professional capacities. Below are just a few who have volunteered their time to help current SJU students interested in health-care careers. Interested students should contact the alumni and arrange meetings at the convenience of the alumni's schedule.

Ralph J. DiGiovanni, Jr., '95, MD
Medical and Surgical Ophthalmology
Bala Cynwyd, PA
Phone: 610-667-4066
Joseph A. Libby '87, MD
General Internal Medicine
Cooper Hospital System
Phone: 856-270-4080
Email: jlibby257113@comcast.net
Bartholomew Tortella, '75, MD, MTS, FACS
Chief of Trauma Services
Hahnemann Trauma Center
Phone: 215-762-5000
Industry Internships
Many biology majors and minors engage in internship experiences either for academic credit or simply to gain exposure to various life sciences careers before graduation. With prior approval of the department chair, they can receive credit for an internship as an upper-division biology elective. Some of the companies where students have engaged in internships include Covance Periapproval Services.
 
Education Internships
A variety of educational organizations routinely seek undergraduate students to work as science education interns. Some agencies currently looking for student interns include The Wagner Free Institute of Science and The Lower Merion Conservancy. 
Career Advising and Development
Many biology majors and minors plan to enter the workforce directly after graduation. The Philadelphia area has many job opportunities for people with BS degrees in science. Fields where SJU biology alumni have directly entered the workforce include:
Research technician/associate (industry or academic)
Clinical trials design and management
Pharmaceutical sales
Vaccine production
Scientific equipment sales and support
Environmental assessment/management
Agricultural jobs (crop pest assessment, extension work)
K–12 science education
Specialty science employment in zoos, aquaria, museums
Positions in science-related non-profits
There are several starting places for students seeking a job after graduation, including:
Your academic advisor
The Department of Biology faculty 
A research or internship placement 
Temporary science job placement services
Other Resources and Services