The Beauty of the Barnes
Originally published in Spring 2019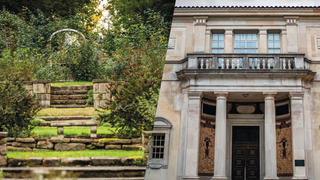 Her face lit up with genuine delight. Nearly everyone in attendance at the September 27 ceremony to name the Frances M. Maguire Gallery building at the Barnes Arboretum saw the endearing moment. Frannie Maguire, the wife of James J. Maguire '58, was overjoyed to be honored for her longtime philanthropy and support of Saint Joseph's University and the Barnes Foundation, as well as her legacy as an accomplished artist and arts advocate.
"She enjoys a range of creativity. She looks at every piece of art and every experience with fresh eyes, as if she is seeing it for the first time," says her daughter Megan Maguire, president and CEO of the Maguire Foundation, as she reflected on that September moment and her mom's personal outlook and approach. "It is a great reminder of how you should look at life."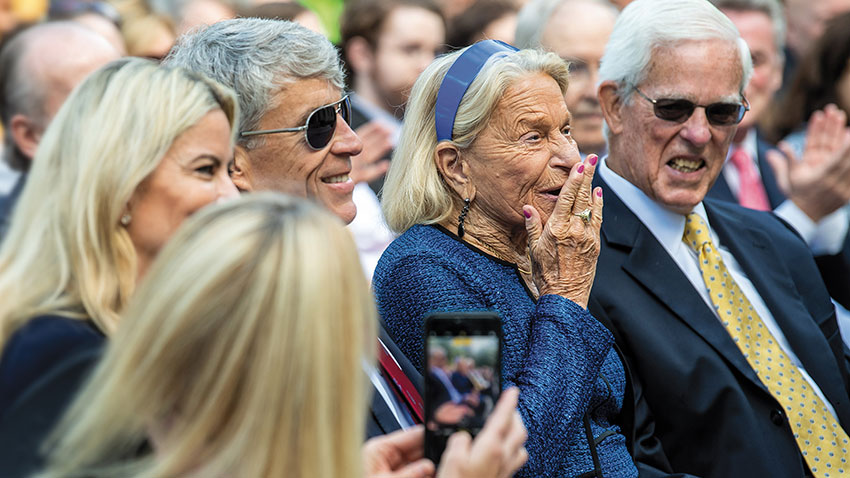 The Saint Joseph's-Barnes Foundation partnership is breathing new life into the Barnes' Merion property, commemorated by the naming ceremony that literally opened the gates of the Barnes grounds on a gorgeous fall morning. The gathering of faculty, staff, students, neighbors and other supporters celebrated the long-term educational affiliation between the University and the Barnes Foundation, which expands opportunities for both students and the surrounding community to engage in the existing horticulture education program and future life sciences and fine arts programming.
Barnes Foundation Partnership Bolsters Education, Arts and Culture at SJU
For the Maguires, who earmarked a portion of their historic $50 million gift for this endeavor, the partnership builds on the foundation's longstanding support of education, arts and culture in and around Philadelphia and was a logical and important way to link the Barnes' presence and programming in its primary Center City location and original Merion property. According to Thom Collins, executive director and president of the Barnes Foundation, the collaboration also fulfills an educational aspiration of Dr. Albert C. Barnes, founder of the internationally renowned arts institution, that was nearly 80 years in the making.
SJU President Mark C. Reed, Ed.D., who described the partnership as one of the most exciting endeavors he has been involved in at the University, acknowledged Frannie's "life-long love and cultivation of the arts" as a sweet affirmation for the gallery naming.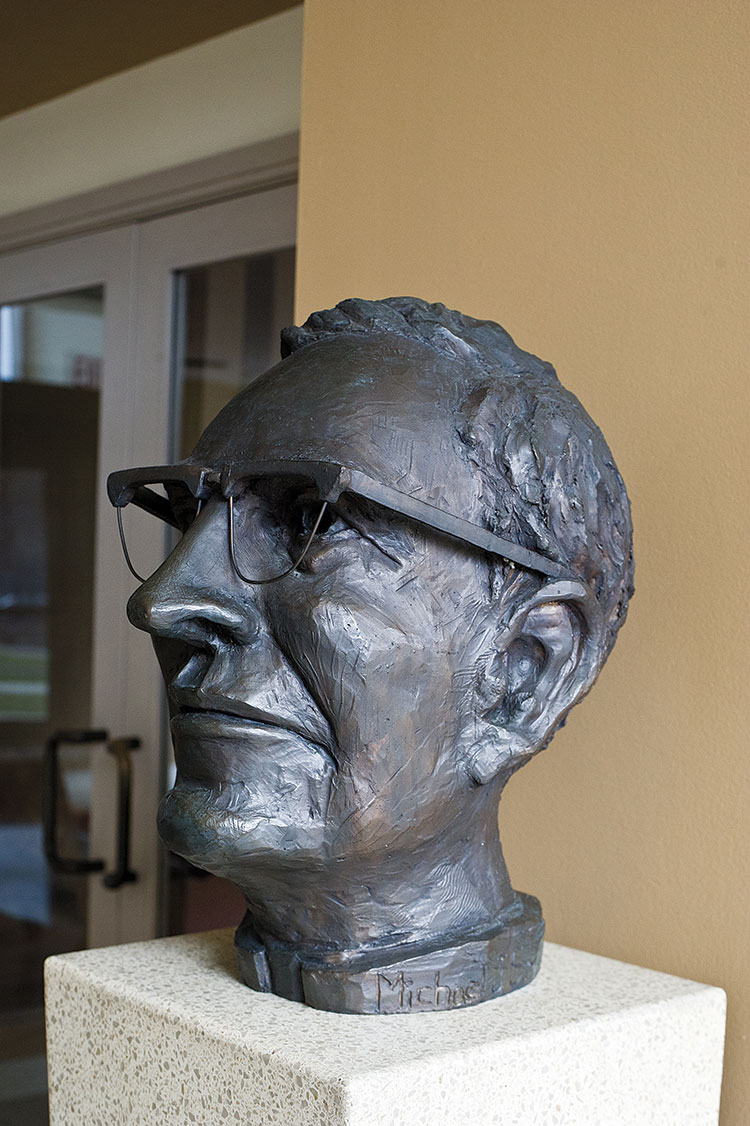 As a patron of the arts, Frannie has been instrumental in supporting programs that connect arts and scholarship at numerous organizations, including the Pennsylvania Academy of the Fine Arts, where she studied, and the Philadelphia Museum of Art, Merion Mercy Academy and Studio Incammanati, to name a few. Frannie is also a prolific artist in her own right having produced hundreds of paintings representing a number of styles and media — from realism to abstract — and sculptures and busts of everyday people, family members, SJU Jesuits including C. Kevin Gillespie, S.J. '72 (SJU's 27th president) and Michael J. Smith, S.J. (for whom the University's chapel is named), and luminaries such as former Philadelphia Mayor Michael Nutter and the late Cardinal Anthony Bevilacqua. Her work spans more than 30 years.
During an afternoon at the Maguire Foundation's headquarters in Conshohocken, Jim Maguire proudly recalled and showed off Frannie's portfolio — on his mobile phone and on the walls and shelves of the foundation's office space While Frannie had taken art classes as a child and was exposed to arts and culture growing up (her paternal grandmother was a painter), he pointed out that she became more immersed in the arts after injuring her spine in a bike accident and needing an outlet to channel her creativity.
In his 2010 book, "Just Show Up Every Day," Jim describes the accident as reawakening Frannie's talents and remembers their children bringing art supplies to their mother's bedside to help her pass the time. "Frannie's artistic talents began to flourish during her recuperation," he writes.
The Maguires' daughter, Franny, recollects in the book: "We had always known in an unconscious sort of way that our mother was a talented artist. But during this period, we saw her in a different way. We realized the extent of [her] talent, interest, experience and inspiration."
Although art is a personal passion for Frannie, it is one she eagerly shares with others. "Frannie always wanted art to be accessible to all," emphasizes Jim, who believes that the Saint Joseph's-Barnes partnership makes good on that promise for students, faculty and the public and strategically aligns the University with a world-class institution.
It also makes good on Frannie's desire to better connect the scholarship and initiatives of the Barnes' two campuses and to support student-artists. "She doesn't look at art through a discriminating lens," Megan adds. "She sees the beauty in all art and believes that every artist has the potential to be a great artist."
Recognizing and investing in human potential is the real beauty of the Maguires, most recently brought to life at the Barnes Arboretum at Saint Joseph's University. 
Art and Education as Experience
Albert Barnes was an avid reader of pragmatist philosophers — those who believed that philosophical thought was best tested by putting it to use in realistic human experiences rather than treating it as an unrealistic ideal. In 1917, Barnes reached out to John Dewey, one of the earliest proponents of the movement, who was at the time a professor at Columbia University and the recent author of "Democracy and Education." Barnes sat in on some of Dewey's courses and the two shortly began to bond over their interest in democracy, pragmatist values and the role of art in education.
The intellectual connection sparked in the seminar room would grow into a 30-year friendship and inspire volumes of books on education, art and philosophy.
"John Dewey is considered one of the most significant thin ers of the 20th century," says Jeanne Brady, Ph.D., University Provost Emerita and education scholar. "He believed, as we do at Saint Joseph's, in the value of learning through experience, and of finding meaning in experience."
The Barnes Foundation opened in 1922, and Dewey was hired shortly thereafter as its first president and education director.
The educational and artistic philosophy that Dewey and Barnes championed is closely related to the Ignatian pedagogy at the heart of Jesuit education, says Brady. "Experiential learning is a key element of pragmatic educational philosophy, and is also emphasized here at Saint Joseph's."
The three main elements of the Ignatian paradigm, a method of teaching and learning taken from the Spiritual Exercises of Saint Ignatius of Loyola, are experience, reflection and action — elevating active participation to the same importance as cognitive work as essential for meaningful learning.
Of the educational programs at the Barnes Foundation, the founder once said, "We teach them [our students] how to learn to see; that is, to perceive the meanings in the events of everyday life, as well as in paintings, sculpture, music, furniture, objects in wrought iron, trees and flowers …"
"The partnership with the Barnes Foundation allows for enhanced experiential learning opportunities in a number of areas," says Brady. "If we think about art, as Barnes and Dewey did, as a way of seeing, we understand the immense potential for growth in our students' capacities for creativity, compassion, problem-solving and leadership, for example, that art affords."
Marie Williams is SJU's chief marketing and communications office. Colleen Sabatino is the senior director of marketing.