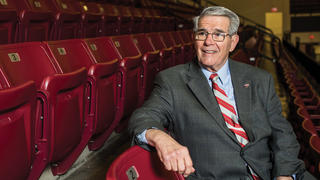 Don DiJulia arrived in September 1960 on the campus of Saint Joseph's College with its two tall buildings, perhaps 10 acres of land and its approximately 1,400 male undergraduate day students, mostly commuters. He departed from his post as vice president and director of athletics at Saint Joseph's University on May 31, 2018, buildings everywhere, the campus having expanded to 114 acres as well as nearly 5,000 female and male undergraduate day students and almost 3,000 graduate students.
He will not be leaving the University he first attended a few months before John F. Kennedy was elected. University President Mark C. Reed, Ed.D., has appointed DiJulia special assistant to the president.
"Don will serve the University as an ambassador," Reed says. "It's a job he's uniquely suited to fulfill."
On May 19, DiJulia received an honorary degree and gave the undergraduate commencement address. "We might be the only school in Division I where our commencement speaker can be our retiring athletics director,'' Reed says. "It's somewhat extraordinary. We just sort of take that as a given here. It's not — it's not a given.''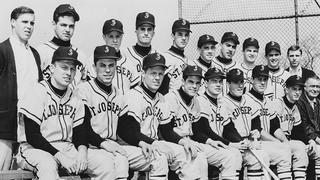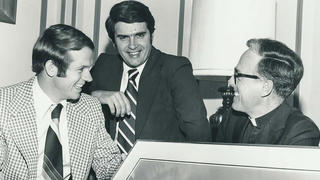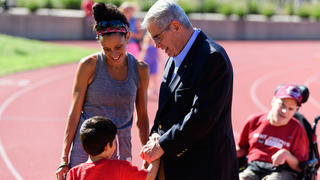 DiJulia (top row, second from right) was a member of the SJU baseball team as an undergraduate and served as an assistant coach of the team in 1968.
The 1964-65 men's basketball team, on which DiJuilia was a starter, received a top 10 national ranking.
DiJulia's career has seen two major renovations of SJU's basketball facilities, including the addition of the Recreation Center, seen here as a proposed rendering in 1979. DiJulia (center) reviewed the proposal with then-head basketball coach Jim Lynam '63 and Donald I. MacLean, S.J., the University's 24th president.
DiJulia meets with Hawks fans at the dedication of the Quinn Track.
DiJulia's Lasting Impact
Really, who could tell the 2018 graduates more about their University and what might be next?
DiJulia played on the Hawks freshman basketball team in 1960-61. He then spent three years in the seminary before returning to campus and earning his degree in 1967.
After he graduated, DiJulia left Hawk Hill a few times, but he was never really gone during his time as an assistant basketball coach at three other universities and as commissioner of the East Coast Conference and Metro Atlantic Athletic Conference. He served as Saint Joseph's AD from 1976 to 1981 and returned for good in 1988.
Jim Lynam '63 was a three-year starter for the Hawks' varsity basketball team from 1960 to 1963. A member of the SJU Athletics Hall of Fame, he coached at Saint Joseph's from 1978 to 1981 before moving to the NBA, where he spent nearly 30 years as a head or assistant coach. He also happens to be DiJulia's brother-in-law: Don is married to Jim's sister Pat.
"He's tough to describe because he's so unique," Lynam says. "They threw away the mold. Whatever your definition of a people person is, he's on your top line, if you know him. That's how good he is at what he does."
The day before his December 1977 interview for AD at La Salle University, Bill Bradshaw, now in his second stint in the position at his alma mater, met with DiJulia for advice. Several hours' worth of wisdom from DiJulia helped Bradshaw win the job.
"It was like having the answers to the test without going to the course the whole semester," Bradshaw remembers.
The pair have been friends ever since.
"He's meant much more than an athletics director would mean to any one university or any one city or any one conference," Bradshaw says. "Don has been the face of St. Joe's to so many people."
There was also what Bradshaw called DiJulia's "side job" — his impact on the Atlantic 10 and the NCAA for his entire second tenure as AD.
They threw away the mold. Whatever your definition of a people person is, he's on your top line, if you know him. That's how good he is at what he does."
"It was almost like Don had more hours in the day than the rest of us," Bradshaw says. "He had a 40-hour day and the rest of us had 24."
Atlantic 10 Commissioner Bernadette McGlade knows that whirlwind of a man well. She says DiJulia went out of his way to share knowledge with her when she became commissioner.
"He's probably one of the most genuinely professional administrators," she says. "Also, he has such a welcoming spirit to him … He imparted a sense of confidence to young administrators.''
When DiJulia announced on Oct. 5, 2017 that the 2017-18 academic year would be his last as athletics director, the dam broke on his already long list of honors and awards for his half-century in college athletics. In January, the Atlantic 10 created an internship in his name for aspiring athletics directors, a first of its kind for the conference. He was inducted into the Saint Joseph's Athletics Hall of Fame on March 3, the Big 5 Hall of Fame April 16 and the Eastern College Athletic Conference Hall of Fame on May 4. In November, he will receive the Shield of Loyola, the SJU Alumni Association's highest honor.
Marvin O'Connor '02, one of the great scorers in Hawks history (1999-2002), had a friendly relationship with DiJulia when he was a player that has grown exponentially in the years since.
"We got really close after I was gone," O'Connor says. "He really showed me who he was. He keeps his word. Just a class-act guy."
Basketball Hall of Famer Charles Barkley was a young player with the Philadelphia 76ers when DiJulia came home in 1988. The Sixers practiced at what was then Alumni Memorial Fieldhouse, now Michael J. Hagan '85 Arena.
"[DiJulia] was a great ambassador for St. Joe's and just great to the 76ers family," Barkley says. "At the time, I'm like a 21-year-old kid. He was like a father, grandfather figure."
Phil Martelli has been at Saint Joseph's since 1985, as the head men's basketball coach since 1995. He's worked with DiJulia for three decades.
"He's not only the athletics director, but he's the historian of the program," Martelli says. "Think about how far his touch goes."
Just about forever.
"If everybody here would love Saint Joseph's for one day the way he has for his whole life, that would take this school through any glass ceiling," says Martelli of the man whose foremost priority was the student-athlete experience. "He could have done his job without an office. He was always out there interacting with the students."
That was true for all the years DiJulia was on campus. It remains true today.
Dick Jerardi wrote more than 7,000 stories, mainly on college basketball and horse racing, from 1985 to 2017 for the Philadelphia Daily News. During that time, he chronicled the college career of SJU's 2004 National Player of the Year Jameer Nelson.