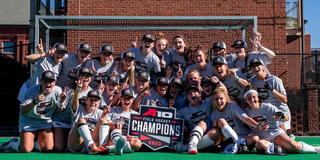 Champions Again! No. 15 Field Hockey Tops UMass, 2-1, for Third Consecutive Atlantic 10 Title
THE HAWK WILL NEVER DIE
At Saint Joseph's, athletics are about more than winning or losing. For our student-athletes, it's about maximizing their potential on and off the field and becoming effective leaders. For the campus community, it's a sense of spirit, unity and pride that sets our campus apart. We chant it at every game: The Hawk Will Never Die.
Athletic Facilities
From installing state-of-the-art synthetic baseball surfaces to building the newest boathouse in Philadelphia, we're constantly renewing and upgrading our facilities. The goal: give our Hawks the biggest possible home-court advantage.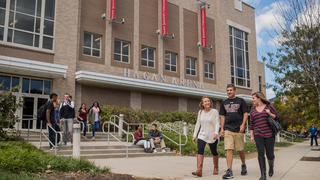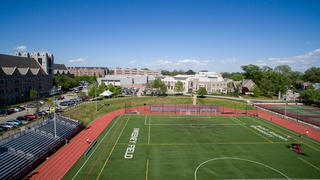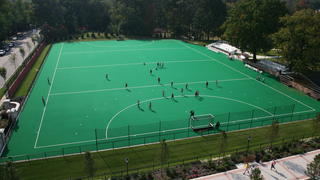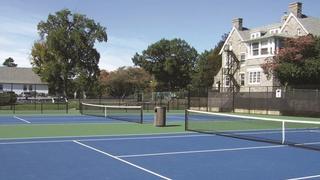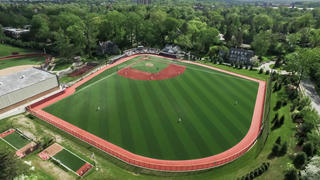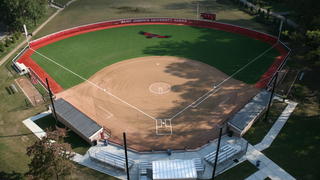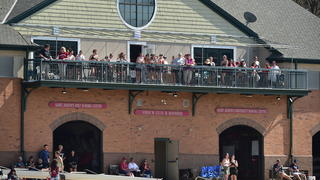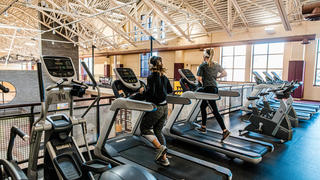 Michael J. Hagan '85 Arena
The 4,200-seat home of Hawk basketball opened in 2009 following an extensive renovation. The arena features in-demand amenities for fans and student-athletes alike. For several games each season, Hagan is home to one of the first autism break rooms in the NCAA.
Sean Sweeney '94 Field
Created in 1929 as the home of Hawk football and named for Sean S. Sweeney '94 (MBA) in 2014, the field has since hosted more than 1,200 varsity games, matches and track meets. It's the current home of the varsity men's and women's soccer and lacrosse programs.
Ellen Ryan Field
Named for longtime assistant athletics director and Hawks sports pioneer Ellen Ryan, the home of field hockey features a top-of-the-line AstroTurf12 surface, a state-of-the-art irrigation and drainage system, a mobile press box and bleacher seating for 200 fans.
Tennis Complex at the Maguire Campus
With maximum court spacing, individual corner fencing and great sight lines for fans, the tennis complex provides student-athletes with the ability to train and play every day on a top-class surface.
John W. Smithson '68 Field
One of the Northeast's premier collegiate baseball facilities, Smithson Field features an Astro Turf 3D GameDay Grass surface with a dirt pitching mound.
Softball Field
The Hawks christened the softball field in 2012, becoming the third facility in the Atlantic 10 to boast a turf outfield at the time of construction.
Robert Gillin '49 Boathouse
Set in the center of North America's largest active rowing community, this is Philadelphia's newest and largest boathouse. An iconic landmark on and off the water, the Gillin Boathouse is a first-class facility that provides rowers a unique competitive advantage.
Fairmount Park
Just minutes from Hawk Hill, this municipal park — one of the country's largest — offers top-notch training venues for Saint Joseph's runners. From the Wissahickon Trail to the Belmont Plateau, these spots are among the most favored in Philadelphia's running community.
University City Athletic & Recreation Center
The Athletic & Recreation Center (ARC) located on our University City Campus is a 78,000-square-foot facility that provides exercise and practice space for varsity and intramural sports as well as general recreational activities.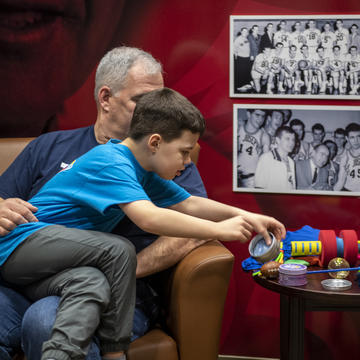 We're Ahead of the Game
Autism Break Room at Hagan Arena
We're always looking for ways to create a fun, inclusive environment at our games. In Hagan Arena, we have a one-of-a-kind break room equipped with sensory-friendly items such as stress balls, bean bag chairs, bounce boards, weighted blankets and noise-canceling headphones. This room offers a safe space for people with autism spectrum disorders to enjoy a calm moment in the midst of the game day excitement.