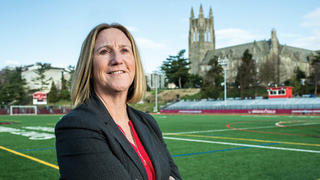 When most people plan vacations, they look for accommodations that take care of them: a hotel that's near popular attractions, or maybe one where all of their meals are included in the booking price.
Jill Bodensteiner isn't most people.
"I like adventure," she says. "When I travel, I don't want to be in a hotel. I want to get involved, to explore. It's easier to find great music or food when you're off the beaten path."
For Bodensteiner, being engaged is one of the most important things she brings to every aspect of life. The approach has served her well on her travels — she's been to all 50 states and 27 foreign countries. And she hopes to bring it to her new job as SJU's athletics director.
"There's a difference between getting by and getting engaged," she says, "and student-athletes who really immerse themselves not only learn more, they become more connected to the institution. It stimulates a whole other level of growth."
From the General Counsel's Office to the Court
Though she graduated high school at age 16 and finished her bachelor's degree in psychology and sociology at the University of Notre Dame at 20, Bodensteiner didn't always follow her own advice.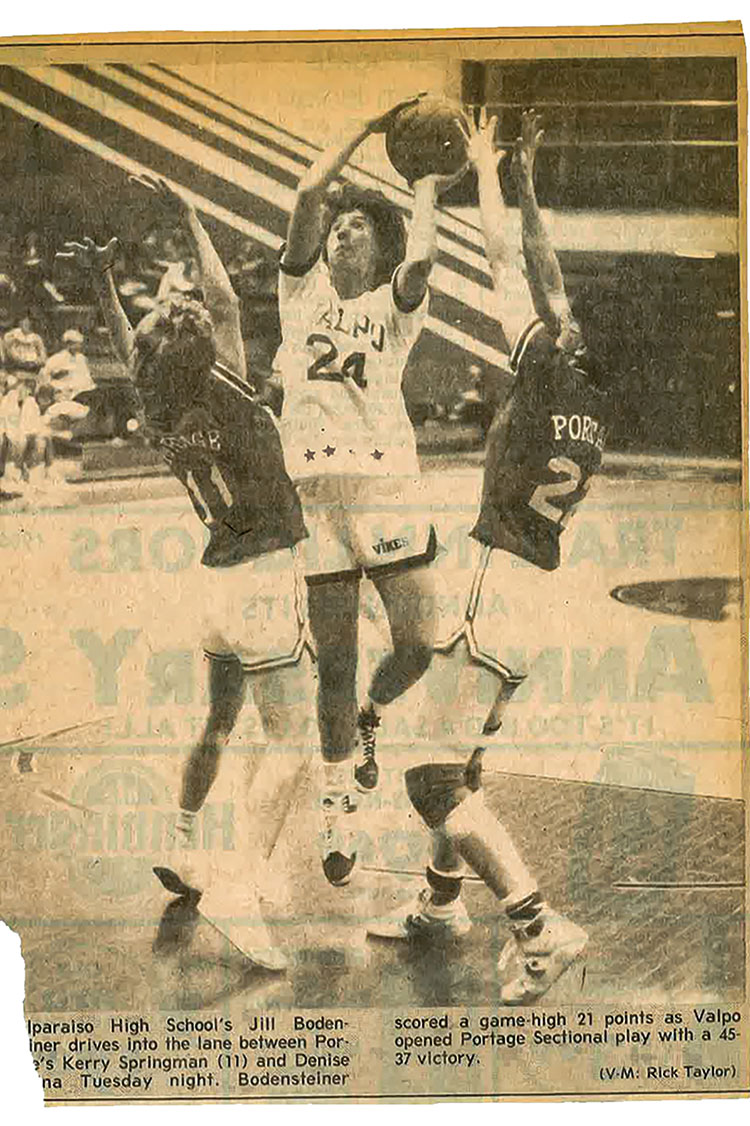 "I was not as engaged in the learning process in the first phases of my education," she says. "I was immature and didn't participate in the intellectual exercise. It was when I went to law school that my interest in doing research outside of the classroom was really sparked. I learned the value of being inquisitive and wanting to look things up on my own time."
Law was a natural fit for Bodensteiner. Her father, Ivan, is a civil rights attorney and her sister, Julie (Bodensteiner) Douglas, teaches law at Notre Dame. After receiving her Juris Doctor from Washington University in St. Louis, Bodensteiner clerked for the Hon. Catherine Perry, a U.S. District Court judge in that city, then moved on to practice employment law at two firms in St. Louis and Chicago. She returned to her undergraduate alma mater in 1997, joining the Notre Dame Office of the General Counsel.
Along the way, Bodensteiner found ways to soak up knowledge and experience. She took any opportunity to learn from colleagues, supervisors and friends, valuing the mentorship they could provide her.
"I wanted to surround myself with people who believed in me and wanted me to grow," she says. "Mentors are crucial. They have been down the same path and can share the ups and downs, the mistakes and the victories. And a good mentor is brutally honest with you and asks you the hard questions."
Some of those questions came to Bodensteiner in 2006 from Carolyn Woo, Ph.D., CEO of Catholic Relief Services, who at the time was dean of Notre Dame's Mendoza School of Business.
"Carolyn asked me if I loved what I was doing, if I felt fulfilled and if I was using my strengths," she recalls. "The answer was that I wasn't. That inspired me to get my MBA and eventually to move from the general counsel's office to athletics."
Bodensteiner continued to use her legal expertise as senior associate athletics director, assisting the department with compliance regulations and policy management. She also became an administrator for the women's basketball program, where she worked closely with head coach and SJU alumna Muffet McGraw '77, joining the team for every home and road game up to and including this year's NCAA Tournament Final, which saw the Irish capture the title with a 61-58, buzzer-beating win over Mississippi State.
"Jill is a perfect fit for SJU," McGraw says. "She's passionate about social justice and takes the time to make an impact on every student she spends time with."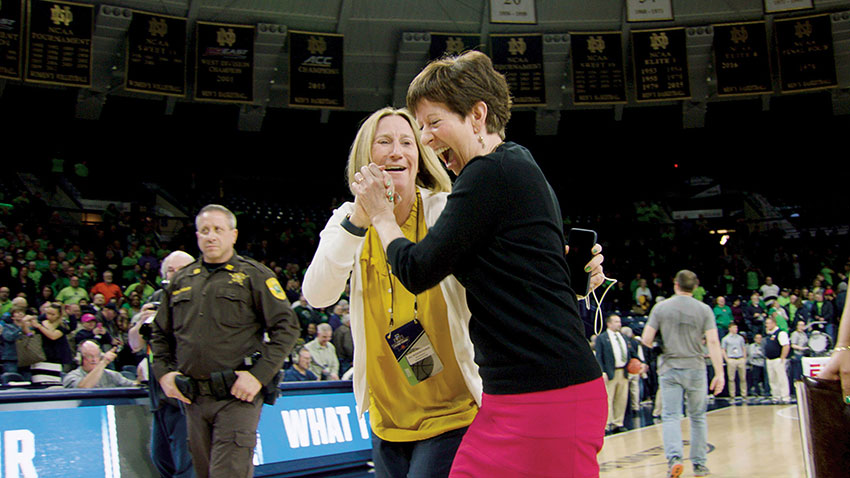 Preparing Student-Athletes for a Bright Future
As athletics director, Bodensteiner will expect a high level of engagement from student-athletes.
"If the most you ask of your athletics department is to reach a certain graduation rate, you find yourself setting the goal of just handing someone a diploma," she says. "And that can be a life-changing thing. But I want our students to have a richer experience than that. Athletics is an extension of the curriculum. If we're not sponsoring athletics because we think it enhances the education and growth of our student-athletes, we're doing it wrong."
Mark C. Reed, Ed.D., president of Saint Joseph's, echoes Bodensteiner's philosophy.
"Graduation should be the bare minimum that we expect of student-athletes," he says. "We want them to leave here having received an education that challenges them and prepares them to do important things in the world."
A major factor in that preparation, Bodensteiner asserts, is building a culture where student-athletes know that they are valued as people no matter what they contribute on the field of play. And in joining Saint Joseph's, she feels that the foundation is already in place.
"Following the faith-based, service-based tradition that the Jesuits preach, you almost save a step," she says. "You don't have to ask, 'What kind of culture are we building here?' You know, because it's Jesuit. It makes it really clear who we are."
Life is about setting goals and achieving them, and there's no shame in setting the expectation that we're going to be excellent."
One aspect of the Jesuit mission that speaks particularly to Bodensteiner is the tradition of service to others. Before coming to Philadelphia, she was the chair of the board of directors for the YWCA of North Central Indiana, advancing its mission of empowering women and eliminating racism. And in 1998, she became legal guardian to a young woman nicknamed ReRe, whom she had mentored for the previous year. ReRe lived with Bodensteiner from the age of 15 through 21.
"We learned a lot from each other, and we remain very close," she says. "Her kids call me Grandma. Above all, service is about treating everyone with dignity and respect and trying to understand where they are coming from."
As she assumes her new role, Bodensteiner becomes a de facto role model, not just because of her leadership position but because she joins a small group of female athletics directors. Though the trend is moving upwards, only nine percent of NCAA Division I ADs are women. Bodensteiner acknowledges her place in history but remains focused on moving forward.
"If I can spark in one or two other women the idea that they can get this job, that's really cool," she says. "My goal is to come to SJU and be the best AD I can be."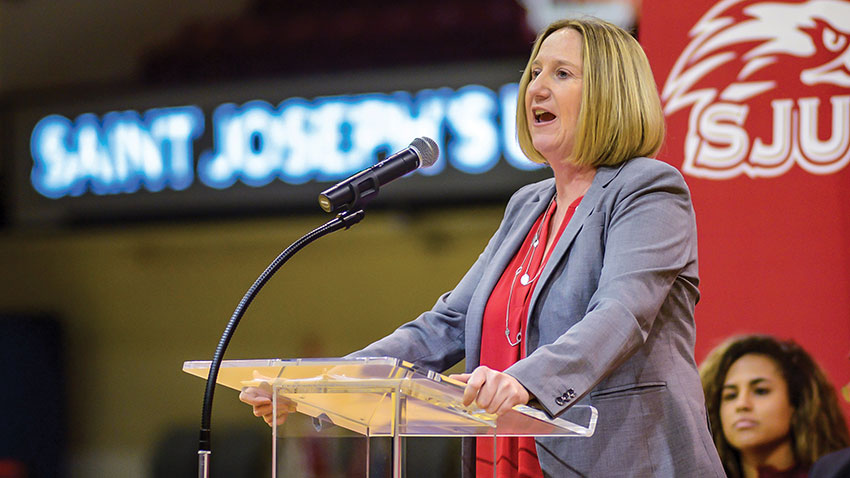 Building Sustained Success
Even though her career has always been based in the Midwest, Bodensteiner already feels familiar with Saint Joseph's and its place in the world of college sports. As a member of the NCAA Committee on Women's Athletics, she closely observed the Atlantic 10, and she has admired the Philadelphia Big 5 from afar.
"The Big 5 is the only thing like it in college sports," she says. "It's different. It's a selling point to recruits. The built-in rivalries are intense. I can't wait to be part of it."
Bodensteiner is also excited to follow in the footsteps of longtime SJU Vice President and Director of Athletics Don DiJulia '67.
"Don is so highly thought of in our industry, and to take the reins from someone who has done it right for years is really special," she says.
At Saint Joseph's, Bodensteiner will continue to do what has worked for her until now: She'll listen to and learn from people, and won't be afraid to ask the hard questions and be honest.
"I want to learn from our students," she says. "I want to know what their dreams are and how I can help them get there."
Among her own dreams for SJU are athletic and academic distinction.
"With college athletics, there are two kinds of success: There's lightning in a bottle and there's sustained success," she explains. "I'm a metrics-driven person, so I'm going to look at factors like facilities, television exposure and scheduling to see what we need to capture lightning where we can and build sustained success where we need to. Life is about setting goals and achieving them, and there's no shame in setting the expectation that we're going to be excellent."
Jeffrey Martin '04, '05 (M.A.) is the former managing editor of Saint Joseph's University Magazine and host and producer of the "Good to Know" podcast. He has traveled more than 25,000 miles over the last 20 years to cheer on his beloved Hawks.