5 Questions with Professor Joe Ragan, the Accounting Department's New Sutula Chair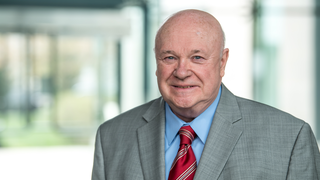 Professor Joe Ragan, M.A., MBA, CPA, was recently appointed the accounting department's new Edward G. Sutula Chair. The Sutula Chair, founded in 1982 to honor distinguished Accounting Professor Edward G. Sutula, has supported Saint Joseph's University's vision of excellence in business education for the last 40 years. The alumni founders of the endowment and its many donors expect the chair to provide an active voice for nurturing of Saint Joseph's educational strengths, particularly in the area of teaching. The chair holder also provides leadership for managing the ongoing growth and technological development of the Department of Accounting.
Professor Ragan took the time to elaborate on his new role and the impact he aims to have on the Haub School of Business's accounting program in the coming years.
 

"The Sutula Chair recognizes excellence in teaching and research. Professor Ragan is one of our very best teachers who has built our accounting program brick-by-brick over a 40 year timespan. His appointment as the Sutula Chair is well deserved. We are grateful for his dedication to our past and present students."  - Joseph A. DiAngelo '70, dean, Erivan K. Haub School of Business
How long have you been with Saint Joseph's University? Why were you originally drawn to its mission and vision?
I have been with the institution for 44 years and was drawn to Saint Joseph's commitment to students and its effective engagement of the profession of accounting within the academic program. 
In 1999, I proudly led the University's effort to become accredited in accounting under AACSB, the international accreditation for management education. The department joined an elite group of just 156 accredited accounting programs across the country out of the 1,800 U.S. schools offering accounting degrees. 
I served as the accounting department chair from 1985 to 2013. In that role, I successfully received over $150,000 in grants from major public accounting firms and SAP America to help faculty members develop creative and innovative curriculum. I have received numerous awards but I am most proud of my work in the classroom — accounting is my discipline, but teaching is my passion. Over the past 10 years, I have been developing cutting-edge curriculum that has spurred technological innovations within the department, such as enterprise resource planning and analytics systems in the classroom. These projects have revamped the entire accounting curriculum with a major focus on innovative technology.
What is the Edward G. Sutula Chair in Accounting and what is the significance of this position at Saint Joseph's University?
The Edward G. Sutula Chair of Accounting was established in 1982 to generate innovation within Saint Joseph's Department of Accounting. The Chair is a prestigious position that is awarded to a well-known, highly respected educator who can modernize and expand the accounting curriculum to better meet the needs of students. Successes include an effective outreach to alumni, which led to the creation in 1998 of the Sutula Scholars Program. In addition to Sutula Scholars, the chair's goals include significant contributions in developing the undergraduate and graduate curriculum. An important part of the job is externalization of the chair to outside stakeholders and alumni. Another important aspect is strong service to the University, college and department. The chair is only one of two in the Haub School of Business. I believe there are only five within the University.
What impact do you hope to have at Sutula Chair? How do you see the program changing under your leadership?
There are three major points of impact I plan to have as Sutula Chair:
First, a greater integration of alumni within the accounting program as clinical partners in the delivery of our graduate and undergraduate courses. Alumni will also participate in the many enrichment activities of Sutula Scholars and in technology retreats for accounting faculty.
Second, I hope to increase the number of research initiatives available to faculty and expand our scholarship programs. In 2018, the University launched the Joseph M. Ragan Scholars Program, which will have its first student recipients in the fall of 2021. This scholarship program is an undergraduate assistantship to provide students with advanced technology training under the mentorship of accounting faculty. I hope to grow the funding for this program to $1 million by 2025. 
Finally, I am prioritizing my own service to the department in the ongoing development of our new graduate program, which will be launching in the fall of 2021. As an integral part of the graduate program, all courses will include hands-on technology used at the highest level in the profession. I look forward to working with major stakeholders in the development of this.
What is the Sutula Scholars Program? Why is it important for students in Saint Joseph's Haub School of Business?
The Sutula Scholars Program was established in 1998 to provide a scholarship grant to students who demonstrated that they were the best and brightest that the accounting major had to offer. Typically this includes about 10% of our senior class. Students apply in April of their junior year and, after review by a faculty committee, are chosen to become a member of the next class of Sutula Scholars. On average, nine students are named Sutula Scholars each year. The program is designed to provide an enrichment experience for a group of students to enhance their educational experience outside of the classroom. Criteria for selection include leadership potential, involvement in community service and activities, institutional service to Saint Joseph's and personal accomplishments, which should include their potential for contributing to the accounting profession.
How do Sutula Scholars go on to achieve notable greatness? 
There are, to date, approximately 260 Sutula graduates, most of whom have gone on to leadership positions in major public accounting firms like PwC, KPMG, EY, Deloitte and SAP America. Many others have been successful in private industry, as well. 
Learn more about the Department of Accounting and Sutula Scholars Program.