Giving Pre-Med Students a Cutting Edge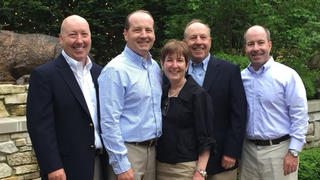 When John J. Meehan graduated from Saint Joseph's in the war-time class of 1943, doctors were in high demand. A strong Jesuit education and endorsement from legendary Biology Professor Clarence E. Shaffrey, S.J. were all he needed to secure his spot in medical school at Thomas Jefferson University and his future as a successful cardiologist.
"It was a great fit," recalls his son, Gerry, who graduated from Saint Joseph's in 1983. "He just loved what he did. That's something that wasn't lost on any of us." John went on to practice at Jeanes Hospital in Fox Chase and Holy Redeemer in Huntingdon Valley.
It wasn't until Gerry's own son, Corey, began pursuing a medical career that Gerry and his four siblings realized the challenges facing aspiring doctors today.
"We came to appreciate how much money and resources it takes to transition from an undergraduate pre-med program to a matriculating medical student," says Gerry. "A lot of qualified students throw in the towel."
That's why Gerry and his wife, Viola, together with his siblings, John Meehan Jr. '70, Connie Meehan, Joe Meehan '86 and Mike Meehan, endowed the John J. Meehan, M.D., Pathways to Medical Professions program in honor of their father.
"It sparked our interest as a way to reach more students," says Gerry, who initially heard of the program through a University news article. 
Launched in 2019, the program gives biology students a competitive edge in the rigorous medical school application process by providing opportunities to explore different fields of medicine, connect with mentors from Saint Joseph's medical alumni chapter, and write reflection papers on their experiences to help them discern their career path.
"This is a real distinctive feature for St. Joe's and the biology department," says program founder Mike McCann '87, Ph.D., who chairs the biology department. The structured discernment helps students articulate to medical school admissions committees, "'Here is who I am, these are the events that formed my understanding of who I am and why I want to pursue this pathway.'" 
The Meehan gift will enhance the program by supporting test prep that students need to pursue a health profession, which can cost anywhere from $100 for a practice book to $10,000 for a comprehensive prep course.
"It will help level the playing field," says Matt Nelson, Ph.D., associate professor of biology and the program's director. "Students push themselves to get involved in meaningful ventures including shadowing, research and service; however, a solid test score is an essential component of the admissions process. We hope this endowment provides the support our students need to be competitive."
With more than 100 students expected in the program this fall, the endowment will also allow for additional programming, including a greater and more varied number of successful alumni and professional speakers.
"I would love to see this program become a real asset to attracting good students, keeping them in the pre-med program, and probably more than anything, helping them to convert their undergraduate experience into a career in medicine," says Gerry. "If it helps one student, it is worth it."