Professor of 34 Years and Former President Leaves Greatest Legacy in the Classroom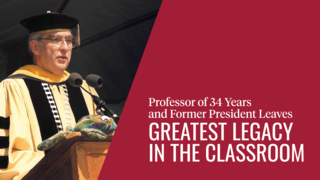 It took one phone call to convince Sean Gibbs '19 (MBA) to pursue an Executive Master's in Business Administration at Saint Joseph's University. 
Gibbs, who was already a CEO at the time, was looking to elevate his core competencies in finance when he decided to stop by Saint Joseph's to learn more about their offerings. He was encouraged to consider the EMBA program and talk to Nicholas Rashford, S.J. 
"The next thing you know, he gets on the phone with me," says Gibbs. "And it turns out that he has a history with the Navy, and my business is in the defense world, so we hit it off and we had a lot of common interests and things to talk about." 
Gibbs signed up for the EMBA program under the instruction of Fr. Rashford and earned his degree in 2019.
Fr. Rashford, who served as University president from 1986 to 2003, established the EMBA program and has taught a course every semester from its inception until 2021. His legacy has transformed the Haub School of Business into a regionally and nationally recognized school, redefined the campus footprint and shaped the minds of future generations as a professor of business. 
A Vision for Growth
During his presidency, Fr. Rashford oversaw more than $100 million worth of campus expansion and beautification projects including the construction of the Robert M. Gillin, Jr. Boathouse — the first boathouse to be built on the Schuylkill river in 98 years — the building of Mandeville Hall and the construction of McShain Bridge, which physically connects both sides of campus.
"Fr. Rashford is a great visionary. During his tenure as president, Saint Joseph's experienced a significant modernization, which included the addition of an Executive MBA program, best-in-class technological enhancements, experiential classrooms and the installment of the McShain Bridge, to name a few. These initiatives in and of themselves were all important to the growth of Saint Joseph's, but for Fr. Rashford, it was more about why they were so important," says Mark C. Reed, Ed.D., president of Saint Joseph's.
He continues, "The EMBA program meant that hospital administrators, CEOs and CFOs would integrate Jesuit values into their leadership styles and decision making; best-in-class technology meant that SJU students could interact with students around the world in real-time; and the McShain Bridge, while promoting safety and serving a practical purpose, signified a level of growth and status for the institution."
He also played an integral role in achieving AACSB accreditation for the Haub School of Business.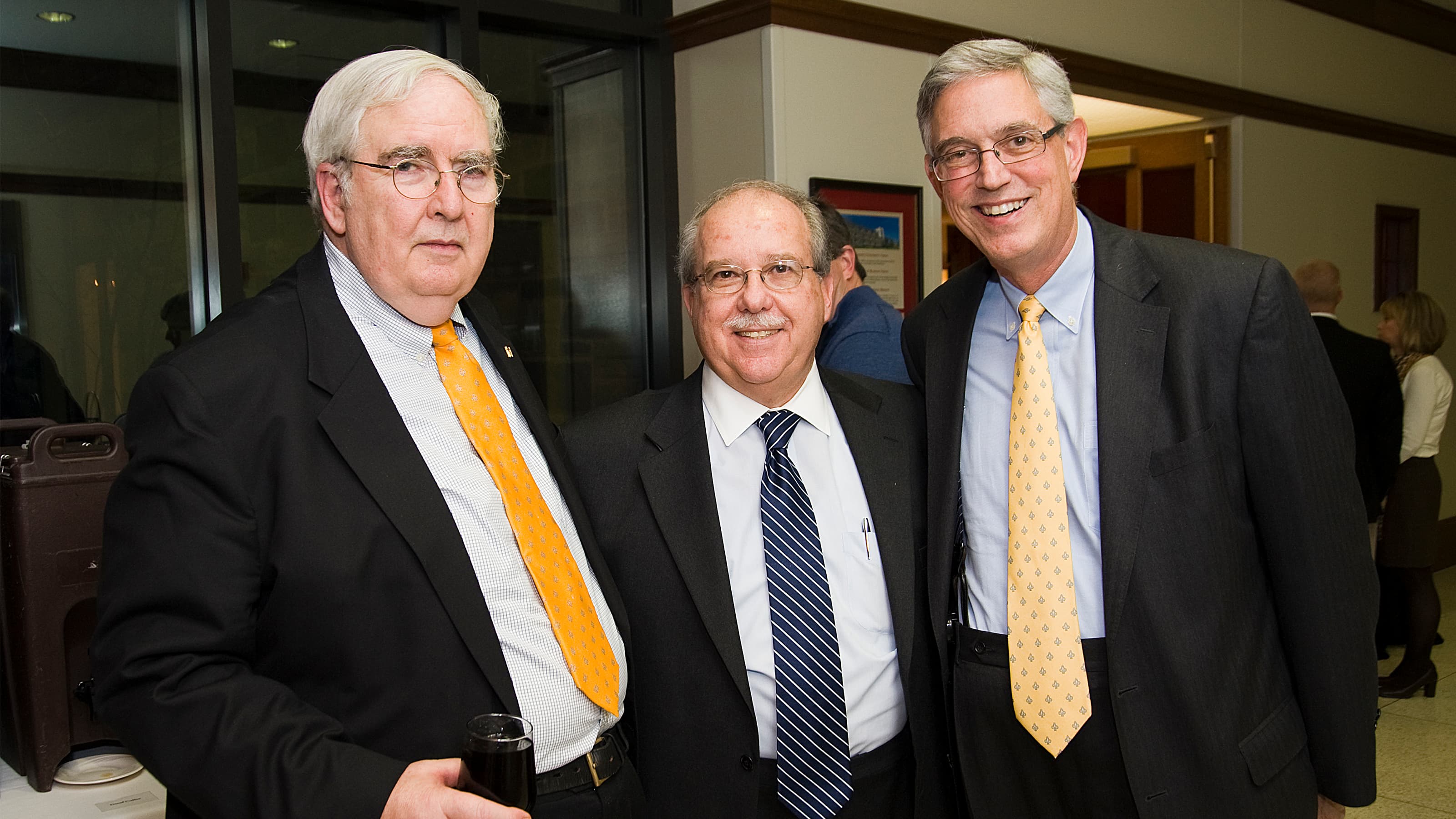 Joseph DiAngelo, Ed.D. '70, who was hired by the then-president to serve as dean of the Haub School of Business, remembers the interview where Fr. Rashford made clear his goals for the business school: 'I want you to make the program better, I want you to make the programs larger, and I want to increase the reputation of the business school and the University beyond the Mid-Atlantic region,' DiAngelo recalls Fr. Rashford saying to him.
"The proof of that success is where we are now," says John Lord, Ph.D., professor emeritus of sports marketing. "The EMBA program was his vision; nobody would have started it without his vision. That led to the other graduate programs and so, the proliferation and the number of graduate programs we have today really started with Nick."
Fr. Rashford is a great visionary. During his tenure as president, Saint Joseph's experienced a significant modernization.
Fr. Rashford took the success of the EMBA program into his own hands as a professor. The capstone course, CEO Intervention, which was also his creation, brings major CEOs into the classroom to bring to life case studies and business best practices.
Many of those CEOs are alumni themselves, including Rob Almond '04 (EMBA), CEO of NEST, and Brian Dupperreault '69, executive chairman of the Board of Directors of American International Group, Inc.
For Fr. Rashford, a member of the Society of Jesus, infusing the Jesuit ideals into the Haub School of Business was also particularly important.
"We talked often about if we don't maintain the [Jesuit] tradition that we're just another private university," DiAngelo says. "Philadelphia doesn't need another private university, but it does need a Jesuit university."
Bringing a Global Perspective to Hawk Hill
A son of Irish immigrants, Fr. Rashford was instrumental in the expansion of international students at the University with the creation of several international programs in Ireland, Germany, Italy and China.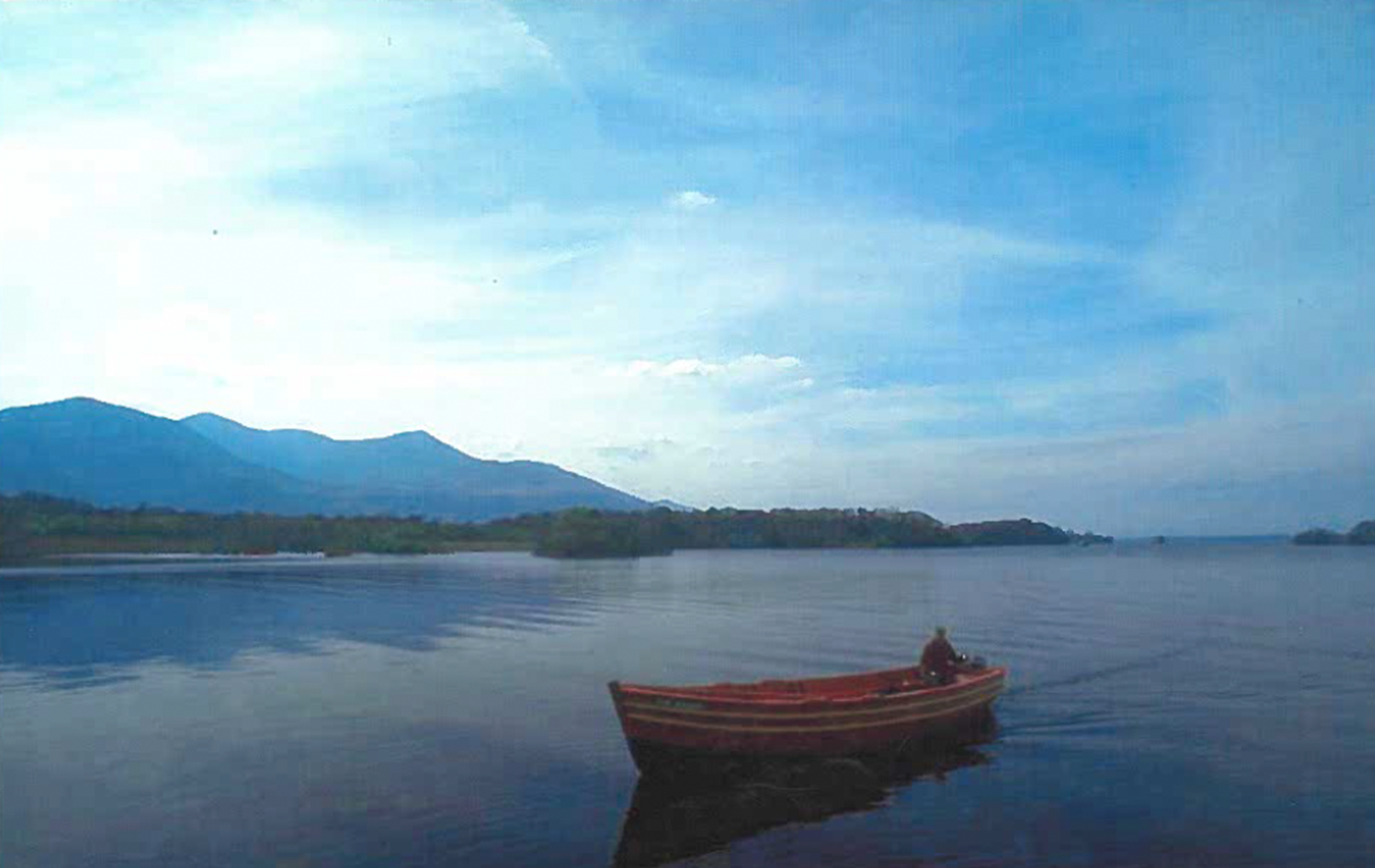 As a teenager, Fr. Rashford joined the Navy and was stationed in Iceland. It was there that he first began his appreciation for travel and gaining a broader perspective of the world. On the Naval base, he also became close with the Chaplain and it became evident to him that he was destined to be a priest.
These facets of his life became integral to his initiatives as University president and as a professor. Fr. Rashford wanted Saint Joseph's students to be able to gain a broader perspective of the world and to understand their role in the greater context of humanity.
At the conclusion of his presidency, Fr. Rashford spent six months in Ireland, where, as a member of Bord Bia, the Irish Food Board, he spoke with the minister of agriculture to complete a second edition of his book and conducted tours for Saint Joseph's students throughout Europe. 
Photos from his many travels hang in the corridors of Mandeville Hall today. He even shared his passion and skill for photography with students, teaching an undergraduate photography course throughout his presidency.
"I really worked at helping find their creativity, which would last with them for the rest of their lives," Fr. Rashford says.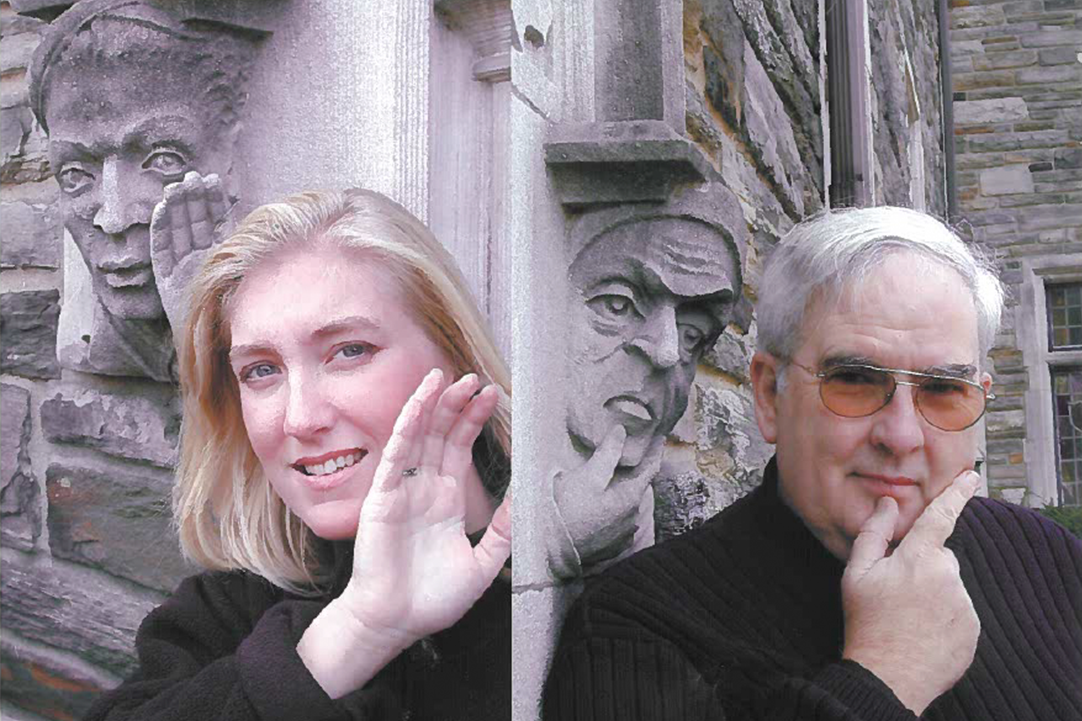 As president, one of his early initiatives was to make Saint Joseph's more connected by implementing internet connectivity across campus. In the classroom, he wanted students to be able to connect others in foreign countries to gain a more diverse world view.
"For Fr. Rashford, it was all about making the experience for our students better so they were even more equipped to go out and change the world. This impact is still relevant and felt today," says Dr. Reed.
A Man With and For Others
While Fr. Rashford has obvious fingerprints on many major milestones at Saint Joseph's, he's also impacted the lives of many students on a more personal level through his time as a professor and confidant.
"Almost every semester, I would have two or three people who came out of those classes who were special and I would stay in touch with them," says Fr. Rashford. 
With many of his students, he would come to form personal relationships — sharing dinners with their families, providing guidance in their business ventures and even baptizing their children. 
Fr. Rashford became a de facto mentor for Gibbs; the two of them would meet in Fr. Rashford's office as Gibbs would pick his brain on real-world situations he was experiencing at work. 
"He reinvigorated my appetite for continuous education," Gibbs says.
Megan Hendrick '20 (MBA), and a group of students from her class found kinship with Fr. Rashford and took him out to lunch near campus during their term.
"We just spent time talking to him and listening to his stories," Hendrick recalls, "I don't know how to describe it other than it felt like he lived more lives than we did. No matter how busy he was, or what he was doing, he found small windows and pockets to make everyone feel seen and heard and genuinely get to know you."
I don't know how to describe it other than it felt like he lived more lives than we did.
His care went beyond the four walls of the classroom. Fr. Rashford recalls one year when he came across a Student Senate president in distress over the winter break because he couldn't pay the remainder of his tuition bill.
"These students bring a great deal of service and leadership to their peers and to campus," he says. "So, I called his mother and told her not to worry."
Fr. Rashford swiftly resolved the student's outstanding bill so he could complete his degree without any hindrance.
"He brought the caring, concerned priest to the students outside the classroom and they appreciated that," says DiAngelo. "He was beloved because he was a priest and he brought another dimension of care to them."
Leading by Example
In the classroom, Fr. Rashford didn't proselytize, but he taught on the importance of morality and ethics in business and how those Jesuit principles can serve as a guide for business leaders.
One of the books he assigned his students to read was "Heroic Leadership," by Chris Lowney.
"It really focused on a lot of the Jesuit leaders throughout history and how they made their mark. He definitely epitomizes those qualities: leading by example, asking critical questions, open-ended questions," says Gibbs.
For Hendrick, who had struggled to find her voice in her career, Fr. Rashford gave her countless examples of people who were "massively successful, but good people." He showed Hendrick that she too could be one of those leaders.
"I didn't think much of myself when I joined that program and Fr. Rashford always made me feel seen," Hendrick says. "He just was one of those people that even when I was figuring myself out, and I was making a lot of mistakes, he saw more than that."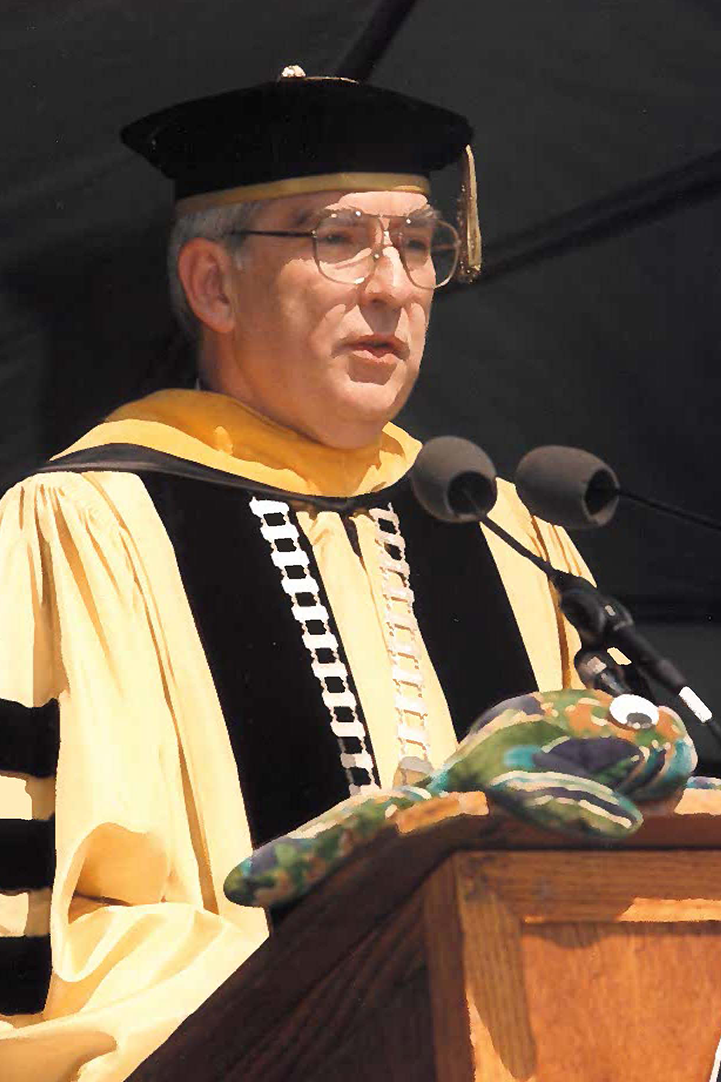 Fr. Rashford would also ask his students the same question at the end of every class: "So what have you learned?" 
For Hendrick, this simple question allowed her to connect further with her fellow students.
"What someone chose to talk about really helped us get to know people and see different perspectives," Hendrick says.
Through his time as a professor at Saint Joseph's University, Fr. Rashford hopes his legacy is one that leaves a lasting impact: "Making a difference in the lives of the students and doing things that make the world a little bit of a better place," he says.
"I have a vivid memory of Fr. Rashford that occured on my very first day as president of Saint Joseph's," says Dr. Reed. "Fr. Rashford made a point of seeking me out so that he could say to me, 'I'm rooting for you and I'm here to support you. And the Jesuits support you too.' It can be challenging when a former president remains on campus in a different capacity, but I have been blessed by his presence and benefited greatly from our conversations, his example and his ministry as a Jesuit."
Fr. Rashford's vision as president and professor was guided by his global ventures and core Jesuit values. Drawing upon these life experiences, his impact at Saint Joseph's University is one that encourages all Hawks to look beyond themselves and better understand the greater role they play in the world.