Saint Joseph's Maguire Academy Launches Spencer Digital Insights Lab with InsurTech Symposium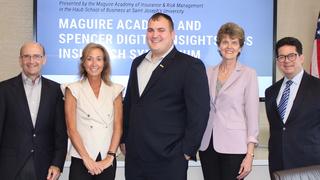 As part of its Thought Leadership Series, the Maguire Academy of Insurance and Risk Management at Saint Joseph's University's Haub School of Business recently held an InsurTech Symposium that brought together a diverse group of industry and regulatory speakers for an afternoon of learning and networking about current issues and opportunities within the insurance technology sphere.
The symposium also marked the beginning of the Maguire Academy's partnership with the Spencer Educational Foundation (an organization that funds the education of tomorrow's risk management and insurance leaders) and the launch of the Academy's Spencer Digital Insights Lab.
Funded through a Spencer grant, the lab will bring students, faculty and industry professionals together to solve novel risk management business problems through the application of software and analytics. The Spencer Digital Insights Lab is geared toward all risk management and insurance learners, both undergraduate and those seeking continuing education, as well as academics and industry professionals.
"This important partnership with Spencer allows us to build on our strong mission of supporting students and providing them with real-world industry experience," says Mary Ann Cook, EdD, executive director of the Maguire Academy. "Along with the tremendous support of the Maguire Academy's Board of Governors, we can continue to develop the future leaders of our industry by innovating and advancing our curriculum, providing relevant thought leadership to the industry, and connecting students to unmatched career opportunities."
Risk management and insurance and finance double major Anna Mariya Symoni '23 is among those future leaders and was an attendee at the symposium.
"The InsurTech Symposium provided great insight on where the industry is moving, especially with regard to innovation both internally and externally in a company. As someone who has been interning within the underwriting department of a carrier, I think implementing innovative thoughts and ideas fosters new relationships and partnerships within the company and ultimately improves productivity. At the end of the day, customers' expectations about insurance have evolved much quicker than what most carriers can provide," says Symoni.
The symposium, hosted by Stradley Ronon Stevens & Young, was made possible with the generous support of Conner Strong & Buckelew, BrokerTech Ventures, and the Spencer Educational Foundation.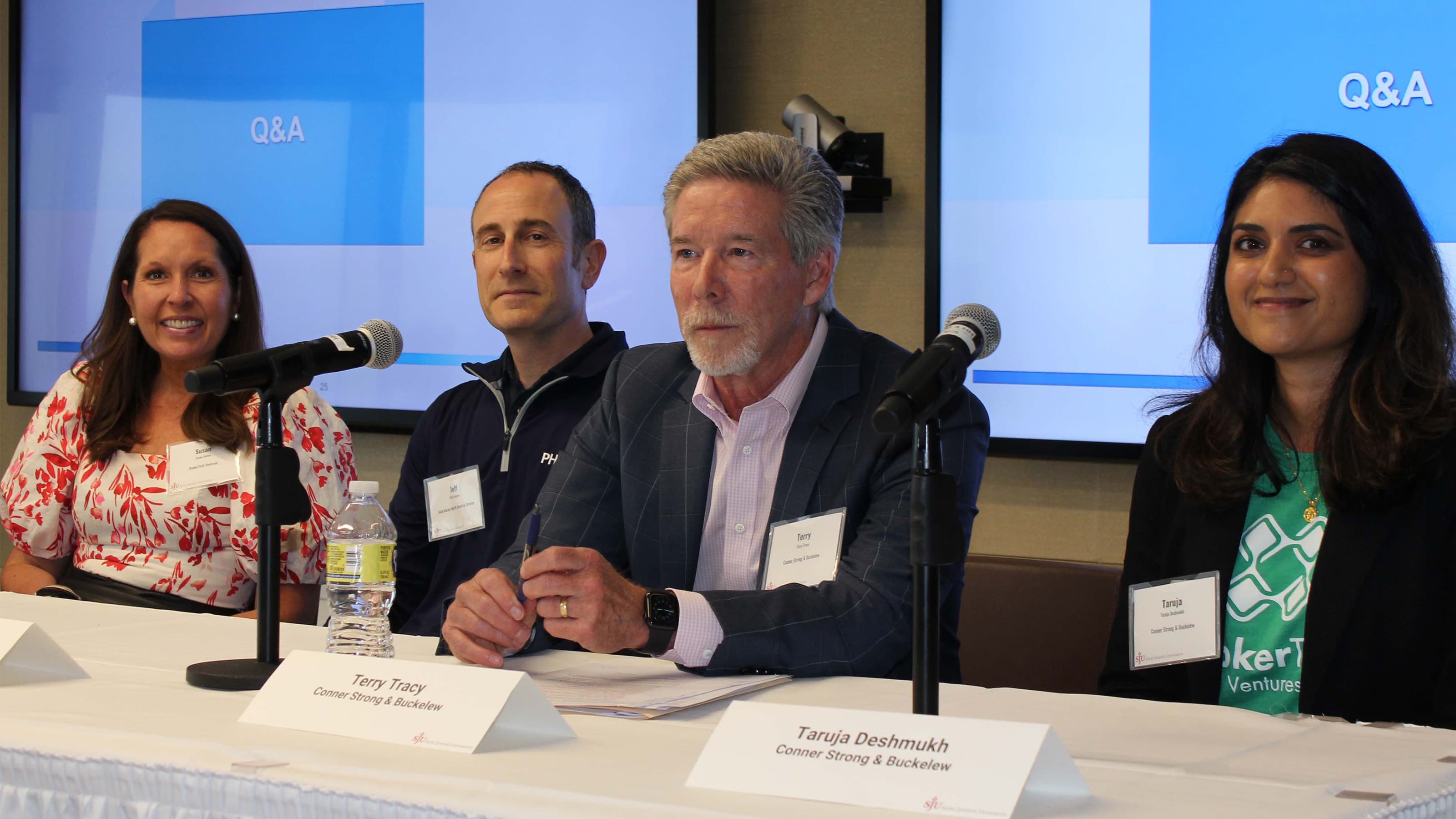 "The InsurTech space is constantly evolving as it works to harness the latest developments in technology and the rapid changes happening in insurance," says Michael Angelina, the Maguire Academy's Executive-in-Residence and InsurTech director. "We are at an inflection point in the fields of insurance and risk management and, in partnership with the Spencer Educational Foundation, we want to enable our students to not only thrive in this new digital world, but to lead in it."
The Maguire Academy's partnership with Spencer also paved the way for a new InsurTech instructor position, supported in collaboration with GenPact, Conner Strong & Buckelew, IonX, Access Point Technologies, Government Systems Technologies, Focused Consulting, Inc., and RMA Consultants, LLC. 
The position, held by Susan Kearney, the Maguire Academy's associate director, facilitates experiential learning for analytics and digital disruption courses by bringing Saint Joseph's curriculum to life with real-world case studies and industry-supported projects. 
Learn more about Saint Joseph's Maguire Academy of Insurance and Risk Management.