Senior Named Top Intern, Landing Career at Leading Finance Company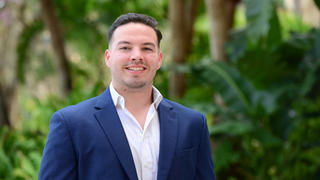 Jake DeMarco '23 hails from a business-minded family.
His grandfather owned and operated a blueberry farm; his father opened a convenience store across the street from DeMarco's childhood home. 
Now, the senior hopes to pave his own way in the business world after accepting a full-time financial advisory position with Northwestern Mutual. 
"I guess you can say it's in our blood, making something our own," DeMarco says. "That's something that Northwestern allows me to do."
When the now-senior came to Saint Joseph's as a first-year student, he wasn't certain what his career path would entail. Eventually, DeMarco declared a finance major, then a risk management insurance major, and landed a financial advisory internship with Northwestern Mutual. 
As an intern, DeMarco essentially does the job of a full-time financial advisor, taking meetings and helping clients build and protect their financial assets, with the bonus of consulting with mentors.
Not only did he land one of the most coveted internships in the country, but he also was named one of the company's top 100 interns based on productivity this past fall, which was celebrated at a conference in Disney World in March.
Last summer, he was one of the top 50 interns in the region based on sales volume and new clients brought on, according to DeMarco's supervisor and mentor, Michael Goldovich '08, financial advisor and growth and development director at Northwestern Mutual. 
Goldovich graduated from Saint Joseph's in 2008 and started with Northwestern Mutual in DeMarco's position as an intern in summer 2007. Now, as a supervisor, he says DeMarco's education and drive make him a standout.
"This is a very self-starting kind of internship," Goldovich says. "Jake has that, coming from his background of his family being business owners and him working in his family's business most of his life. That work ethic just translated really well into this internship and soon to be his full-time career."
DeMarco has interned with the company since last summer, an opportunity he was introduced to at the Saint Joseph's Career Fair.
We are so fortunate to have talented and driven students — and Jake is just one of those we have graduating — who represent Saint Joe's RMI program so well.
This year, DeMarco was on the other side of the career fair table, counseling prospective interns about the opportunities they'd have at Northwestern Mutual. That role reversal is the goal of the University's business programs, says Susan Kearney, associate director of the Maguire Academy of Insurance and Risk Management.
"We are so fortunate to have talented and driven students — and Jake is just one of those we have graduating — who represent Saint Joe's RMI program so well," Kearney says. "That is why we have employers looking for more students like Jake. "
Kearney says that roughly 70% of seniors in the RMI program already have job offers ahead of graduation this May. Overall, the program has a five-year placement rate of 98%. Internships, co-ops and opportunities to complete licensing and designations help graduates like DeMarco stand out in the job market.
The risk management and insurance program provides students a foundational understanding of the insurance industry that most early-career employees need a year or two of training to understand, Kearney says.
"When our students come out, it's like they have two years' experience," she says. "Employers are getting somebody who already has a really great understanding of the insurance industry and a solid grasp of key risk management and insurance concepts that will better prepare them for their future as a successful insurance professional."
As a Saint Joseph's alumnus, Goldovich says that he's excited to see a resume with the same university because of how prepared the students are for the professional world.
"Whenever I see St. Joe's, I'm like, 'This is a young man or woman who is going to have exposure to the business world,'" he says. "Even when I walked on campus as a freshman — and I've seen it continue through mentoring and coaching other college students and full-time advisors — the school just does a great job preparing students to go into the professional world."
St. Joe's is probably one of the best decisions I made in my life. Just the ability to grow and meet new people, I'll hopefully have these connections for the rest of my life.
Studying both risk management and insurance and finance will help DeMarco better serve his clients, he says. One class that has been influential in his education is Writing for Organizations, where he not only learned professional writing skills but also public speaking and interview tips. 
And joining the Saint Joseph's chapter of the Alpha Kappa Psi business fraternity, for which he is the treasurer, has cultivated his leadership skills.
"I can combine my intellect and leadership and be a better professional in the sense that I'm able to be well composed, competent in how I speak and overall just outshine other students who might not be able to get the same exposure that St. Joe's has allowed me to have," DeMarco says. 
"St. Joe's is probably one of the best decisions I made in my life. Just the ability to grow and meet new people, I'll hopefully have these connections for the rest of my life."