The Unexpected Truth About Leading During a Crisis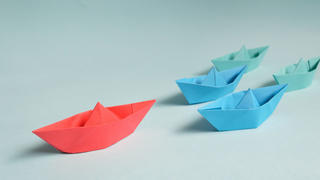 Faced with constant uncertainty and a litany of tough choices, leaders are being tested like never before by the COVID-19 pandemic. It's a particularly thorny path for those committed to the servant model of leadership, where the focus is on the needs of others, not simply the bottom line.
But two experts from Saint Joseph's Haub School of Business — Ronald Dufresne, Ph.D., associate professor of management and director of the Leadership, Ethics and Organizational Sustainability Program, and Executive-in-Residence Thomas Beeman '75, '77 (M.A.), Ph.D., FACHE — say leading during uncertainty doesn't mean leading differently; instead, it's about recommitting to the principles that are effective under normal circumstances.
"The U.S. Army has an acronym for the times in which we live: VUCA, which stands for 'volatile, uncertain, complex and ambiguous,'" says Dufresne, a West Point graduate. "Their keen insight is that VUCA is the norm: Can any of us think of a time that wasn't volatile, uncertain, complex, and ambiguous…. There are times that are more or less uncertain, and in more VUCA situations the stakes are likely higher, but the approach to leading tends to be the same."
Beeman, who is a retired Rear Admiral in the U.S. Navy and former COO of regional operations at Penn Medicine at the University of Pennsylvania Health System, says one lesson others can learn from how the military responds to crisis is clear understanding of the mission and the chain of command, and a commitment to seeing a plan through despite any hardship.
"You have two choices when you're surrounded by the enemy. You can either die or you can figure out how to fight your way out," Beeman says. "We're kind of surrounded by the enemy now. We know this is a deadly virus and we have to keep our wits about us, think about what we know and what we don't know."
Leaders also need to be consistent with their personal values, demonstrate a sense of calm and define reality for their constituents, Beeman says.
"The leader has to be accountable," Beeman says. "You can give responsibility to other people that you trust, but at the end of the day you can never give up that accountability. You're always the one at the final end of it."
You can give responsibility to other people that you trust, but at the end of the day you can never give up that accountability. You're always the one at the final end of it."
Know What You're Doing -- And Why You're Doing It
 
One key to maintaining a consistent approach, Dufresne says, is understanding not just what you are doing, but why you're doing it.
 
"Leadership, especially in the midst of VUCA, requires clarity of shared purpose," Dufresne says. "When faced with uncertainty, it's important to maintain a solid footing, and that comes in the form of clarity of shared purpose. By knowing why we are doing something, we maintain a north star that is constant."
 
Strong leaders will also display what Dufresne calls a "learning mindset," as well as concern for those around them, while remaining cognizant of their own basic individual needs.
 
"We won't be able to solve all the problems, but we can work bit by bit on improving what's within our area of control," Dufresne says. "A learning mindset makes it easier to discuss challenges faced and lessons learned. We need to attend to others' well-being, taking the time to check in on how they are faring. Part of caring for others is reducing uncertainty for them as much as possible by sharing as much information as possible."
 
Finally, Dufresne adds, leaders need to make time for self-care, even when mired in a crisis.
 
"A leader who is burned out can't lead effectively, so we need to make sure we take time to exercise, vent to a trusted confidant, and watch an episode of a comedy (I recommend The Good Place) or cooking show (such as The Great British Bake Off)," Dufresne says.
 
Leaders have to "dig from a very deep well," Beeman adds, which is why it is important for them to be in balance physically, spiritually and mentally. "Your mental person has to be very whole so you can draw upon each of those things in times of crisis."
 
Ultimately, the best advice applies to just about any stressful situation: stop, take a deep breath and give things some thought before proceeding, Dufresne says.
 
"The key challenge to leading in a VUCA environment is to remember to slow down and remain thoughtful," Dufresne says. "We often feel pressured to make decisions as quickly as possible, but more often than not we have the time and space needed to take a deep breath, ask questions, test our assumptions and make a more thoughtful decision."
We often feel pressured to make decisions as quickly as possible, but more often than not we have the time and space needed to take a deep breath, ask questions, test our assumptions and make a more thoughtful decision."
Avoiding 'Fixes That Fail'
 
One major pitfall leaders can fall into, Beeman notes, is doing something for the sake of doing something.
 
"I call those fixes that fail," Beeman says. "What you don't want to do is exacerbate the problem and make it worse than it already is. You have to acknowledge people's fear and concern and even though people are looking at you to provide guidance, sometimes in the beginning you have to acknowledge that you're not sure what you're being faced with, gather experts around you and step back and really look at the issues. But you also need to be a person of action; you can't kick the can down the road."
 
The COVID-19 pandemic is creating strain for people in all walks of life. Leaders in government and the private sector are asking constituents, employees, customers and other stakeholders to make difficult adjustments – including cuts in pay and major changes to routine with no promise of a distinct end in sight.
 
"You think about leadership during World War II; they had to ask people to make tremendous personal sacrifices," Beeman says. "Winston Churchill most dramatically, for a period of five or six years. He was able to do it because he imbued people with a sense of hope and that somebody really capable was in charge."
 
Gaining buy-in, Dufresne says, is all about helping people to see how the task fits with the bigger picture. It's also critically important for leaders to show that they are facing similar challenges and not just passing off the difficulties on others.
 
"Role modeling that we, too, are willing to take on new challenges shows others that we're not asking them to do something we're not willing to do ourselves," Dufresne says.
 
Beeman says it's also important for leaders to take the time to reflect after the initial crisis has passed.
 
"If you don't come away with lessons learned, that's a problem," Beeman says. "Then you're destined to repeat the same mistakes over and over again."
 
For servant leaders, another key is not to lose sight of who comes first.
 
"Servant leadership begins with perspective-taking," Dufresne says. "Serving others' well-being and their growth needs requires knowing each person as an individual and thoughtfully tailoring one's approach toward them. This doesn't require mind-reading; servant leaders have open, candid conversations with others about how they're doing and how they can best be supported."
 
It's not difficult to find such servant leaders in the midst of a global crisis. Children's TV host Fred Rogers famously said, "look for the helpers," and as Dufresne points out, they are all around us.
 
"From the heroic front-line health care workers who are risking their own well-being to serve others, to parents who are relearning geometry to help their suddenly-homeschooled children, we see people displaying the power of serving others," Dufresne says.
Beeman and Dufresne will be giving the next installment of our Unlimited Learning series: Leading Through Uncertain Times: A Case for Servant Leadership, April 23 from 12-1 p.m. The free interactive Zoom webinar will be hosted by alumna Rosanna DeFilippo '15 and explore the case for servant leadership during the coronavirus and beyond. There will be a Q&A session during the event and participants are encouraged to submit a question.