University Receives Grant to Further Partnership With Samuel Gompers School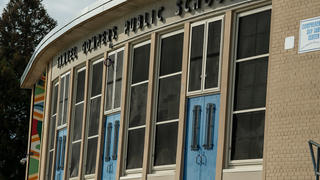 Saint Joseph's University was recently awarded a grant from AmeriCorps VISTA to deepen and enhance the long-standing educational partnership between the University and Samuel Gompers School. The main priority of the grant project, sponsored by the School of Health Studies and Education (SHSE) and the Faith-Justice Institute (FJI), is to provide full-time, on-site support at Gompers through the hiring of a VISTA volunteer. 
The person in this new position will help create a volunteer recruitment and management system for Gompers in which newly recruited community volunteers will be brought in to further assist Saint Joseph's volunteers and leaders in existing programs. The new position will also act as an on-site Saint Joseph's volunteer coordinator to support volunteer onboarding and assignments of need. 
The role will build on the work developed by supervisors from both the University and Gompers, such as the recess-lunch program, which focuses on emotional and physical well-being, and student-teaching opportunities.
"Saint Joseph's and Gompers long-term partnership has spanned the decades with varying levels of engagement throughout the years," says Aimee Terosky, Ed.D., professor of educational leadership. "This grant will allow us to extend our commitment to our students." 
The VISTA volunteer position, which will be in place for a minimum of one year, will play a vital role in supporting Saint Joseph's values around service-learning, reciprocal relationships and social justice. The AmeriCorps VISTA grant is highly competitive and  funds organizations dedicated to the improvement of communities. SHSE and FJI hope to have the position filled by the beginning of the 2022-23 school year.
"The AmeriCorps Vista grant is a great opportunity to further support our partners at Gompers by deepening the capacity to utilize volunteers for their priorities and innovative programming," says Ann Marie Jursca-Keffer, MSW, director of the Faith-Justice Institute.
SHSE and FJI are two of many Saint Joseph's schools, departments and centers that collaborate with Gompers year-round on in-class and extracurricular programming, ranging from education to health and wellness initiatives. As of fall 2021, there were more than 50 collaborative events and programs hosted throughout the calendar year. Most recently, a new outdoor basketball court was unveiled at the nearby K-8 school, which will be used for recess, competitive outdoor basketball and after-school programs. 
"With the rapid expansion of our partnership, this new position will be particularly helpful in supporting leaders from both organizations in establishing an infrastructure for a robust volunteering program at Gompers," says Terosky.