Using Data Science to Help Pennsylvanians Shop Local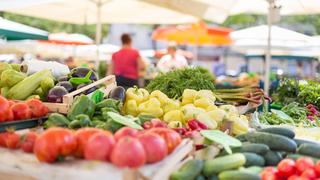 According to the U.S. Department of Agriculture (USDA), nearly a quarter of the State of Pennsylvania is made up of farmland. That's roughly 5.5 million Lincoln Financial Fields or 58,400 Hawk Hill campuses worth of fresh produce, livestock and dairy products. As part of an ongoing grant with the Pennsylvania Department of Agriculture (PDA) and PA Preferred, Saint Joseph's faculty are working to quantify the positive impacts of purchasing these PA-grown goods, while also identifying supply chain efficiencies for vendors and produce access points for city dwellers.
The project began several years ago when Virginia Miori, Ph.D., professor and chair of the decision and system sciences department, and Nicolle Clements, Ph.D., associate professor in the department, put together a proposal to look at the analytics behind the PA Preferred brand to understand its value and influence on retailers, members and consumers.
The PDA-run program is essentially a resource for farmers to help market their goods through branding; items are marked with the PA Preferred logo, letting shoppers know their groceries were sourced from a local Pennsylvania farm.
But up until Miori and Clements got involved in 2018 (and Associate Professor Kathleen Campbell Garwood, Ph.D., the following year), there was little to no information available on the program's successes or pain points.
"The only data they had was their membership directory," says Miori. "So, our work involved generating data to help support and make conclusions without any preliminary information."
Their effort was multitiered. Together with Saint Joseph's graduate students, they culled baseline data (lots and lots of data) — census information, products sold, land usage, farm market research — and built a machine learning model to help guide PA Preferred on how to better market its program.
They also created a survey to gauge things like people's awareness of the program, what they were willing to spend and how often they purchased PA Preferred. 
But this wasn't just any run-of-the-mill survey. It was quite literally a boots-on-the-ground grassroots effort by Saint Joseph's students to talk to as many Pennsylvanians as possible.
"We had two amazing students, Katherine Papa and Brianna Lukasiewicz, who traveled the state going to farm markets, festivals, fairs and events asking consumers to take the survey," says Miori, adding that when COVID-19 hit, they expanded their efforts to social media, email tactics and other digital means. "It's disseminated every year and we're able to make it more efficient each time."
Their data mining efforts have uncovered valuable information, like the fact that 57% of participants surveyed said they were not familiar with the PA Preferred program. But it also revealed that consumers are willing to spend 4-10% more on PA Preferred products, and that they are drawn to labels like "antibiotic free," "fair wages for workers" and "grown without fertilizers or pesticides."
"The consumers told us how to advertise to them, they told us they're interested in buying [PA Preferred] and they told us they're willing to spend more on it," explains Garwood, who says their research spurred a PA Preferred marketing campaign. "Every time we give them more data, that data leads to questions, and those questions lead to other projects."
Every time we give them more data, that data leads to questions, and those questions lead to other projects.
Those projects include identifying supply chain efficiencies and reducing costs for PA Preferred vendors. To do this, the team used membership data and other analytics to cluster vendors by location and product to consolidate packaging and transportation.
"The money savings is substantial," says Miori, estimating costs will be reduced by 10-15% based on their projections. "With COVID, vendors had to push to get products closer to consumers. The additional cost of packaging and transportation was problematic and vendors didn't necessarily know how much to charge for their goods. So, not only will this process help contain their costs, it will also help them understand realized costs once they produce and package their goods."
As the group considered supply chain issues, they also honed in on urban agriculture and what types of access the residents of Pennsylvania's six most populous cities have to farmers markets, community gardens, CSAs and the like.
"We want to bridge the gap between food deserts —essentially a radius around an area that has no access to fresh produce — and urban agriculture with recommendations from our data. We're excited to see where it goes," says Clements.
While a tremendous amount of work has gone into the last few years of research, Miori, Clements and Garwood go back year after year to lobby representatives in the State of Pennsylvania to keep the research funding going.
"We started with nothing and built this massive database to paint a full picture of the brand," says Clements. "It's been nice to see this project bloom into something promising and rewarding that supports farmers, consumers and the economy."
Garwood adds that watching Saint Joseph's students grow has been equally rewarding.
"My favorite part is seeing what they're capable of. They start generating these massive concepts that, when they first came in, they'd never heard of. Now they're collecting data, analyzing data, visualizing data and making insightful conclusions. It's really fun to watch."
Miori, Clements and Garwood would like to acknowledge the following students who have contributed to this research over the past several years: Ohoud Alfatta '19 (MBA), Samchith Baddam '22 (M.S.), Grace Cote '20, Joseph Cotton '21 (M.S.), Grant DeClement '20 '21(M.S.), Gabriel Gil Olavarrieta '22 (M.S.), Alay Jani '21, Tara Lanehart '22, Brianna Lukasiewicz '20, Mark Martinelli '23, Stephen McClellan '21, Charisse McGill '21 (MBA), Katherine Papa '20, Thomas Price '23, Jennifer Raphaelson '20, Sumit Rathore '21 (M.S.), Avinash Reddy Param 20 (M.S.), Aidan Sauer '22, Devin Swech '20 '21 (M.S.), Joseph Trudo '21 and Sarah Walker '22.