Master of Business Administration (MBA)
Overview
Discover an MBA program unlike any in Philadelphia. Saint Joseph's flexible MBA is built by you, combining your choice of stackable certificates. With only 36 credits, you can complete your degree in as little as one year. Choose from a variety of specializations and study 100% online, on campus, or a mix of both. Affordable tuition options start at $1,107 per credit.
We're committed to helping our students thrive in a world where technology-driven mindsets and models will change the nature of business. Our innovative MBA will challenge you to become a future-focused leader with the knowledge, vision and courage to navigate unprecedented social and economic disruptions, with a passion for social benefit and sustainable success.
This new MBA format is now enrolling for January 2021.
Leading the Way with Philly's Most Innovative MBA
Saint Joseph's MBA model is the first and only in Philadelphia to allow you to fully customize your experience. Our stackable, three-certificate model lets you choose two specializations in addition to a core MBA set of courses. Take them in any order, at your own pace, with the added flexibility of choosing online or on-campus options.
Stackable MBA Certificates
All students who are interested in completing the full MBA will take the MBA Core certificate, which includes courses in management, finance, business intelligence & analytics and marketing. Then, you can choose two certificates that fit your goals and career path. You can take these certificates in any order that you like.
More certificates will be announced soon!
Certificate Options
The MBA Core certificate covers all of the foundational courses needed to earn your MBA, but is also a valuable stand-alone certificate for those looking to pick up additional skills to advance their careers. The MBA Core certificate includes courses in finance, management, marketing, accounting and business intelligence & analytics. Students have the option to complete this certificate fully online.

The Applied Investment Management certificate will teach you the skills to use economic, financial, and accounting information to value securities and gain hands-on experience managing a live investment fund.

The Corporate Financial Management certificate will empower you as a business leader (or future leader) to make value-enhancing investment, financing and risk management decisions in both domestic and international markets.

Data analytics is one of today's fastest-growing and highest-paid professions as organizations increasingly rely on data to drive strategic business decisions. The Data Analytics certificate is designed to prepare you to apply data analytics techniques to large data sets to support data-driven decisions across application domains. The courses are designed for learners with a quantitative background who want to advance their skills. You'll learn statistical and scientific methods for data analysis through hands-on exercises and video instruction from faculty experts, preparing you to make sound, evidence-based decisions that drive business performance in any function.

The Data Management certificate stream will enable you to develop an understanding of the data in your organization. The series of the course equips you with knowledge to define, agree and manage information concepts that impact business strategy. The stream emphasizes the data model as the foundation to achieve this understanding. In addition, the stream focuses on employing artificial intelligence for workflow management and applying AI solutions to business. Data model artifacts are used as part of the data governance toolkit to develop applications that adhere to a set of data standards.

In today's world, managing a business or organization is more science than art. The Data Science certificate equips you with a data science skill set in demand by employers. Data science and machine learning employ a collection of models, methods, and algorithms to help you making well-informe, data-driven decisions. You will learn the theoretical background of these techniques and how to implement them using common programming languages. Incorporating numerous case studies, the courses are designed to enhance your data interpretation skills.

The Financial Applications in Real Estate certificate introduces you to the analytical tools and techniques used to both value and finance real estate investments.

The Human Resources Management certificate will enable you to become a strategic leader within your organization. You will obtain technical competence in the HR field, gain experience in organizational development, develop the skills to lead cross-functional teams and learn to help your organization become more competitive.

Whether you are the head of an organization, a manager or an aspiring leader, the Leadership certificate will help to sharpen your ability to move organizations forward. Take this certificate in combination with a specialty area to round out your MBA or enroll in the certificate as a standalone.

The Marketing certificate will enable you to develop results-driven strategies using the latest marketing analytics and relationship-building techniques. Combine this certificate with one of the data-focused certificates to sharpen your contributions to your organization and fill out your MBA or take this certificate as a standalone.
What's Your Combination?
Choose two similar certificates to go deep, or expand your skillset with two different disciplines. Here are just a few of the countless ways you can personalize and customize your MBA.
Data Science + Marketing
Corporate Financial Management + Leadership
Data Management + Applied Investment Management
Data Science + Data Analytics
Human Resources Management + Leadership
Industry-Relevant, Future-Focused
Getting your MBA isn't just about adding a new degree credential to your resume, it's about getting real ROI from your time in the classroom. Our curriculum prepares you for an era where innovations in data analytics, artificial intelligence, digital supply chains and other new realities will continue to present unprecedented challenges and opportunities. We're connected to the industries you work in through our faculty, alumni and partnerships.
Saint Joseph's MBA faculty are experts in their fields, bringing theory, practice and relevancy to the classroom. Our small, dynamic classes (1:18) allow for discussion, reflection and collaboration.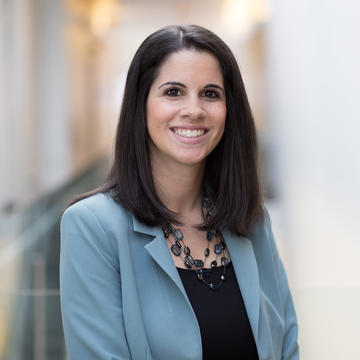 A proud alumna of Saint Joseph's University, I am forever grateful to the faculty for shaping both my personal and professional outlook on life. The MBA program stands above the rest as it prepares leaders to take on the ever-changing business landscape and do so in an ethically responsible way."
Dina Alongi Cagiulla '09, '11 (MBA)
Department Head, Advice & Wellness, Vanguard
MBA Designed for Working Professionals
We've designed our MBA program for the working professional. Flexibility and choice are built-in so you can balance work, family and all the other commitments of a busy life.
You can choose to join classmates for in-person sessions at our Philadelphia campus, or take advantage of a fully online option with no residency requirements. Either way, you can expect the same tuition rates, top-rated faculty and quality education.
The Philadelphia Advantage
We're part of the fabric of the Philadelphia business community.
Our faculty and students are connected to the business and cultural networks of this, the nation's sixth-largest city. They work at the dozen+ Fortune 500 companies, global corporate headquarters, family-operated enterprises and non-profit organizations that call the city home. They are entrepreneurs giving back to the city and leaders moving our community into the future. Saint Joseph's will be your campus, but Philly will be your classroom, your network, the backdrop for your career.
Career counseling for Graduate Business Students
Academic advising, customized support and career counseling are all part of our commitment to your education. The Leahy Advising Center is available to assist you in every step of your academic journey, providing the resources and support to ensure your lifelong success.
At a Glance
Length

Full time: 1 to 2 years

Part time: 2 to 2.5 years

With this stackable model, you can go all the way through to earn an MBA or you can stop and start, earning certificates as you need them. 

Format

Online, on-campus or both

Credits and Courses

36 credits, built from three individual certificates

Weekly Schedule

On-campus: classes are offered in 15-week sessions, with each class meeting one night per week.

Online: classes are normally offered in 8-week accelerated sessions, with most classes meeting live online one evening per week.

Profile of a Fellow Student

Full-time students in the MBA program average 1 to 3 years of work experience.

Part-time students average 5 to 10 years of work experience.

International applicants average 2 to 4 years of work experience.

Students come from all academic and professional backgrounds. No work experience is required to begin the program.

Tuition & Fees
$1,107 per credit (2020-2021)
Housing Options
SJU has on- and off-campus housing options available for adult and graduate students. 
Veterans

SJU is a Yellow Ribbon Program school that accepts GI education benefits. Our Office of Veterans Services can help you access and understand your benefits.

Graduate Assistantships

Graduate assistantships offer tuition remission and stipend. Positions are available, but highly competitive.

Once you apply, please note that all offices manage their hiring individually and will contact individual candidates if interested.
Discount Eligibility

Alumni of Saint Joseph's are eligible to receive 10% off the cost of this program through our alumni discount.
Have you completed a year or more of service with a recognized service organization? You may be eligible for our mission discount. 
Check with your employer to see if they are an Edcor or a Bright Horizons EdAssist member, which may entitle you to a discount on graduate programs. 

Note: discounts cannot be combined.

Get Involved

All graduate students are invited to participate in the Graduate Business Student Association that offers networking and social events. Contact the Graduate Business Office for more information.