Autism Awareness Month Events at Saint Joseph's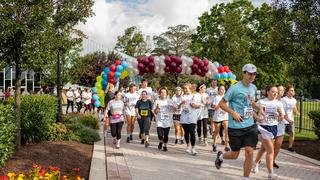 April is National Autism Awareness Month, a month dedicated to increasing the understanding and acceptance of those affected by autism spectrum disorder (ASD), while celebrating and empowering individuals on the spectrum.
"The CDC has just released updated numbers that one in 44 people under the age of 21 have an autism diagnosis, up from one in 59 a few years ago," says Angus Murray, M.S., NPL, executive director of Saint Joseph's Kinney Center for Autism Education and Support. "While the Kinney Center and SJU provide support and services across the spectrum all year long, it is important to raise awareness and understanding amongst society through efforts like naming April Autism Awareness Month."
For over a decade, the Kinney Center has been serving families and individuals affected by autism, while educating the autism professionals of tomorrow. Here are five opportunities to spread autism awareness this month, brought to you by the Kinney Center.
 
1. Unlimited Learning Series: Neurodiversity in the Workplace
Wednesday, April 27, 2022, noon | Register
One in 44 individuals is diagnosed with autism spectrum disorder, but only 14% have paying jobs. As companies implement programs to attract neurodiverse talent, what can they do to ensure the success of these employees?
In this Unlimited Learning Series, Eric Patton, Ph.D., associate professor of management and Jane North, senior vice president of claims, Philadelphia Insurance Companies, will discuss how to embrace neurodiversity in the workplace and create a culture of ongoing support.
The conversation will be moderated by Lily Bowditch '23, a Kinney Scholar and double major in managing human capital and autism behavioral studies.
2. Kinney Center Pancake Breakfast
Thursday, April 28, 2022, 9 a.m. | Register

Come hungry for this year's Kinney Center Pancake Breakfast. Enjoy stacks of delicious pancakes with all of your favorite toppings. Pancakes will be served with love by Kinney day students, and the money raised will support the important work of the Kinney Center. This event is free to Saint Joseph's employees, $12 for students and $15 for community members.
3. Kinney Center 5K Walk/Run for Autism
Saturday, April 30, 2022, 8:30 a.m. | Register
Lace up your running shoes for a three-mile run or a one-mile walk to support individuals with autism, their families and students studying to work in the field. Participants can choose to run the course in person on Saint Joseph campus or walk/run the virtual race in a location of their choosing by tracking their time. The cost to participate is $20.
4. Family Fun Day
Saturday, April 30, 2022, 8:30 a.m. | Register
The fun doesn't stop at the 5K Walk/Run for Autism! Guests can enjoy a morning of family-friendly activities including snacks, games, arts and crafts, and even a moon bounce on St. Mary's Lawn following the race. The cost is $25 per family.
5. SCHOLARS Alumni Tailgate
Saturday, April 30, 2022, 3 p.m. | Register
Alumni of Kinney SCHOLARS — undergraduates committed to helping others learn about autism research and support — are invited to spend the afternoon catching up over food, drinks and games. The cost of attendance is $15.
Learn more about the Kinney Center for Autism Education and Support.