Class of 2025 Gets a Sneak Peek at Life on Hawk Hill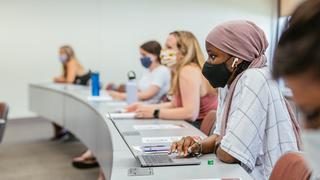 Keys to the Article
The Office of Undergraduate Admission team launched an innovative program for admitted students of the Class of 2025 to get a feel for academic life on Hawk Hill by virtually attending a spring semester class session.
More than 300 classes were offered as the result of careful planning and collaboration with SJU faculty and staff.
Admitted Student Day on April 17 was reimagined with current health guidelines in mind and brought more than 1,000 admitted students and their families to campus.
Saint Joseph's undergraduate admission team continues to find innovative ways to engage with prospective students and introduce them to life on Hawk Hill. Since the beginning of the COVID-19 pandemic, many of the tried-and-true enrollment activities that involved face-to-face interaction had to be reimagined.
One popular event that took on a new format in spring 2020 was Walk with a Hawk. Traditionally, prospective students experienced a day in the life of a current student, accompanied by a Hawk Host. They had the opportunity to attend a class, eat in the dining hall and learn firsthand what it's like to walk the hallways and paths on Saint Joseph's campus. With heightened safety guidelines in place on campus, the admission team needed an alternative – and they found the solution.
"Offering courses to our prospective students is a super important part of their decision," says Admission Counselor Candace Hightower. So, she and the admission team created a virtual class visit program for admitted students.
Getting the program off the ground required imagination, planning and collaboration. 
"When I was first tasked with coordinating the class visits for the spring semester, I was hesitant to add more to our faculty's plate. But the way they've been able to shift and accommodate our students during this unprecedented time is admirable. I was overwhelmed by the number of faculty members who were interested," says Hightower. "With all the talk of Zoom burnout, our faculty truly exceeded my expectations. They are the reason we've been able to offer over 300 individual course sessions this spring." 
Classes were offered across all three schools. Introduction to Political Thought with Susan Liebell, Ph.D., Introductory Psychology with Professor Leah Brogan, and American Environmental History with Jeffrey Hyson, Ph.D. proved to be popular with students. Also popular were Adult and Transition Autism Services with Bridget McElroy, MSW, LSW and Introduction to Finance with Todd Erkis, FSA, CERA, MAAA.
"The visiting students got a vivid demonstration of how much college students need to take active ownership of their education," says Hyson. "I stuck around for a while after each class to chat with the students, and one of my senior science majors also talked with them and provided helpful contacts. All in all, it seemed like a really useful experience for the prospective students."
Susan Liebell, Ph.D., also invited prospective students to stay after her class and speak with her.
"One was very exuberant, loved the class, put on his camera. Another was deciding between Rutgers, Temple and Saint Joseph's, and I had the chance to talk about the difference in advising and other aspects that set us apart," she says.
Careful consideration was also given to preserving the quality of the learning experience of current students. "Protecting the integrity of the courses offered and the community built within those courses was one of my main priorities in organizing this program," says Hightower. "I couldn't sacrifice our current students' experience. Any concerns from the faculty became a concern for me as well. I included security precautions with Zoom links, meeting times and notifications."
More than 80 students took advantage of the course offerings, providing another touchpoint in their decision-making – and many students chose to attend a class outside of their intended major. The virtual experience opened up attendance to a broad student base from beyond the tri-state region, extending to Connecticut, Virginia and Puerto Rico.
This year's Admitted Student Day on April 17 required a similar creative reboot by the undergraduate admission team. Prospective students and their families were shown around campus by a faculty, staff member, current student or alumnus. More than 75 volunteers from across the University pitched in to help out with tours, wayfinding and providing helpful information. With the support from the campus community, the admission team was able to host more than 1,000 guests throughout the day.
The day was filled with activity, including appearances by President Mark C. Reed, Ed.D. and the Hawk mascot, a field hockey match against the University of Massachusetts, and a softball doubleheader with The George Washington University. Focused, individual tours included the Kinney Center, Science Center and Fine Arts East facilities. Admission and financial aid staff members were on hand to meet with students. And even sweet tooths left happy thanks to Lokal Artisans French Toast Bites, an enterprise founded by current food marketing MBA student Charisse McGill.
To learn more about Saint Joseph's University, contact the admission team or schedule a visit. There are countless ways to experience Hawk Hill.