Saint Joseph's Celebrates PCP Founders' Day with Old Traditions and New Awards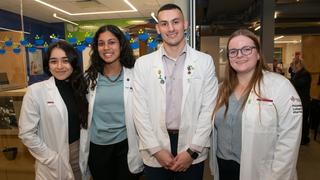 On Feb. 23, Saint Joseph's celebrated Founders' Day, the annual commemoration of the Philadelphia College of Pharmacy's (PCP) founding 202 years ago, when 68 apothecaries gathered in the historic Carpenters' Hall to establish the nation's first pharmacy school. 
This year marked the first time Saint Joseph's celebrated PCP's founding following the 2022 merger with the University of the Sciences. Edward Foote PCPS '87, PCPS '91 (PharmD), professor and dean of Philadelphia College of Pharmacy, looks forward to PCP's continued growth as part of the Jesuit institution.
"I think many of us are seeing the advantages of being part of a larger institution," says Foote. "The support I have received for Founders' Day is a great example of how we can be part of the SJU family while still honoring the legacy and history of PCP." 
Prior to an awards ceremony and pharmaceutical science demonstrations, students led alumni, faculty and staff on tours through the historic Griffith Hall (which houses PCP) and the Marvin Samson Center for the History of Pharmacy.
To mark the occasion, the Philadelphia College of Pharmacy established two alumni awards. The PCP Young Alumni Award was created to honor an alum who has received their degree within the past 15 years and who has shown outstanding promise and success in their professional career. The inaugural honoree was Jack Korbutov, FACA, FAVP, USP '11 (PharmD). 
The William Procter Jr. Award was created in honor of William Procter Jr., PCP graduate, faculty member and widely considered the father of American Pharmacy. This award recognizes an outstanding alum who exemplifies the entrepreneurial spirit of PCP's founders and has provided outstanding service to the college and profession. The inaugural recipient was Daniel Hussar PCPS '62, PCPS '64 (MS), PCPS '67 (PhD), dean emeritus and Remington Professor.
"I am very excited Dean Foote established these two new awards to allow us to honor alumni who truly exemplify the ideals of our founding fathers," says Karen Bliss USP '89, vice president of USciences and PCP Integration for the National Alumni Board. 
As Saint Joseph's and University of the Sciences alumni networks continue to integrate, the Philadelphia College of Pharmacy launched an affinity chapter of the National Alumni Board. This active network of pharmacists and pharmaceutical professionals hosts gatherings at some of pharmacy's biggest industry summits and conferences. 
In the afternoon on the same day, PCP students celebrated Founders' Day with food, games, music and birthday cake sponsored by Walgreen's Pharmacy.
If you could not attend Founders' Day, you can still support the legacy of PCP by making a gift here.