Saint Joseph's Proudly Welcomes the Class of 2026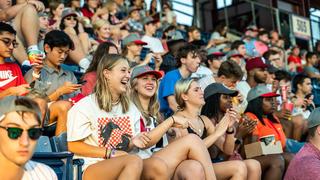 It feels like yesterday that the Class of 2026 stepped foot on Saint Joseph's campuses for June orientation, but after a fast-moving rest of the summer, the 2022 fall semester is officially underway. 
These students bring unique perspectives and life experiences, having dealt with COVID-19 challenges through high school and a far-from-normal college search process. But these Hawks have landed — and will be the first incoming class to experience the benefits of the University's merger in June.
The University's academic offerings now include the School of Health Professions, featuring new direct-entry programs in occupational therapy, physical therapy and pharmacy, along with bachelor's degree programs in exercise physiology and pharmacology and toxicology. 
These programs are among hundreds of options the incoming class had to choose from, including majors in the new School of Education and Human Development, as well as from the AACSB-accredited Erivan K. Haub School of Business and College of Arts and Sciences.
Welcoming Saint Joseph's Newest Students
Saint Joseph's prioritizes diversity, equity and inclusion, and considers it a central part of the University mission. This is one of the most diverse classes in recent history of the University, as it includes 30% students of color, up from 27% in last year's Class of 2025. 
This class also features the largest percentage of first-generation college students in the past 20 years, a testament to these students' hard work and dedication inside and outside of the classroom. 
It's worth noting the geographic diversity of this class, as well. Twenty-seven states, Washington, D.C., and Puerto Rico are represented, along with 13 different countries. And – average GPA and test scores continue to climb year over year. 
Other fun facts: There are 16 students named Joe, Joseph, or Jose, and 23 students attended a high school named Saint Joseph's. 
The Saint Joseph's University Class of 2026 is historic for many reasons. It is the first class to include students across four undergraduate schools and colleges, including the School of Health Professions. It is also the most diverse in recent history. Students coming together from different backgrounds with different academic interests can only enrich the Saint Joseph's community.
One Week in the Books
Some members of the Class of 2026 kicked off their time at Saint Joseph's by participating in Early Arrival Programs (EAP), which help students ease into dorm and campus life before the first day of school. The AIM Program allows students to move into residence halls a few days early and included a day of service at nearby Samuel Gompers Elementary School, helping teachers and administrators prepare for their upcoming first day. 
Meanwhile, Welcome Weekend events included a showing of "Soul" at Clark Park near the University City campus, and a trip to Citizens Bank Park, which saw the Philadelphia Phillies defeat the rival New York Mets last Saturday night. 
One thing is for certain – this is a determined group of students ready for success. Class of 2026, welcome to Saint Joseph's University. The Hawk Will Never Die!