Welcome
Welcome to the SJU Chapter of Alpha Sigma Nu, the honor society for Jesuit colleges and universities. Alpha Sigma Nu (ASN) was established to honor those students who embody in their everyday lives the qualities of scholarship, service and loyalty to the values of Jesuit education. We are an organization of lifelong leaders that seeks to understand, appreciate and promote the ideals of Jesuit education- opening minds, doors, and hearts to a lifelong journey in wisdom, faith and service. ASN is guided in the tradition of St. Ignatius of Loyola, and carries forth these Jesuit values in the selection of its members.
Lifetime membership is determined by invitation to students selected for their academic achievement and ability to embody the values of Jesuit education.
Thank you for your interest in ASN,
Daniel O'Connell '22
President
Alpha Sigma Nu - Saint Joseph's University Chapter
Mission Statement
Alpha Sigma Nu, the national Jesuit honor society, advances the core principles of Jesuit education — scholarship, loyalty, and service; it acknowledges, awards, and inspires a select group of students who distinguish themselves with respect to these principles while attending Jesuit institutions of higher education. Alpha Sigma Nu also inducts into its ranks faculty, staff, and administrators who have likewise distinguished themselves in scholarship, loyalty, and service through their intellectual, civic, religious, and professional pursuits. Our mission is to understand, appreciate, and promote the ideals of Jesuit education by opening minds and hearts to a lifelong journey in wisdom, faith, and service.
The name of Alpha Sigma Nu signifies the Greek words Α∆ΕΛΦΟΤΗΣ ΣΧΟΛΑΣΤΙΚΩΝ ΝΙΚΗΦΟΡΩΝ (Company of Honor Students).
The Alpha Sigma Nu key bears the three Greek letters together with the eye of wisdom.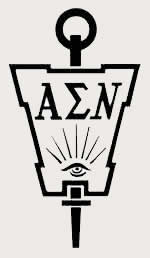 Scholarship | Loyalty | Service
Application Process
Saint Joseph's University juniors and seniors who have a G.P.A. of 3.5 or higher are invited by formal invitation to apply in the Summer; these applications must be submitted through the online form (which can be found to the right) by October 4, 2019. Applicants who are studying abroad in the fall are encouraged to apply. Applicants will be notified by December 15, 2019.  The President of Saint Joseph's University is annually accorded the privilege of nominating from the scholastic eligibility list not more than three additional candidates for membership. The President must approve the list of candidates nominated.
Have a question about the application process? Email us at alphasigmanu.sju@gmail.com.
This year's essay prompt: Please respond in 250 words or less,
Alpha Sigma Nu is a dynamic honor society whose members embody scholarship, service, and loyalty to the ideals of Jesuit education. They embrace Ignatian values as guides and challenges to be collaborators in the Jesuit mission. What Jesuit educational values do you think you can use as guides in your personal mission and how would that share in the mission of those who are Jesuit educated?
Please reflect on how you see these Ignatian values in your experiences in the classroom, service experiences or other extracurricular activities at SJU.
Please explain the connection between scholarship, loyalty, and service you experience here at Saint Joseph's University.
The Alpha Sigma Nu by-laws state in Section 3.1:

Qualifications for membership shall be based on scholarship, loyalty and service in the institution or community.

Scholarship means a notably above-average interest and proven intellectual competence.
Loyalty means a demonstrated commitment to Jesuit ideals of higher education —intellectual, moral, social and religious.
Service means a proven concern for others demonstrated by activities in support of the institution or the community.

In addition to achieving junior or senior standing, undergraduate students shall have completed no fewer than one and one-half (1-1/2) semesters at a Jesuit institution by the time of their nomination. In addition to achieving junior or senior standing, part-time undergraduate students shall have completed at least one-half (1/2) of their degree program by the time of their nomination.


August 12th - Formal invitations to apply sent to Juniors and Seniors with 3.5 GPA
September 4th - Information session at 5pm in Wolfington Hall
September 10th - Information session at 11am in Wolfington Hall
September 13th - Information Session at 12pm in Wolfington Hall
October 18th - Deadline for application due
History
On June 4, 1915, John Danihy, S.J., Dean of Journalism at Marquette University, held the first ritual initiation of eleven undergraduate men and inaugurated the Alpha Sigma Nu Honor Fraternity. In his travels and reading, Father Danihy had encountered and admired honor societies. In the first half of the 20th century, administrators of Catholic institutions of higher education complained that their students were being systematically locked out of the traditional honor societies especially Phi Beta Kappa.
Father Danihy believed these men exemplified a dedication to scholarship, loyalty to the cause of Jesuit education and service in promoting all activities of students and student organizations. With much anticipation that the society would prosper and spread to other schools, they were instructed "to band together those who most fully understand and appreciate the ideals of a Jesuit education and to impress these ideals upon their fellow men." In 1921, Fr. Danihy announced that his vision for the Society took it beyond the walls of Marquette towards the creation of a national Jesuit organization.
The first national convention of Alpha Sigma Nu was held in 1925 where the first Board of Directors was elected. The Constitution was passed, calling for the President of each university or college to appoint a member of the Society of Jesus as faculty representative to its Alpha Sigma Tau Chapter. The delegates called for faculty advisers on each campus to be Jesuits.
April 6, 1925, saw the first induction of Gamma Pi Epsilon. They chose women For the Glory of the School, to stand as their motto, and the Greek letters Gamma Pi Epsilon were adopted to represent this theme.
From day one Alpha Sigma Nu encouraged the creation of alumni clubs to help foster continued loyalty and service to Jesuit education. .
By 1943, Alpha Sigma Nu had come a long way from the days as a little- known group of honor students. The Society was now moving into the new decade sure of itself and its mission as the vanguard of Jesuit action and ideals. AΣN leaders strove to keep their organization open to anyone who was qualified to enroll in a Jesuit institution. Alpha Sigma Nu membership has never been restricted to members of the Catholic Church.
The 1960's saw great growth in the Society despite the student unrest on many American campuses. The 50th anniversary of Alpha Sigma Nu took place during the 1965-66 academic year. The dual event was seen as an opportunity to celebrate the continuing legacy of Jesuit education in America, and to recognize the Society which honored the best of that tradition. Father General Pedro Arrupe, in his keynote address, expressed a desire for the laity to become more involved in Church issues and saw Alpha Sigma Nu as an ideal group for this purpose.
Alpha Sigma Nu and Gamma Pi Epsilon merged in 1972: BE IT RESOLVED: That Gamma Pi Epsilon and Alpha Sigma Nu be, and hereby are, merged into one honor society known as Alpha Sigma Nu to continue to advance the causes, traditions and purposes that have been fostered and promoted for many decades by both societies.
In 1975, Alpha Sigma Nu joined the Association of College Honor Societies. ACHS is an organization that certifies honor societies, assuring that societies meet standards, and providing students with a place to check the legitimacy of honor societies who invite their membership.
The board passed the bylaw mandating that two members of the board be student members elected at each Triennial Conference in 1979.
In 1980, the Board founded Alpha Sigma Nu Book Awards, now given in a 3-year cycle, honoring books in the following categories: the Humanities, Professional Studies, and the Sciences. Book Awards promote excellence in research and scholarship among the faculty and staff at Jesuit institutions of higher education, and are one of the hallmarks of Alpha Sigma Nu's commitment to honor scholars of Jesuit institutions.
In 1981, the AΣΝ Scholarship Program began with Board approval of a $1,500 annual scholarship at Marquette University. Our scholarship program now funds $1,000 scholarships at all our member institutions, and is funded by the donations of Alpha Sigma Nu alumni to our annual Sustaining Fund.
2001- The Alpha Sigma Nu online directory on our website, alphasigmanu.org, provides members a terrific networking resource in the Member Directory.
2002-2003- Six new Alpha Sigma Nu Alumni Clubs, with their purpose the encouragement of our alumni's lifelong commitment to the values of scholarship, loyalty, and service, are founded, joining Kansas City, Milwaukee, and Omaha.
2006- Campion College at the University of Regina in Saskatchewan becomes our 33rd Chapter.
2010-2011- Alpha Sigma Nu inducted 1,944 students at our 31 member institutions. Alpha Sigma Nu alumni donated over $162,000 to our Sustaining Fund. Our 14 Alumni Clubs actively encouraged scholarship, loyalty, and service in the lives of our alumni.
Some 450 years ago, Ignatius Loyola began an order that stressed all Christians should strive for excellence in service to all humanity, all for the greater glory and honor of God. Alpha Sigma Nu, in seeking the best of Jesuit education, requires that its now 60,000 members emulate St. Ignatius through excellence in scholarship, loyalty, and service. This Ignatian heritage is relevant today as Alpha Sigma Nu celebrates its 97th year.
FAQ
The most prestigious Honor Society of Jesuit institutions of higher education.

Juniors and seniors who are in the top 15% of their class and have a demonstrated record of service and loyalty to the Jesuit ideals of education. At Saint Joseph's University, juniors and seniors with GPA's of 3.5 and above are invited to apply.

This is the highest honor at Jesuit institutions, including all disciplines. Only 4% of students are invited to membership.

Lifelong membership, networks and collegiality with a remarkable group of people from all 30 Jesuit institutions in the United States, plus one each in Canada and Korea. The society has an Online member directory with 42,000 plus current names with contact information.

To continue to live the ideals of scholarship, loyalty and service.

The dues are $60 for a lifetime membership. This provides for your certificate and official pin plus all Alpha Sigma Nu mailings for the rest of your life.

No. There is an annual Sustaining Fund, which many members support.

Yes, and they are improving regularly. ASN has 50,000 members throughout the world with current addresses for about 85% of them. Alumni may be located in the Alpha Sigma Nu Online Directory.

Yes. This is a recognized and respected credential. Established in 1915, AΣN is a full member of the Association of College Honor Societies.

Yes. Members may contact other members for advice, referrals and positions.

Juniors and Seniors with a 3.5 GPA are invited to apply during the summer through our online form here. Applications are due by September 8th.

Yes. If selected for an interview, we will schedule that via phone or Skype.

Final decisions will be made by November 30 with the official induction to take place on February 7, 2016.
Honorary Inductees
2013-2014

Dr. Michael Gomez, Founding Principal Cristo Rey Philadelphia High School

Dr. Jeffrey Hyson, Assistant Professor History

Mr. John McConnell, Founder and President of Cristo Rey Philadelphia High School

Ms. Margaret Ryan-Atkinson, M.A., Sr. Administrative Assistant Office of Mission and Identity

Mr. Eric Studt, S.J. , M.A.,

Dr. Bruce Wells, Associae Professor Theology

2012-2013

From the National Office:

Rev. C Kevin Gillespie, S.J. '72, President

Dr. Brice Wachterhauser, Provost

University Honorary Inductees:

Dr. Joseph DiAngelo, Dean of the Haub School of Business

Thomas Sheibley, Director of Campus Ministry

Jill Amitrani-Welsh, Assistant Director, Faith-Justice Institute

Chris Welsh, Alumnus '01, Public Defenders Office of Philadelphia

Dr. Paola Giuli, Associate Professor of Italian

Dr. William Murphy, Visiting Assistant Professor of Education

2011-2012

Rev. John Braverman, S.J. Ph.D, Biology

Dr. Shelia Davis, D.O. '83, Alumni Community

Ms. Jane Downey, M.A., Assistant to the Provost

Rev. Joseph Lombardi, S.J. Ph.D, Philosophy

2010-2011

Dr. Gerald Beyer, Theology

Dr. Milica Z. Bookman, Economics

Dr. Susan Clampet-Lunquist, Sociology

Dr. Claire Simmers, Management

Mary Scullion, R.S.M. '76, Alumni Community

2009-2010

Dr. James W. Boettcher, Philosophy

Father Thomas J. Brennan, S.J., English

Dr. Joseph Cifelli, Education

Rev. Daniel R J Joyce, S.J., Office of Mission

Dr. Robert Shannon, Spanish

2008-2009

Dr. Ann E. Green, English

Dr. William J. McDevitt, Management

2007-2008

Dr. Christina King-Smith, Biology

Mr. Philip Martelli, Athletics

Dr. Michael McCann, Biology

2006-2007

Mrs. Mimi Limbach, Faith-Justice Institute

Dr. Peter Norberg, English

Ms. Helen Stewart, Campus Ministry

2005-2006

Dr. Kimberly Allen-Stuck, Student Life

Mrs. Carold Boyer-Yancy, Student Service Center

Dr. Virginia Johnson, Faith-Justice Institute

2004-2005

Rabbi Dr. Richard Libowitz, Theology

Dr. Richard Sherman, Accounting

2003-2004

Dr. Lisa Baglione, Political Science

Mr. Thomas Kennedy, Center for Food Marketing

2002-2003

Dr. Frank M. Bernt, Health Services

Rev. Patrick H. Samway, S.J., English

2001-2002

Mr. Carmen R. Croce, University Press

2000-2001

Dr. Nancy Fox, Economics

1999-2000

Dr. Julie McDonald, Philosophy

1998-1999

Ms. Constance McSherry, Faith-Justice Institute

Mr. David Gandolfo, Philosophy

1997-1998

Rev. Richard G. Malloy, S.J., Sociology

Dr. Richard A. Warren, History

1996-1997

Rev. Dennis E. McNally, S.J., Fine Arts

Ms. Lynn Ortale, Residence Life

1995-1996

Dr. Linda Dunphy, Student Life