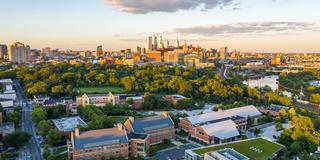 Research Day at Saint Joseph's University
Research Day is a University-wide poster session meant to recognize students' research and scholarly efforts and highlight aspects of faculty research/scholarly activities in any discipline or focus. The event is open to all students who are interested in presenting a poster on their research/scholarship pursuits.
This year's Annual Research Day will be held on Thursday, April 13, 2023, from 5:30 to 8 p.m. on the University City Campus in the Athletic/Recreation Center (ARC).
More information is coming soon.