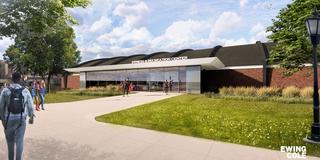 Fitness and Recreation Center
Fitness and Recreation Center
At Saint Joseph's University, the student experience extends far beyond the classroom. For today's students, total wellness is not just a pastime — it is part of who they are. As a Jesuit university, we couldn't agree more, having long championed the balance of healthy mind, body, and spirit. Saint Joseph's Hawk Hill campus already features a large fitness and recreation building with a massive footprint. Accordingly, our plan is to renovate that facility by improving and reimagining current spaces, by providing state-of-the-art equipment and transforming the entrance with an easily navigable and fully accessible facility. Construction began in January of 2023 and is expected to be completed for the start of the 2024 fall semester.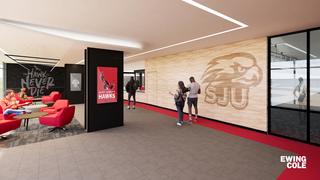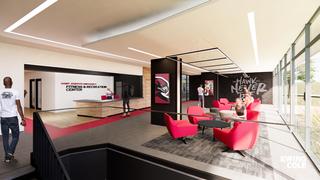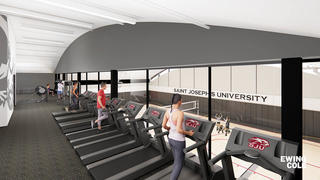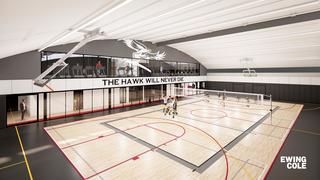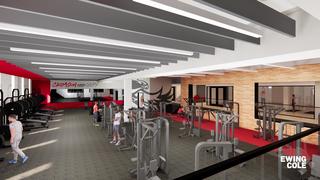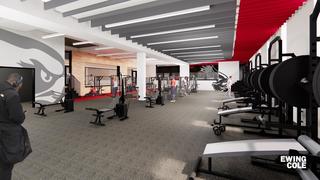 Welcoming common areas encourage conversations and connections with interactive displays and space to rest and recover.
The lobby space will transform the fitness and recreation center into a campus hub for building friendships, meeting new people and creating a sense of belonging.
The renovation will create more useful spaces, including the addition of a 1,830 square-foot cardio mezzanine, which will overlook a multipurpose court.
The addition of a multipurpose court allows for more flexible space to accommodate the evolving needs of today's students and is designed to support any number of wellness programs and can still be used for traditional sports including club sports, intramurals, large group fitness classes and net nights.
Improvements to the fitness center will allow for more natural light in this enhanced, open-concept floor plan. Group exercise classes will be housed in two new, large flex spaces equipped with mirrors, body-weight training equipment and other class-specific equipment.
Brand-new equipment will elevate students' fitness options.