Saint Joseph's University campus master plan envisions many additional enhancements to the elite campus experience including a new student center, residential quad and Philadelphia parking garage.
Hagan Arena and Fan Experience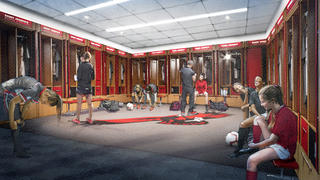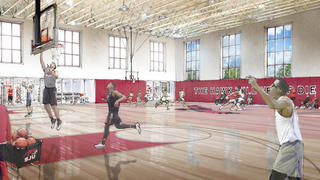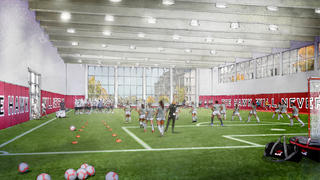 The team locker room is a critical space for building community and culture within each of the intercollegiate programs. Our teams that call the Philadelphia side of campus home - men's and women's soccer, men's and women's lacrosse, and men's and women's cross country and track & field — will each receive updated locker rooms as part of the new Athletic Complex.
Dedicated men's and women's basketball athletic training and practice facilities allow Saint Joseph's to compete with peers when it comes to recruiting and retaining top student-athletes. Separate and identical training facilities reflect the University's commitment to success in both programs.
Comprehensive student-athlete development facilities — including an indoor turf field, locker rooms, student lounges, and strength and conditioning facilities — will enhance 18 Division I programs and the experience of all Saint Joseph's student-athletes.
A fully-integrated and modern home for athletics will enhance Hagan Arena and provide key facility upgrades for our student-athletes to practice, train and study. Dedicated basketball practice facilities for the men's and women's teams will provide the foundation for competitive recruiting and enhance student-athlete development. Furthermore, the facility improves the experience of nearly 500 student-athletes in each of Saint Joseph's 20 Division I programs through upgrading an indoor turf field, strength and training facilities, locker rooms, and holistic development through dedicated space for mental and nutritional well-being. Multiple community gathering spaces will provide opportunity for all Saint Joseph's students to connect and game-day enhancements will build on the most competitive arena in the A-10. This project will be funded entirely through philanthropic support. Learn more about Hagan Arena and Fan Experience.
Kinney Center for Autism Education & Support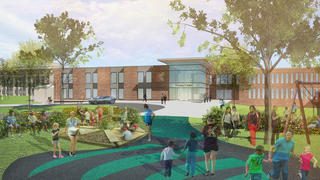 Rendering of the Kinney Center for Autism Education and Support facility.
Relocating the Kinney Center for Autism Education and Support into a dedicated facility will allow for an expansion and customized facilities to provide an active laboratory for research; serve as a real-world classroom for Saint Joseph's studying autism; and enhance services provided to individuals with autism. A newly constructed wing will feature flexible spaces that could house vocational training initiatives including a kitchen and apartment where individuals with autism will learn and practice skills. The building will include spaces for seminars, classes, research and technology labs – all designed to give students and clients the advanced training and services they need to be successful and build real-world skills. The space will connect the Kinney Center to the School of Education and Human Development in Merion Hall for convenient access and synergy.