New Early Childhood Education Program Expands University's Presence in China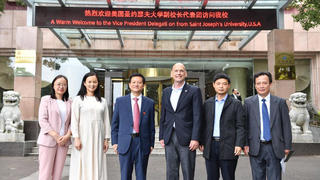 In the summer of 2023, Saint Joseph's University will welcome its first cohort of Chinese exchange students pursuing a master's degree in early childhood education through a joint partnership program with Hunan Normal University (HNNU) in Changsha, China.
The 1+1 Joint Program in Early Childhood Education is a two-year program that leverages a long-term strategic partnership with HNNU, allowing Saint Joseph's to expand its presence in China. The program was established through Saint Joseph's Office of China Programs, which aims to promote the Jesuit Universityto Chinese institutions and prospective students with the goal of enrolling undergraduate, visiting and graduate students from China, under the leadership of Cary Anderson, Ed.D., associate provost and vice president of student life.
Through the program, HNNU graduate students will be able to attend Saint Joseph's for a year to study American pedagogy and the U.S. education system while participating in field experiences. The program also gives the students the opportunity to further hone their English language skills, experience American higher education culture and explore the Philadelphia area.
"The goal of the program is to prepare HNNU exchange students for careers in teaching, research and management in preschool through elementary education through a curriculum that reflects best practices used by educators in the American education system," says Kaitlin Moran, Ph.D., assistant professor in teacher education at Saint Joseph's, who shared her expertise in early childhood education during the program's curriculum development.
Students in the program will complete their first year of study at HNNU, taking courses designed and taught by Saint Joseph's faculty on HNNU's campus starting fall 2022. Then, they'll travel to Saint Joseph's campus, where they'll participate in a month-long transition summer program and complete their second year of study. Students who finish the program will receive an early childhood education master's degree from both universities.
"This program represents the tremendous effort by both SJU and HNNU, and is based on a foundational strategic partnership with HNNU, which was developed over the years through other collaborations and trust building," says Juan Julie Yu, Ph.D., director of the Office of China Programs.
Successful programs are the vanguard of SJU's reputation, both in China and in other international markets."
A Growing Partnership
Founded in 1938, HNNU is one of China's preeminent universities and has a strong reputation for educating and training teachers. It's also a "211 Project" university, meaning that it's one of the country's 100 key universities in the 21st century and has priority in receiving national funding. HNNU is also recognized as a "Double First Class University," a designation created by China's Ministry of Education (MOE) to develop elite universities into world-class universities by 2050.
"HNNU is a strong and capable partner for SJU, and more importantly, its educational mission is strongly aligned with our own, making the university a natural fit for strategic program planning," Yu says.
Saint Joseph's partnership with HNNU was established back in 2015, with both universities sponsoring visiting delegations to each other's campuses and exchange students for undergraduate and graduate study. Since then, over 100 HNNU students have studied at Saint Joseph's as visiting students, with many enrolling in the University's degree programs after, including business, computer science, criminal justice, communication and education.
Then in 2019, Yu and Anderson saw an opportunity to expand the partnership through a joint program in early childhood education with the MOE.
Early childhood education has seen an increased focus and attention by the MOE in recent years and has historically been an underserved market in China, Yu explains. Thus, the 1+1 program was born.
"The 1+1 program is a milestone in the University's engagement strategy with China," Yu says. "Being recognized by the MOE means Saint Joseph's will be promoted at the national level in China as a trusted, leading U.S. university to all Chinese students."
HNNU exchange students will bring diverse experiences and perspectives to our campus, giving each of us the opportunity to learn from and engage with students from different backgrounds who've had different educational experiences."
A Lasting Impact
Yu says the program has the potential to impact the entire Saint Joseph's community.
"International programs tend to self-select in favor of courageous and highly engaged students," she says. "By bringing these kinds of students into SJU, they have the opportunity to contribute greatly to the social, educational and cultural fabric of the University."
Moran shares a similar sentiment. She also sees the 1+1 program pushing Saint Joseph's mission of preparing students for personal excellence, professional success and engaged citizenship forward.
"HNNU exchange students will bring diverse experiences and perspectives to our campus, giving each of us the opportunity to learn from and engage with students from different backgrounds who've had different educational experiences," Moran says. "Meanwhile, SJU faculty will have the unique opportunity to experience living and teaching in China, and to share their knowledge and perspectives with us all when they come back."
Yu adds that the program will serve as a model for future engagement with other Chinese strategic partners. HNNU is one of eight partner universities that Saint Joseph's has in China, and this kind of programming will allow Saint Joseph's to leverage its brand into other educational areas within China and the U.S., she says.
"Successful programs are the vanguard of SJU's reputation, both in China and in other international markets," Yu says. "At a time when many U.S. higher education institutions are pulling out of China or deprioritizing their focus, SJU is leading by example under the leadership of Dr. Anderson and leveraging its strengths to create stronger relationships and programs which will serve the University for many years to come."