Saint Joseph's Awarded $400K from PA Opioid Relief Settlement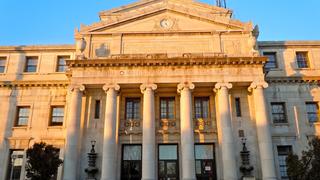 Saint Joseph's University received $400,000 in funding from the state of Pennsylvania's $10 billion Opioid Crisis Relief settlement. This grant makes up 65% of the funds allocated by Delaware County for institutions of higher education to support substance use education, prevention and treatment programs.
The University will disperse the funds across three separate priorities, which are being developed collaboratively across its institutes and colleges. The Institute of Clinical Bioethics (ICB), the Philadelphia College of Pharmacy (PCP) and the School of Education and Human Development (SEHD) will be working arm in arm with Saint Joseph's Center for Addiction and Recovery Education (CARE) to build the framework for opioid remediation programs in Delaware County. 
Education and Prevention Series for Medical Professionals
The ICB will launch the Opioid Addiction Education Series to address the need for physicians and healthcare professionals to have increased knowledge about Opioid Use Disorder (OUD). Through a regularly held educational series at Mercy Fitzgerald Hospital in Delaware County, this program will have a long-term impact on how future doctors approach pain management and opioid prescription practices using some of the educational content developed in partnership with CARE. 
This prevention-based educational series for medical residents and students includes over 10 sessions that can be implemented on a flexible schedule, a mix of in-person and remote lectures and a variety of interactive forums. 
"These lectures will also be open to nurses on rotations, as well as other providers present at the hospital," notes Peter A. Clark, S.J., PhD, professor of theology and religious studies, director of the Institute of Clinical Bioethics and Saint Joseph's McShain Ethics Chair. "We'll also have faculty from different organizations giving the presentations, which speaks to the specificity and expertise of each installment of this series."
Topics will include recognizing addiction, safe prescribing practices and alternative forms of chronic pain management.
 
Continuing Education Series for Pharmacy-related Providers
Saint Joseph's Philadelphia College of Pharmacy will be collaborating with its Substance Use Disorder Institute and CARE to develop and implement an online, asynchronous continuing education program designed to benefit the more than 350 pharmacists residing in the Delaware County region.
The program will be structured into six, 30-minute modules, which will address critical areas such as reducing the stigma surrounding OUD, implementing screening techniques, intervening when necessary and appropriately referring patients to local resources. Additionally, it will help pharmacists educate patients on the proper utilization of opioids, medications for OUD treatment and the administration of naloxone. The program places a strong emphasis on reducing the stigma surrounding OUD, ensuring that patient care is delivered in a compassionate and non-judgmental manner.
"We're going to be working with a video production company to make these modules as engaging as possible for our target audience," explains Andrew M. Peterson, PharmD, PhD, professor of pharmacy practice and PCP's emeritus John Wyeth Dean. "Ultimately, we are working to house these modules on CARE's virtual training platform, where they can be accessible to all, not just pharmacy-related providers." 
The modules will be accredited for continuing education units (CEUs) by the Accreditation Council for Pharmacy Education (ACPE). By providing accessible and relevant education, pharmacists will be empowered to play an instrumental role in combating the opioid crisis within Delaware County. 
Opioid Prevention and Education Curriculum for K-12 Students
The ICB evaluated an existing K-12 curriculum and proposed enhancements that can create a comprehensive opioid education and prevention health curriculum for students. Using this as its foundation, the SEHD has convened a working group consisting of Saint Joseph's subject matter experts and representatives from Delaware County schools to assess and evaluate the proposed curriculum and to begin to plan for its implementation in K-12 schools throughout the region.
"I knew when I started here at St. Joe's that I wanted to get SJU more involved in neighboring communities, especially because of the significant impacts of drug use in Philadelphia," explains Allison Dukes, NCC, assistant professor of clinical mental health, who will be working closely on the project. "This curriculum will help schools to provide K-12 students with social and emotional skills that are proven to prevent later drug use." 
When working with individuals who struggle with substance use, Dukes often finds herself working to unpack their past life events and identify situations that may have contributed to their later drug use. While this is helpful, she points out that providers eventually have to ask, "Where would they be if they had had more support or learning to help them through these difficult times?"
This is exactly why Dukes feels a K-12 school initiative of this nature is critically important. 
"We're aiming to bring the real stakeholders to the table," says Dukes. "We'll be empowering them to tell us what they need and how we can support them."
The next phase of Opioid Settlement Funds will be distributed in 2024 and will ensure we see these remediation programs come to life within the Delaware County community.