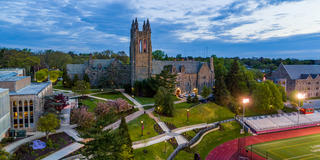 Substance Use Disorders Institute
Translating Science Into Policy & Practice
Substance use or misuse is America's most pressing public health issue: We lose more Americans from SUDs than from any other preventable health condition. Yet, healthcare professionals struggle to intervene. The Substance Use Disorders Institute (SUDI) addresses this through timely research, advocacy, and education.
Overview
The costs to individuals, families, and our communities have been devastating. Driven in part by excessive opioid use and an unprecedented flood of deadly heroin and fentanyl, drug overdose deaths have skyrocketed, resulting in hundreds of lives lost a day and an epidemic deadlier than the 1990s HIV/AIDS crisis.
About 23 million Americans need treatment for a substance use disorder—less than 10% receive it.  And appropriate prevention and support services are needed for those using substances in a problematic way. All healthcare professionals should feel called to action to address the problem, including learning from the over 22 million Americans living in recovery.
Gaps in knowledge and training—in addition to pervasive stigma and discrimination—perpetuate ineffective treatments and policy, and limit positive change. The solution: a research- and evidence-based approach.
The Substance Use Disorders Institute (SUDI) at USciences translates science into policy and practice and improves substance use disorders care, and promote effective long-term recovery strategies.
What We Do
How can we change our disconnected systems of care for substance use disorders? The Substance Use Disorders Institute (SUDI) provides custom training for a variety of healthcare professionals, advocates for people with substance use disorders, and conducts groundbreaking research to transform treatment and policy.
Education
Educating healthcare professionals is central to SUDI's mission to improve care for patients and populations. We offer customized training and CE/CME programs for healthcare professionals, hospital systems, medical and professional associations, and businesses to fill the gap in health education on substance use disorders throughout the field.
SUDI offers educational resources to prepare pharmacists, physicians, physician assistants, occupational therapists, nurses/nurse practitioners, social workers, allied health professionals and others. Topics include:
Screening, Brief Interventions, and Referral to Treatment (SBIRT)
The Opioid Crisis: The U.S. public health response
Naloxone for overdose prevention
Medication treatment for opioid use disorders: buprenorphine, methadone, naltrexone
Opiate use disorder treatment policies in justice system settings
Pain management and addiction
Substance use disorders: alcohol and other drugs
Medical cannabis—education including PA DOH-approved certification courses for medical professionals, and  training resources
What is harm reduction? Reaching the most vulnerable where they are: proven public health interventions that save both lives and money
Advocacy
SUDI works on the frontlines to enact policy on the local, state, and national levels. Our faculty and staff:
Serve on task forces and policy committees throughout the region
Meet with policymakers, payers, and health system representative
Support evidence-based decision-making with policy briefs
Provide expert comments at legislative hearings
Craft influential editorials
Publish commentary and guidances
By participating in and hosting symposia, lectures, and presentations, SUDI creates even more opportunities to advance policy discussions and convene experts from across disciplines.
Research
Historically, substance use policy and treatment have been based on ineffective ideology and opinion ungrounded in data. SUDI's integrated faculty and staff address gaps in evidence by conducting and publishing preclinical, clinical, health policy, and public health research.
Our students stay active on the latest developments and have plenty of chances to get involved in research during their time at SUDI. Please contact us for more information
Opioid Continuing Education Program
Training the Community Pharmacist to help manage Patients with Opioid Use Disorder (OUD)
Supported by an unrestricted educational grants from the Amerisource Bergen Foundation, we have developed an online, asynchronous continuing education training program for community pharmacists.
Faculty and Staff
SUDI faculty represent a diverse and interdisciplinary range of healthcare professionals and leaders in the field—including clinicians from pharmacists to occupational therapists, neuroscience, toxicology, and pharmacology researchers, and biomedical business, regulatory and policy experts. They all prioritize evidence-based approaches to identifying and managing the health problems associated with the use of alcohol and other substances.
Faculty
Medical Cannabis Education
Medical cannabis is gaining momentum in America, with more states legalizing its use and dispensaries opening up across the country. Yet physicians, pharmacists, and nurses received next to no education on cannabis as a therapeutic option in their medical training.