Hawks Make History with Record Number of Fellowships and Awards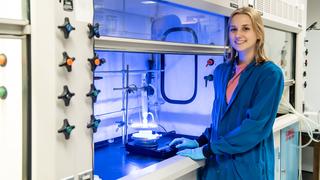 It's been a landmark year for Saint Joseph's students, who took home a total of 12 fellowships this spring, including four Fulbright ETAs (plus two semifinalist nominations) and a record number of STEM awards — surpassing their peers at several Philadelphia universities. 
It's also the first time that two students were awarded Barry M. Goldwater Scholarships and DAAD-RISE summer fellowships in the same year, and the first time ever that a Saint Joseph's student was recognized by the prestigious Udall Foundation with an honorable mention for her commitment to the environment.
"We had truly outstanding applicants and fellowship winners from multiple disciplines, making this a record-breaking year for SJU in terms of the number of students who won prestigious national and international fellowships. I look forward to working with next year's class," says Mark Reynolds, Ph.D., director of the Office of Fellowships and associate professor of biochemistry and chemistry. Reynolds works closely with students to identify, advise and mentor them through the fellowships process.
With a number of study abroad opportunities and fellowship travel put on pause over the last couple years due to the pandemic, this year's winners are excited to apply what they've learned on Hawk Hill out in the world.
To apply for a scholarship, fellowship or grant, or to learn about award opportunities, visit Saint Joseph's Fellowships Office.