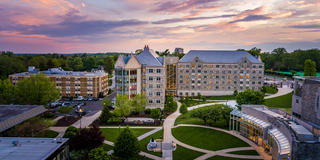 Career Center Photo Booth Grab the perfect headshot photo using the new headshot photo booth in Saint Joseph's Career Center.
Career Center Photo Booth
The Career Center prepares students and alumni to reach and achieve professional goals throughout their lifetime. Through the development of meaningful and productive relationships with industry and campus partners, students and alumni are connected with experiential and professional opportunities and resources.
Whether you are looking to update your LinkedIn profile or ID photo, visit the Career Center on Hawk Hill at Saint Joseph's University. The Career Center on Hawk Hill launched a new photo booth ready for students, staff, faculty and alumni to get their new professional quality photo taken.
How it Works
Schedule your headshot appointment.
Be sure to wear clothing that stands out against the background provided for you.
Edit the photos to your liking after they arrive to your inbox.
Crop the image to show your face and shoulders.
Upload your new profile photo where you see fit.