Encarna Rodríguez, Ph.D.
Professor and Chair, Department of Educational Leadership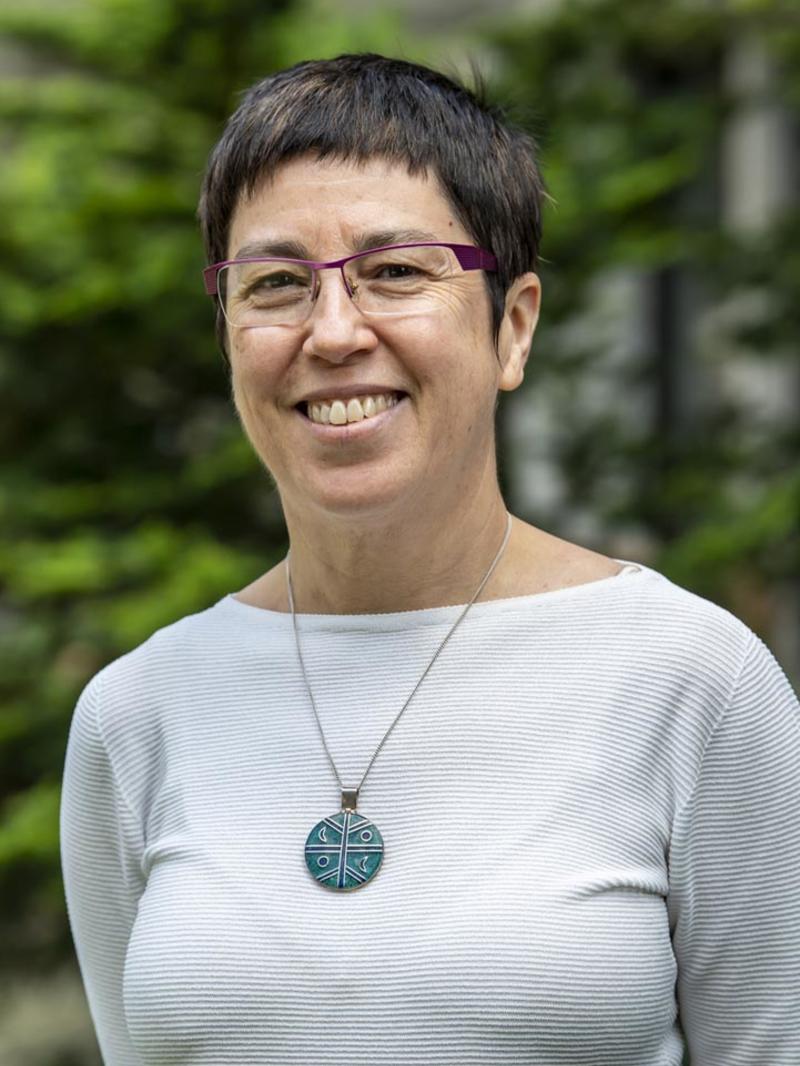 Office
Merion Hall 281
Phone
610-660-3348
Encarna Rodríguez, Ph.D., teaches in the Educational Leadership Department. Originally from Spain, Dr. Rodríguez worked as a school psychologist for the Ministry of Education there for eight years. During that time, she participated in the comprehensive Education Reform Law, which she later documented in her doctoral work at Pennsylvania State University and in her book Neolibealismo, Educación y Género: Análisis Crítico de la Reforma Educativa Española (La Piqueta, 2001).
Dr. Rodríguez's research has focused on the intersection of neoliberalism and curriculum. Her recent scholarly work has looked more specifically at the need to reclaim the public grounds of public education at the local, national and international level. This work has reached both English and Spanish speaking audiences through two edited collections:  Pedagogies and Curriculums to (Re)imagine Public Education: Transnational Tales of Hope and Resistance (Springer, 2015) and Re Imaginar la Educación  Pública: Un Reto Democrático, Curricular y Pedagógico (Ediciones Universidad Alberto Hurtado, 2017). As an international scholar, Dr. Rodríguez has also been involved in international partnerships with Alberto Hurtado University in Chile and Fe y Alegría in Bolivia. Furthermore, she has presented her research at multiple national and international forums. Locally, Dr. Rodríguez has collaborated with grassroots efforts to make urban education more equitable and community grounded. 
Dr. Rodríguez has served in numerous committees at the university level, and she is currently the Chair of the Department of Educational Leadership. 
Ph.D. in Curriculum & Instruction, The Pennsylvania State University.
B.S. in Psychology, University of Oviedo (Oviedo, Spain).

Rodríguez, E. (Ed.) (2017). Re Imaginar la Escuela Pública: Un Reto Democrático, Curricular y Pedagógico. Santiago, Chile: Editorial Universidad Alberto Hurtado.
Rodríguez, E. (Ed.) (2015). Pedagogies and Curriculums to (Re)imagine Public Education: Transnational Tales of Hope and Resistance. Singapore, Heidelberg, New York, Dordrecht & London: Springer. (Recipient: 2016 AERA Division B Outstanding Book Recognition Award)
Rodríguez, E. (2015). Introduction. In E. Rodríguez (Ed.), Pedagogies and Curriculums to (Re)imagine Public Education: Transnational Tales of Hope and Resistance (pp. 1-14). Singapore, Heidelberg, New York, Dordrecht & London: Springer.
Rodríguez, E. (2015). Reclaiming schools as public sites of democratic imagination. In E. Rodríguez (Ed.), Pedagogies and Curriculums to (Re)imagine Public Education: Transnational Tales of Hope and Resistance (pp. 15-34). Singapore, Heidelberg, New York, Dordrecht & London: Springer.
Rodríguez, E. (2015). Public schools as publicly imagined. In E. Rodríguez (Ed.), Pedagogies and Curriculums to (Re)imagine Public Education: Transnational Tales of Hope and Resistance (203-2018). Singapore, Heidelberg, New York, Dordrecht & London: Springer.
Rodríguez, E. (2014). International immersion experiences: Helping preservice teachers to reconceptualize the role of poor communities in education. In S. Sharma, J. Rahatzad, & J. Phillion (Eds.), Internationalizing Teacher Education for Social Justice: Theory, Research, and Practice (pp. 19-34). Information Age Publishing.
Rodríguez, E. (2013). Child-centered pedagogies, curriculum reforms, and neoliberalism. Many causes for concern, some reasons for hope. Journal of Pedagogy, 4 (1), 59-78.
Rodríguez, E. (2011). Constructivism and the neoliberal agenda in the Spanish curriculum reform of the 1980s and 1990s. Educational Philosophy and Theory, 43(10), 1047-1064. (Article first published online: 9 FEB 2010). doi: 10.1111/j.1469-5812.2009.00613.x
Rodríguez Pérez, E. (2011). Constructivism and ideology: Lessons from the Spanish curriculum reform of the 1980s. Revista de Educación, 356, 83-105.
Rodríguez, E. (2011). Reflections from an international immersion trip: New possibilities to internationalize curriculum in teacher education. Teacher Education Quarterly, 38 (1), 147-160.

Professor of Curriculum-AERA Division B.
2016 AERA Division B Outstanding Book Recognition Award.
Nominated for the International Distinguished Dissertation Award in Social Sciences by The Pennsylvania State University, 2000.
Fulbright-CIP/DGAS Scholarship. Chicago, Illinois. April, 1990-May, 1991