Martha Easton, Ph.D.
Assistant Professor of Art History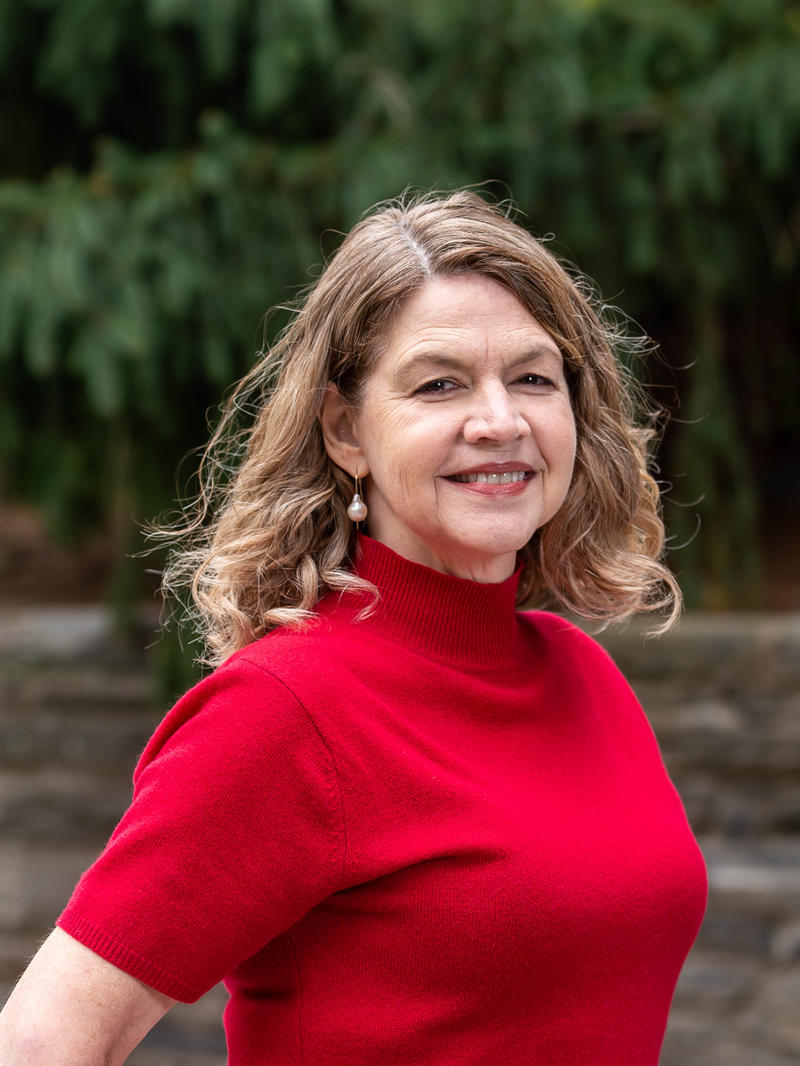 Martha Easton specializes in medieval art and architecture. Her research and publications have centered on illuminated manuscripts, gender and hagiography, feminist theory, medievalism, and the collecting of medieval art during later periods. She has taught at several colleges and universities in the mid-Atlantic area, and she lectured at the Met Cloisters for 10 years. She is a founding member of the Material Collective, a collaborative of art historians and others interested in fostering a safe space to think in alternative ways about objects and visual culture in general. In addition to her expertise in medieval art, Easton has taught courses on Asian art, which was her minor in graduate school and an interest developed during the six years she spent living and working in Japan.
Ph.D., Fine Arts, Institute of Fine Arts, New York University; Major Fields: Early Christian and Medieval Art; Minor Field: Japanese Art
Certificate of Curatorial Studies, Institute of Fine Arts/The Metropolitan Museum of Art
M.A., Fine Arts, Institute of Fine Arts, New York University
B.A., History, Carleton College

Saint Joseph's University, Assistant Professor of Art History
Seton Hall University, Assistant Professor of Art History and the M.A. Program in Museum Professions
Bryn Mawr College, Lecturer in Art History
New York University, Adjunct Instructor of Art History
The Cooper Union for the Advancement of Science and Art, Adjunct Instructor of Art History

(SELECTED PUBLICATIONS)

Journal Articles and Book Chapters

2019 "Gender and Sexuality," in A Cultural History of Hair in the Middle Ages, vol. 2 (ed. Roberta Milliken), A Cultural History of Hair, 6 vols., (London, Bloomsbury Academic), 2019, pp. 107-22.
2018 "Integrated Pasts: Glencairn Museum and Hammond Castle," with Jennifer Borland, Gesta 57.1 (2018), pp. 95-118.
2017 "Feminist Art History and Medieval Iconography," in Routledge Companion to Medieval Iconography, ed. Colum Hourihane, (Abington, Routledge), 2017, pp. 425-36.
2013 "Images Gross and Sensible: Violence and Memory in Medieval Art," in Memory and Commemoration in Medieval Culture, eds. Elma Brenner, Meredith Cohen, and Mary Franklin-Brown (London, Ashgate Press, 2013), pp. 33-53.
2013 "Artistic Representation: Women in/and Visual Culture," co-author along with Marian Bleeke, Jennifer Borland, Rachel Dressler, and Elizabeth L'Estrange, in A Cultural History of Women in the Middle Ages, ed. Kim Phillips, 2nd volume in a 6-volume series, A Cultural History of Women, general ed. Linda Kalof, (Oxford, Berg Publishers, 2013), pp. 179-213.
2012 "Feminism," in Medieval Art History Today – Critical Terms, a special issue of Studies in Iconography, ed. Nina Rowe, Vol. 33 (2012), pp. 99-112.
2012 "Uncovering the Meanings of Nudity in the Belles Heures of Jean, Duke of Berry," in The Meanings of Nudity in Medieval Art, ed. Sherry Lindquist (London, Ashgate Press, 2012), pp. 149-81.
2009 "'Why Can't a Woman Be More Like a Man?' Transforming and Transcending Gender in the Lives of Female Saints," in The Four Modes of Seeing: Approaches to Medieval Imagery in Honor of Madeline Harrison Caviness, eds. Elizabeth Pastan, Ellen M. Shortell, Evelyn Staudinger Lane (London, Ashgate Press, 2009), pp. 333-47.
2008 "Was It Good For You Too? Medieval Erotic Art and Its Audiences," Different Visions: A Journal of New Perspectives on Medieval Art, differentvisions.org, ed. Rachel Dressler, on-line September 15, 2008, pp. 1-30.
2006 "The Wound of Christ, the Mouth of Hell: Appropriations and Inversions of Female Anatomy in the Later Middle Ages," in Tributes to Jonathan J.G. Alexander: The Making and Meaning of Illuminated Medieval and Renaissance Manuscripts, Art and Architecture, eds. Susan L'Engle and Gerald B. Guest, (London/Turnhout, Harvey Miller Publishers, 2006), pp. 395-414.
2002 "Pain, Torture and Death in the Huntington Library Legenda aurea," in Gender and Holiness: Men, Women, and Saints in Late Medieval Europe, eds. Samantha Riches and Sarah Salih (London and New York, Routledge, 2002), pp. 49-64.
1998 "Gender Issues in the Art of the Middle Ages," Medieval Feminist Newsletter, No. 25, Spring 1998, pp. 46-49.
1994 "Saint Agatha and the Sanctification of Sexual Violence," Studies in Iconography, Volume 16, 1994, pp. 83-118.

Bibliographic Essay

Book Reviews

2016 Roberta Millikin, Ambiguous Locks: An Iconology of Hair in Medieval Art and Literature (Jefferson, North Carolina: McFarland & Company, Inc., Publishers, 2012) for Speculum: A Journal of Medieval Studies, (2016): 91.3: 825-26.
2016 Penny Howell Jolly, Picturing the "Pregnant" Magdalene in Northern Art, 1430-1550: Addressing and Undressing the Sinner-Saint," in the series Women and Gender in the Early Modern World (London, Ashgate Press, 2014) for The Renaissance Quarterly, (2016) 69.1: 237-38.
2014 Thomas Kren and Roger A. Wieck, Visions of Tondal from the Library of Margaret of York (Ibook), (Los Angeles, the J. Paul Getty Museum, 2012) for H-France Review, Vol. 14 (July 2014), No. 102.
2011 Diane Wolfthal, In and Out of the Marital Bed: Seeing Sex in Renaissance Europe (New Haven: Yale University Press, 2010), Speculum: A Journal of Medieval Studies, (2011) 86: 1135-36.
2010 Elizabeth L'Estrange, Holy Motherhood: Gender, dynasty and visual culture in the later middle ages (Manchester and New York: Manchester University Press, 2008), Speculum: A Journal of Medieval Studies, (2010) 85: 703-05.
2010 Timothy B. Husband, The Art of Illumination: The Limbourg Brothers and the Belles Heures of Jean de France, Duc de Berry (New York: The Metropolitan Museum of Art, 2008), Speculum: A Journal of Medieval Studies (2010) 85: 975-77.

Online Articles

(SELECTED GRANTS AND AWARDS)

2016 Researcher of the Year, College of Communication and the Arts, Seton Hall University
2015 Senior Research Fellowship, Center for the History of Collecting, The Frick Collection and Frick Art Reference Library
1998 Samuel H. Kress Foundation Travel Grant
1997-98 Gilbert Chinard Fellowship Award, Institut Français de Washington
1996-97 Samuel F.B. Morse Fellowship, Institute of Fine Arts
1996-97 Andrew W. Mellon Foundation Fellowship, The Huntington Library
1992-93 National Endowment for the Arts Fellowship
1992-93 Ford Foundation Fellowship
1991-92 Robert Lehman Fellowship for Graduate Study in the Fine Arts, Institute of Fine Arts

I am presently writing a book about medievalism, and the collection and display of medieval art in the United State during the early twentieth century, focused on the scientist and art collector John Hays Hammond Jr. and his spectacular revivalist medieval-style castle home, built in the 1920s on the coast of Gloucester, Massachusetts. I have also become interested in copies and reproductions of artwork, and the varying purposes that they have served in private collections, museums, and educational institutions, especially things like fictile ivories and plaster casts of sculpture and architecture.