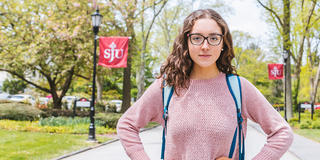 Future-Proof Education
You can't predict the future.
But you can prepare for it.
The Jesuit Difference
Here's the good news: The skills that best equip you to be nimble in today's changing environment are the ones we've been focused on since 1851: critical thinking, ethical decision making, creative problem solving, social awareness, self-reflection and global citizenship. Our liberal arts-based curriculum allows for greater exposure to a variety of disciplines and increased flexibility for program and course combinations.
Of the class of 2018 completed at least one experiential learning opportunity while they were here.
Of the class of 2020 graduated with a double-major and/or minor, prepared for wherever life takes them.
Students graduated with a double major in the class of 2019.
Students graduated with at least one minor.
What's Your Combination?
Many undergraduate students add a double major or minor, often choosing combinations across departments or colleges. If you're a graduate or adult student, explore our stackable certificate options, tracks/concentrations within master's degrees and professional development programming.
"At SJU, I was able to combine my interests in international relations and political science with public health. In my current role, I truly have the experience of working at the intersection of policy and law, but also health care and community development. It's perfect for allowing me to combine all of these very different disciplines in a way that's impactful."
"Data is complex. In one of my classes at Saint Joseph's, we mined a dataset from a Latin American school network, provided analysis and visualization, and had to tell a compelling story to drive insight. Having the chance to use real data prepared me for the unpredictability of real-world data analysis."
"Thankfully, I'm at a place where I don't have to keep my head down and just focus on one thing. I can take classes and do projects that align with my interests, not just my major … My first-year seminar was an art history class. Art has always been an interest of mine, and the class fueled that passion. The curriculum encourages you to take classes beyond your major."