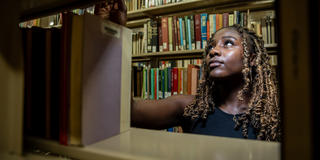 Future-Proof Education
You can't predict the future.
But you can prepare for it.
The Jesuit Difference
Here's the good news: The skills that best equip you to be nimble in today's changing environment are the ones we've been focused on since 1851: critical thinking, ethical decision making, creative problem solving, social awareness, self-reflection and global citizenship. Our liberal arts-based curriculum allows for greater exposure to a variety of disciplines and increased flexibility for program and course combinations.
Of the undergraduate Class of 2021 completed at least one experiential learning opportunity while they were here.
Of the Class of 2021 graduated with a double-major and/or minor, prepared for wherever life takes them.
Students graduated with a double major in the Class of 2021.
Students graduated with at least one minor in the Class of 2021.
What's Your Combination?
Many undergraduate students add a double major or minor, often choosing combinations across departments or colleges. If you're a graduate or adult student, explore our stackable certificate options, tracks/concentrations within master's degrees and professional development programming.
Throughout my experience at St. Joe's, I have learned that I love giving back more than I had originally thought. Community organizing is something that I have a goal of pursuing in the future."
Thankfully, I'm at a place where I don't have to keep my head down and just focus on one thing. I can take classes and do projects that align with my interests, not just my major … My first-year seminar was an art history class. Art has always been an interest of mine, and the class fueled that passion. The curriculum encourages you to take classes beyond your major."
I was able to learn how to mix and match all my diverse academic interests. Taking classes in Asian politics and computer engineering at the same time allowed me to make connections between the two spheres of interest I love the most and apply them in the real world in my co-op."