New Scholarship – Funded Anonymously – Honors Former Congressman and Philadelphia Mayor William Green '60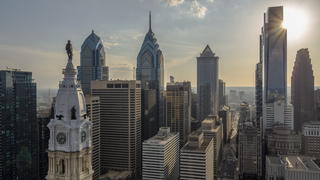 It should not be surprising that Saint Joseph's now has a scholarship in honor of William (Bill) Green III '60. The former congressman and Philadelphia mayor is a proud alumnus who also served on Saint Joseph's board of trustees for nine years.
The surprising part is that it is an endowed scholarship created with a $100,000 donation from an anonymous donor, as a thank you to Green for his decades of public service. The generous benefactor has been interested in public affairs and politics his entire life. Fifty years ago while still in college, he volunteered in Green's first mayoral campaign, and a friendship was born. It was a friendship he would pay forward five decades later.
"My life has been impacted by unanticipated events," says Green, alluding to the recent scholarship. "Today, two come to mind. At the end of October 1963, I spent some time with my father and President Kennedy in Philadelphia. He asked what I was doing. Learning that I was in my last year of law school, he said to my father, 'What are you going to do with him, Billy?' Dad responded, 'What do you suggest, Mr. President?' 'Do what my father did with me, run him for Congress.' We all laughed."
In just two months' time, so much would change.
"The President was killed on November 22. My father died that following December. By January I was a candidate for Congress," he says.
In 1964, Green won his father's seat; he was only 25 years old and the youngest person in Congress at that time.
Green's father attended Saint Joseph's but dropped out during the depression and became active in politics, eventually serving as a nine-term congressman. By the time Green succeeded his father, he had led the most powerful political machine in the country and had been a major force behind the Kennedy nomination.
In tribute, on Christmas eve, President Johnson and the first lady flew from Washington on their way to Texas to attend his funeral. Robert Kennedy came with a hand-written letter for Green's mother from Jacqueline Kennedy, which read in part, "I don't think Jack would have been president without Billy Green."
"This endowed $100,000 scholarship is a second totally unanticipated event," he says. "I was flabbergasted when my friend told me he had already funded it. Incredulous, I was grateful and frankly emotionally moved. The generosity and kindness was, and remains, stunning."
A Life of Public Service, Rooted in Jesuit Ideals
Green credits his experience at Saint Joseph's as being formative to his character and how he approached a life of public service.
At a speech he gave at the University in 1986, Green said, "Whatever part of what I really am – as opposed to what I am perceived to be (they are not always the same) was significantly shaped here. Friendships of a lifetime were formed here. Values to live by were ingrained here. This place to me represents these values and reminds me always of the students and teachers that helped me grow."
He went on to say: "This is the place where the role of religion became understood and the understanding internalized, absorbed and ingrained. I thought what we learned at St. Joe's most of all is that, what it comes down to in the end is the unshakeable Ignatian standard for the Society of Jesus. Somehow manage to be in the world but not of it. We learned that living by such standards is not easy, but maintaining personal integrity while working through the complex compromises of everyday life is what it is all about."
As a member of Congress, Green was praised by national columnist Jack Anderson, an unrelenting critic of Congress, who called Green, "One of the 10 most effective congressmen in the country for good."
In 1976, Green ran and lost a race for the United States Senate and ran for Mayor of Philadelphia in 1979. Upon inauguration, he found the city all but bankrupt, the school district broke and poorly run, and a transportation system on the brink of collapse. He succeeded in turning around all three.
Racial division was also deep. It hampered the healthy consensus that progress requires and justice demands. Police brutality was tolerated and sometimes even encouraged. Very early on, Green proclaimed deadly force rules governing police use of force in Philadelphia — the only major city in the country that had none at that time.
A total lack of racial and gender inclusion at the highest level of government had persisted for decades. Immediately, Green embraced inclusion. By the end of his term, the city budget was sound, the schools improved and the transportation system significantly modernized, relations with Washington and Harrisburg restored and large federal grants began to flow.
Late in 1982, he stunned all observers by announcing he would not run for re-election. The next day the Daily News editorial stated, "There is no question — not one in the world — that Bill Green's three years in office have been good for Philadelphia. He and some superb appointees have reduced racial tension, given the town a true shot at fiscal sanity ..."
When he left a year later, The Philadelphia Inquirer said, "Green is credited with shaping up and pruning down a municipal operating budget that had become dangerously unbalanced, and with helping to bring change and order to the Philadelphia school district. New, tough standards were set in labor negotiations, a host of bright, business-minded professionals were enlisted for public service, and the strained relations with Washington were improved. With Green at the helm of government, Philadelphia celebrated its 300th birthday in grand-but-economical style, a spate of downtown construction projects had begun, and a few large national corporations even were persuaded to relocate here," for the first time in 50 years.
Green's Jesuit education from Saint Joseph's University formed the foundation upon which he led his life in public service, and there's a direct through line from what he learned in the classroom on Hawk Hill to what he carried to Congress and the mayor's office.
"One's set of religious beliefs are a way of life, and the values we live by were ingrained here," Green says. "Whatever careers we chose after graduating didn't matter as much as that we left with guidelines for life."
"I have to thank God for all the incredibly good breaks that came my way, and this gift is a perfect example of that. The donor of this endowed scholarship did not attend St. Joe's but he clearly is 'a man for others.' His desire to remain anonymous encapsulates the selflessness that Saint Joseph's University teaches and I am honored to have a scholarship in my name that will impact young people for years to come and at an institution that has meant so much to me."