First-Year Student Pursues Passion for Diversity and Inclusion Work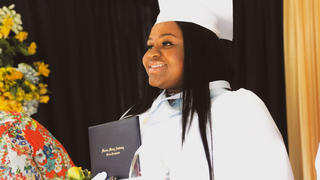 Keys to the Article
Cierra Parker '24 has always been interested in promoting diversity and inclusion, but she initially thought that work needed to start with adults.
Now, she's helping create a more inclusive community on Saint Joseph's campus by participating in numerous initiatives such as #BeCivil, a student-led diversity education and training campaign.
After earning her marketing degree at Saint Joseph's, Parker hopes to work with corporations to improve their diversity, equity and inclusion policies.
Cierra Parker '24 has always believed in the importance of promoting diversity and inclusion in her community. "It's the first step to making the world a better place, to creating a society where everyone's ideas are valued and addressed," she says.
But she also thought diversity and inclusion work had to start with adults. It wasn't until she served as one of the first students on the inaugural diversity and inclusion committee at her Catholic high school, Merion Mercy Academy, that she realized she was wrong.
"Diversity can start with us; we don't have to wait for people who are older than us to initiate those conversations," she says.
As a committee member, Parker attended a national student diversity conference in Seattle, Washington, in 2019. There, she saw how invested young people were in making a difference and how powerful their voices were.
"I met people from all over the world — students of different ethnicities, sexualities, religions, economic backgrounds," she says. "We discussed social issues, from civil rights to environmental justice, and brainstormed what we can do to help solve them and change our future."
It was also at that conference where she discovered her passion for diversity and inclusion work, which she brought with her to Saint Joseph's University.
Diversity can start with us; we don't have to wait for people who are older than us to initiate those conversations."
Now a first-year marketing major and a Lenfest Scholar, Parker has embraced numerous involvement opportunities at Saint Joseph's, including joining the Black Student Union and #BeCivil, a student-led diversity education team that provides identity workshops and training across campus. In November, Parker also shared her work and achievements virtually with the 1,800 attendees at her alma mater Gesu School's 23rd annual symposium, before introducing keynote speaker Ibram X. Kendi, author of the No. 1 New York Times bestseller, "How to Be an Antiracist." Rooted in the traditions of the Jesuits and Sisters, Servants of the Immaculate Heart of Mary, Gesu School is known for empowering pre-K to 8th-grade students in the inner-city of Philadelphia through a holistic approach to education. Inspired by their mission of social justice, Parker now has her eyes set on her career goal: working with corporations to prioritize and improve their diversity, equity and inclusion efforts.
"It's something that's just being talked about in our society, especially in the corporate world and on the executive level where Black women like myself are largely underrepresented," she says. "But we need to normalize those conversations around diversity, even if they're uncomfortable."
Embracing Opportunities to Make a Difference
The morals and values Parker learned and adopted from her Jesuit education also influenced her desire to dive deeper into diversity and inclusion work.
"One thing that always stuck with me was magis," she says. "I'm always striving to be my best self so that I can better help others. I believe that's my calling here on this earth."
Parker says attending Saint Joseph's enables her to pursue that calling with confidence; she's learning new skills and concepts that will allow her to help businesses create more diverse and inclusive policies. For example, her Essentials of Organizational Behavior course, taught by Ronald Dufresne, Ph.D., associate professor and interim chair of management and director of the Leadership, Ethics and Sustainability Program, showed her the parallels between management theories and encouraging communities to commit to and engage with diversity and inclusion.
She adds that she's proud to be on a campus like SJU. "There is a diverse group of students, faculty and staff who are making a great impact to make St. Joe's a more inclusive space," Parker says. "They're taking the necessary steps toward progression and leading important conversations to create a better environment for everyone."
And despite only having been at the University for a semester, Parker's mentors and professors can already attest to her enthusiasm to grow and participate in that work.
She has no plans to take her college experience for granted and wants to get as much from her time here as possible."
"I'm so happy to have Cierra as a member of our Saint Joseph's community. She is committed to growing as a student and as a leader," says her professor, Dufresne. "Her passion for learning and for forming connections with others is infectious."
Natalie Walker Brown, M.S., director of the Inclusion and Diversity Education Achievement (IDEA) office, shares a similar sentiment about Parker. Brown got to know Parker through "Running Start Early Arrival," a pre-collegiate program that IDEA offers to support underrepresented students, which Parker participated in last August.
"Cierra has always struck me as a doer," Walker Brown says. "She has no plans to take her college experience for granted and wants to get as much from her time here as possible. She is the type of student who is passionate about serving and helping others and is beginning to craft a college experience that will allow her to have the greatest impact on her communities."
Parker says she's looking forward to what the future holds. "I feel like I'm just getting started," Parker says. "I'm excited to see how my efforts will make a positive difference in our world."