A New Path to a Writing Career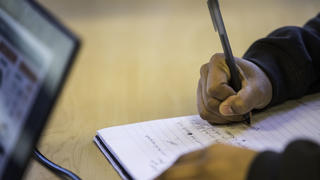 This fall, the Writing Studies Program expanded its reach – and enrollment – with a new, 15-credit certificate. The certificate option is designed as an introduction to the Writing Studies master's degree program and allows students to explore a variety of genres and career options within the writing and publishing world.
"If you want to truly understand storytelling and set yourself apart as a writer," says Tenaya Darlington, M.F.A., professor and director of the Writing Studies Program, "this option is designed to give you deeper insights and opportunities."
Students hone their skills through a wide range of courses in three areas: culture, rhetoric and composition, and professional writing, a distinction that sets the program apart from other writing degree programs. "If you're looking for professional development, if you want to boost your skills and confidence as a writer," adds Darlington, "you've got a good reason to explore the certificate." Exposure to multiple facets of the writing field opens up career opportunities in journalism, fiction writing, publishing, writing for nonprofits, fundraising and marketing.
The five-course certificate can be completed in two semesters, with evening courses taught by professional writers, including New York Times bestselling authors. In addition to one core requirement, The Practice of Writing, students can choose any four courses in the program. After completing the certificate, students may opt to take an additional five courses to earn a Writing Studies M.A. 
Find out more about the Creative and Professional Writing Certificate here.