Creative and Professional Writing Certificate
Overview
The Certificate in Creative and Professional Writing will enhance your writing skills, introduce you to new and exciting career pathways and boost your confidence as a writer. You'll take one core course from the Writing Studies M.A. program, followed by four electives of your choosing. We offer a variety of professional courses, such as Writers at Work and Style, plus creative courses that include Screenwriting, Fiction, and Nonfiction. Focus on one area or take a mixture of both.
Our certificate is designed for anyone seeking professional development, a career in writing or communications, knowledge of publishing or guidance in portfolio development for further graduate study. Work at your own pace by choosing one, two or three courses per term. Our evening classes are small and designed for working professionals. We're here to support you as a writer.
Length of Program
2 semesters or up to 2 years
Build Toward a Master's
Students who successfully complete the certificate program with a GPA of 3.0 or higher can then take five additional courses to earn a M.A. degree in Writing Studies.
Program Director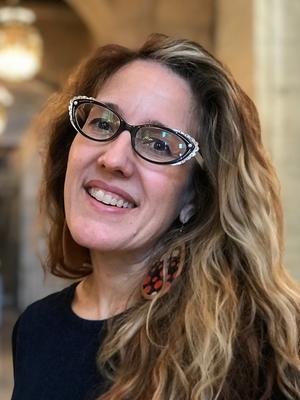 Tenaya Darlington, M.F.A.
Professor, Director of the Writing Studies Program