Overview
Computing and computer technology are part of just about everything that touches our lives - from the cars we drive, to the products we consume, to the way we communicate with others. Understanding different dimensions of computing is one of the necessary skillsets for an educated person in the 21st century.
100% Online Option
The Computer Science master's degree at Saint Joseph's is available fully online starting in Fall 2020. You can choose to take your courses all online, on campus or a combination of both formats.
Machine Learning, AI and More.
Our computer science master's degree is taught by faculty experts who are on the cutting edge of the industry. You'll have an opportunity to take classes that cover relevant and growing topics including:
Artificial Intelligence
Object Oriented Design and Data Structures
Design and Analysis of Algorithms
Advanced Machine Learning
Specialize with a concentration
For over 20 years, the M.S. in Computer Science program at Saint Joseph's University has been at the forefront of education in the theory and practice of computer science. The SJU computer science program offers concentration options to meet your interests and career goals, including:
Web & Database Technologies
Cybersecurity
Artificial Intelligence Track
Satisfying and Rewarding Outcomes
Computing jobs are among the highest-paid and offer the highest job satisfaction. Computing is very often associated with innovation, and developments in computing tend to drive it. This, in turn, is the key to national competitiveness. The possibilities for future developments in computer science are expected to be even greater than they have been in the past.
It's easy to see that companies need more employees with advanced degrees in computer science to meet this demand. Earn your degree and take advantage of the large number of open positions available right now.
Studying at Saint Joseph's, you'll have the added benefit of being in Philadelphia, one of the major corporate centers in the US and headquarters for 14 of the Fortune 500 companies.
A Field That Needs More Talent
Today there are more computing jobs than qualified people to fill them in the United States.
13% growth projected for employment of systems developers
17% growth projected for employment of software developers
19% growth projected for employment of application developers
27% growth projected for employment of web developers
*between 2014 - 2024, according to Bureau of Labor Statistics
Program Director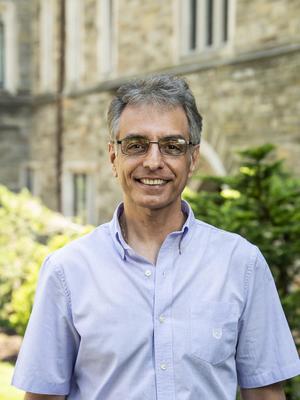 At a Glance
Length
24 months
Start Terms
Fall, Spring, Summer
Format
Online, On campus or both.
Credits

30 credits

Full-time
9 credits per semester
Part-time
6 credits or less per semester
Tuition

$991 per credit (2020-2021); $50 fee (per course)

Average Work Experience

Work experience varies. A background in computer science is not required to apply, though prerequisites may be needed.

Housing

While most graduate students commute, we do offer on and off-campus housing options for adult and graduate students.

Jobs in Computer Science

Cybersecurity specialist

Software developer

Web developer

Technology analyst

Software quality assurance engineer

Information systems developer

Graduate Assistantships

The department offers a limited number of teaching assistantships to qualifying students beyond their first semester. For more information, please contact the Computer Science Department at csci@sju.edu or 610-660-1567

Discount Eligibility

Alumni of Saint Joseph's are eligible to receive 10% off the cost of this program through our 

alumni discount

.

Completed a year or more of service with a recognized service organization? You may be eligible for our 

mission discount

. 

Check with your employer to see if they are an Edcor or a Bright Horizons EdAssist member, which may entitle you to a discount on graduate programs. 

*note - discounts cannot be combined. 

Veterans

Saint Joseph's is a yellow ribbon school that accepts GI education benefits. Our Office of Veterans Services can help you access and understand your benefits.