How Hawk Student-Athletes Are Training for an Unconventional Season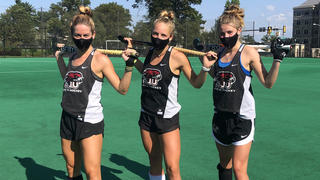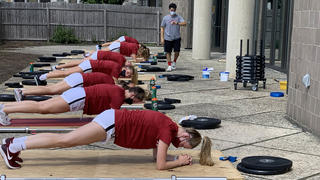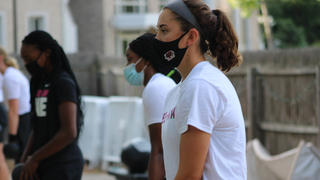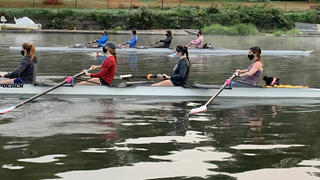 Field hockey players on the field during a recent practice.
Members of the women's soccer team doing conditioning at a recent practice. The weight room has moved outdoors this fall.
Mary Sheehan '20, who is currently a graduate student in business intelligence and analytics, works out with the women's basketball team.
Members of the women's rowing team on the water during a recent practice.
Take a walk past any athletic facility on campus, and you'll see student-athletes back in the full swing of training and conditioning. While fall sports are on hold for now, the Hawks' women's field hockey, men's and women's cross country, and men's and women's soccer teams are putting in the work to stay in shape and be competition ready.
As the fall semester began, Saint Joseph's Department of Athletics staff recently sat down with field hockey senior forward Jordan Olenginski '20, men's cross country distance senior runner Matthew Scarpill '20, women's cross country graduate student distance runner Meridith Twomey '20, a graduate student in finance, men's soccer senior defender Daniel Morales '20, and women's soccer senior midfielder/defender Sofia Filippo '21 to talk about training in an unconventional year. 
An edited transcript of the conversation follows.
In returning to campus this month, what is the overall atmosphere like on Hawk Hill? 
Meridith Twomey (Women's Cross Country): We didn't have the preseason, and that was definitely the weirdest part for me, because all four years, we've had a week where everyone's back and we get to know each other pretty well. Now, we're kind of getting to know each other just by seeing everyone around, like showing a freshman a route to run.... That's definitely the weirdest part for me, that we didn't have a whole introduction to the season.
Sofia Filippo (Women's Soccer): The overall feeling is just unfamiliar, because as fall athletes, for every fall for your life, you almost don't really have an August because you're preparing for a season. So for our first day on campus to be with the rest of the students, it's been different. It's different not having a game already and practicing only a few times a week instead of six days a week…. Practice times are always changing, and we can't practice as a team. We're practicing in pods, so it's all just unfamiliar territory.
How has communication changed within your respective programs?
Daniel Morales (Men's Soccer): For us, since quarantine started back in March, we've had bi-weekly meetings as a team. It stinks not being able to see everyone as much, but now it's a little easier since we're on campus. [Recently], we held a meeting out by the softball field, but we all split up and wore our masks. We've been doing bi-weekly Zoom meetings, which have really helped.
Filippo: Similar to what Daniel said, we have been doing meetings, as well. Thursday nights were usually our game nights in the fall, so we're doing Zooms every Thursday night just to reconnect. Communication has definitely been completely different, because a big part of your sport is the chemistry with your teammates. So to not really get to fully interact with everyone, especially the freshmen, has been weird because before, you're [typically] hanging in the locker room before and after practice, or you're going to Campion and talking about the practice you just had and the practice for the following day. We're usually always in constant communication, so it has definitely been different. The communication is still there, it's just more virtual.
That's one thing that I love about my team: Everyone is super competitive and engaged. Being back, we will always push ourselves to run harder, work harder, and even out our skillsets on the field. It's nice to have the team back together."
The weight room has moved outside; how is that different for Sparta Science (performance optimization) testing and lifts? Do you feel like it's a bit easier to focus on workouts now that you're back on campus? 
Morales: Just being able to go back in the weight room again is a blessing in itself. It's nice to just be there as a team and be able to do that. As a team, collectively, in just being together and doing the weights and stuff, we're always pushing each other. That's one thing that I love about my team: Everyone is super competitive and engaged. Being back, we will always push ourselves to run harder, work harder, and even out our skillsets on the field. It's nice to have the team back together.
How has the need to physically distance affected training?
Twomey: I have been trying to do runs that mainly go through neighborhoods so I can run in the street as opposed to runs down Montgomery [Avenue] where everyone is really close to one another. It's about avoiding routes where you're super close to everyone and going out with a small group.
Matthew Scarpill (Men's Cross Country): What I have noticed, along with all of my teammates, is that there's really two levels to running with the mask. The first one is just that it's uncomfortable and a little hot, and it's a lot more difficult when it's humid out. But it's for the safety of everyone, and I comply with that and am as proactive as possible. The second part of it is as we run longer and longer distances, we're going to be sweating more…. The big thing within it is just we have to do it. It's more mental than physical, honestly.
Morales: For us, working out was tough with the masks, but the most important thing is just wearing it. Wearing the mask, in general, is so important to the community and being considerate to the community. I think that especially for us, as student-athletes, it's so important that we're seen wearing the masks and using them. Even though it's a little more difficult, it really just stresses that kind of solidarity within the community. We've been stressing to everyone on my team to just constantly wear their masks.
We take it day-by-day and step-by-step; we're not narrow-minded and only thinking about the championship. But in the back of our minds, that's always our goal."
How are you treating this season without games? How will you spend your energy during that time?
Jordan Olenginski (Field Hockey): We talked about it as a team, and we agreed to treat this season as another off-season. We do a lot of work in the spring, like growing as a team, finding our culture and really getting to know all the freshmen. We definitely are going to use this as an off-season and as if we're having a season. If we have the mentality that we don't know if we're going to have a season, then the training is going to be pointless. So right now, we're assuming that we're going to have a season and we're training like it.
Scarpill: The thing with distance running is that it really is a yearly build, and it's really centered around strength. The strength that we build in cross country in the summer is very impactful for our indoor and spring seasons when we start to do more speed stuff. We essentially have to be training as if we were racing cross country, because it is an integral part of our training down the road. 
The idea behind it is don't fix what's not broken. We're really just trying to simulate the season without pushing too hard. Coach [Mike] Glavin has done a great job trying to accommodate that sense of purpose within us by doing some time trials every other week as if we were racing just to make things go as smoothly and effectively as possible.
What are the team goals heading into spring competition? What is one match-up or meet that you hope remains on the schedule?
Filippo: Our team goal has always been to win an A-10 Championship. Even though our season is in the spring, that's definitely still our goal. We're always working towards that. We take it day-by-day and step-by-step; we're not narrow-minded and only thinking about the championship. But in the back of our minds, that's always our goal. 
A match-up that I still would want to happen would definitely be versus La Salle, just because that's such a fun rival. I love a good rival game. It's two Philly schools, really aggressive, and everyone's pretty enthusiastic on the teams. My freshman year, they beat us. My sophomore year, we beat them. It's just a fun game.
Olenginski: Our goals would be to defend the A-10 title, make it past the first round of the NCAA Tournament, and earn a Top 15 ranking, which we've had the past three years. We were really excited for our scheduled game with Syracuse because they beat us last year and it was just a really bad game, so we were looking forward to some payback, but it's not looking like we're going to play outside of the conference.
Morales: Our [goal] is always the A-10 playoffs. Over the years, especially recently, our goal has been to develop this culture and this mindset of holding not only the team to a high standard, but ourselves, as well. I can't even begin to say how great the guys on the team are right now and how proud I am of the way they've stepped up. I view all of them as leaders. With that said, our mindset is huge this year. That's a huge goal for us, to keep that mindset, to believe that we can beat any team.