Saint Joseph's Rower Deepens Puerto Rican Ties Through International Competition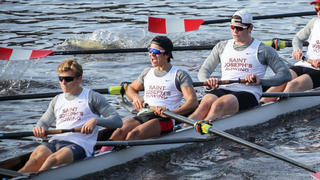 Puerto Rican native Rodrigo Miranda '24 moved from San Juan to Miami, Florida, with his family when he was just four years old. Now a sophomore at Saint Joseph's University, he feels more connected to the island than ever before.
"Being with the Puerto Rican community at Saint Joseph's is a way to connect with the island, which feels like home, even though I never really lived there beyond my childhood," Miranda says.
In his first season, rowing for Miami Rowing Club, Miranda felt discouraged, "Motivation was hard to come by and everyone was just bigger than me … I wanted to quit after freshman year." 
But his dad offered him some encouragement:
"He told me, 'Look, Puerto Rico is a small island, rowing isn't as big as these huge European countries, so it should be easier to make a team if that's something you're interested in. Maybe try rowing another year, go train with the team for a little bit and see what you do," Miranda recalls. "So, I listened to him and it was probably one of the best decisions I could have ever made."
The following year, after a growth spurt and intense training, Miranda ended up winning states and qualifying for nationals, placing top 10. Shortly after, he began training with the Rowing Federation of Puerto Rico.
Finding a Home on Hawk Hill
Saint Joseph's came on Miranda's radar as he looked for schools with rowing programs and was introduced to the school by his dad's former boss. He wanted a school that would have a diverse community like where he grew up in Miami.
"Saint Joseph's was very appealing to me because I knew that there was a big Puerto Rican community there," Miranda says, "I moved away from Puerto Rico when I was really young, so I never really got to make those connections in the island."
Coming to Saint Joseph's this past fall, Miranda continued international competition. He placed fifth at the Junior Pan Am Games in Cali, Colombia, and most recently competed at the World Rowing Under 23 Championships in Varese, Italy.
On the Hawks rowing team, Miranda is joined by sophomore Nicolas Leon and junior Diego Viega De Roovere who attended Mast Academy in Florida along with Miranda. He has also made connections with Puerto Rican students who come from different high schools all across the island. 
Building Ties with Puerto Rico
In recent years, Saint Joseph's has seen a growth of students from Puerto Rico. As the University positions itself as a nationally recognized university with a diverse student body, it has continued to attract students from the U.S. territory.
"Saint Joseph's has been an attractive institution for students from Puerto Rico for a number of years, and we have been committed to continuing and extending that pipeline," says Karen Pellegrino, University's vice president for enrollment management. 
"I think there are a number of things that make SJU attractive to students from Puerto Rico. One is our Jesuit heritage. We are popular among students from Colegio San Ignacio de Loyola, as well as with students from other Catholic and private high schools. The strength of the preparation that we offer students, especially in business and the natural sciences, also draws students. And finally, the strength of our alumni network in Puerto Rico," Pellegrino says.
Beth Missett, director in the Office of Advancement, notes the passion Puerto Rican students and alumni have for Saint Joseph's.
"It's unbelievable the loyalty they have to the University." Missett says, "They make us better, and to have them continually support St. Joe's, we owe it to them to thank them for the commitment they've made."
The Puerto Rico Alumni Chapter is one of the strongest of the Alumni Association. Last spring, they hosted the first alumni party and over 100 former students attended.
Now, the Alumni Association is establishing a Young Alumni Chapter in Puerto Rico and creating a scholarship, supported by Puerto Rican alumni that will give financial aid to a Puerto Rican high school graduate.
"It is an island where everyone knows everybody," Missett says. "A lot of the currently enrolled students, if they're not a child of an alum, they're the niece of an alum or they're the neighbor of an alum," Missett says. "Our word of mouth about the experience that they receive here and the support is growing this community."
Competing on the International Stage
Miranda is looking forward to his next visit to Puerto Rico now that he knows many more fellow Hawks on the island who he considers friends. He also looks forward to his next major international event, the Central American Games, where he will represent Puerto Rico.
"It's one of the best feelings in the world to have your country's flag on your chest and knowing that you're representing your country, but not only your country, you're also representing your school," Miranda says.
For Miranda, rowing and the community at Saint Joseph's has deepened his ties with his home country. His ultimate goal is to compete under the Puerto Rican flag in the 2024 or 2028 Olympics.
"It's such a small island, everyone's very proud of where they're from, so when an athlete wins anything, they become an instant celebrity,'' Miranda says, "And that's not really what I'm looking for. I just like feeling proud."
Are you a Puerto Rican alum who wants to get involved? Please contact Beth Missett, director in the Office of Advancement.