Overview
Effective visual communication is vital in today's world. With an interdisciplinary study in communications, media studies, marketing and the arts, Saint Joseph's University's Graphic Design minor will prepare you with the skills you need to be successful in the fast-paced, dynamic field of media communications.
WHAT IS A GRAPHIC DESIGN MINOR?
While studying graphic design, you will develop skills in visual organization, information hierarchy, branding and typography. You will develop an understanding of principles of color and composition and idea generation using industry-standard graphics software such as Adobe InDesign, Photoshop and Illustrator. Students will also learn creative problem solving and the role of design in society and business.
WAYS TO STUDY GRAPHIC DESIGN
Many students at Saint Joseph's University include a minor, double major or multiple minors in their undergraduate studies. The Graphic Design minor is often selected by students pursing a career in design and media. The six-course requirement for the minor can easily be paired with any major and other minors, broadening students' areas of expertise. Students who minor in graphic design often have an interest in these majors:
Art
Business Administration
Communication
Media Studies
Marketing
WHAT CAN YOU DO WITH A MINOR IN GRAPHIC DESIGN?
Having an interdisciplinary background in art, communication and marketing tactics and strategies will help you land your first job—and every job after. Graduates with a minor in graphic design often go on to to graduate programs to earn degrees such as M.S. in Marketing, MBA or MFA in Graphic Design, while others go on to pursue the following careers:
Advertising
Graphic designer
Video producer
Marketing manager
Social media manager
HOW WILL SAINT JOSEPH'S UNIVERSITY PREPARE YOU FOR A CAREER IN GRAPHIC DESIGN?
When you choose to include a study of graphic design in your Saint Joseph's education, you open yourself up to a multitude of opportunities and experiences to help prepare you for a career, whether you choose a creative route or a business-minded path. Students have access to graphic design internships and other opportunities across disciplines that will help them build their experience for securing employment after graduation. The Capstone class for this minor is focused on servicing the design needs of an external client in a real-world design studio scenario, building your graphic design portfolio and preparing you for job interviews.
Faculty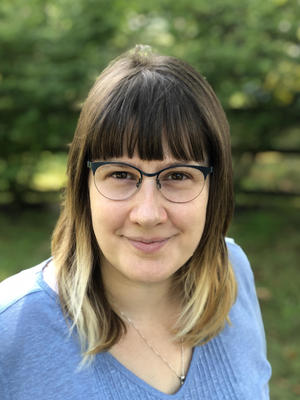 Assistant Professor of Art