Overview
The Master of Arts in biology program at Saint Joseph's University is designed for students looking to advance their careers and opportunities across many professional settings. The Biology MA program exposes you to all levels of biological organization, from the sub-cellular to the broad ecosystem. With a master's in biology, you receive an education and training in specialized fields of biology, preparing you for career opportunities in teaching, research, corporate settings or professional practice.
What is the Biology MA?
The Biology MA program at Saint Joseph's University is designed to enhance and refine your knowledge in the discipline of biology for career growth, covering topics such as advanced cell biology, biochemistry and microbiology.
MA vs. MS in Biology: What's the Difference?
Saint Joseph's University offers two graduate biology programs that either lead to a Master of Science or a Master of Arts in biology. While both programs provide graduate students with advanced training in a broad range of subjects within the life sciences, the Biology MA is designed for full- and part-time students and does not require a thesis project. However, MA students are strongly encouraged to participate in original research with biology faculty members to refine their skills as scientists.
Additionally, all students in the MA in biology program must take BIO 550 Research Techniques and at least one course from two of the three broad categories of biology:
Evolution and Diversity
Cell Structure and Function
Systemic Organization
Saint Joseph's biology grads were about twice as likely to be employed in STEM jobs compared to national averages*
Flexible Biology Courses: Part-Time or Full-Time
You can choose to pursue your Master of Arts in biology on a part-time or full-time basis. While most classes are offered on our campus in Philadelphia, some courses are also offered in an online format. Whether you choose to take a class online or on campus, you will have the same curriculum, assignments and instruction from expert faculty. Work at your own pace by choosing one, two or three courses per term.
The Department of Biology features extensive biology coursework for graduate students in areas such as:
Advanced Cell Biology
Immunology
Biochemistry
Bacterial Pathogenesis
Microbiology
Neurobiology
Physiology
Histopathology
Comparative Anatomy
Animal Behavior
Bioinformatics
What Can I Do with a Master of Arts in Biology?
As a master's student in biology, you will have the opportunity to conduct research that will prepare you for careers in the following fields:
Cell biology
Environmental and molecular microbiology
Behavioral genetics
Neuroscience
Mycology
Paleontology
Ecology
Evolutionary biology
Animal behavior
Work in Our State-of-the-Art Biology Laboratory
Conduct research alongside expert faculty members in Saint Joseph's state-of-the-art labs alongside expert faculty members. The Department of Biology is housed in the Science Center, which is well-equipped for research and includes major equipment such as transmission, scanning and confocal microscopes, tissue culture facilities, an extensive vivarium and sophisticated plant growth chambers, as well as a rooftop greenhouse and experimental green roof.
Accelerated Master's Degree in Biology
Undergraduate students enrolled at Saint Joseph's University with majors in biology or environmental science may be able to complete a combined five-year B.S./M.A. or B.S./M.S. degree. If you are interested in the 4+1 degree program, contact your advisor early in your undergraduate academic career.
How Will Saint Joseph's University Enhance Your Career in Biology?
One of the distinctive qualities of Saint Joseph's University's graduate biology program is the opportunities available for you to develop mentor relationships with faculty and staff and participate in the design and execution of their research. In your assignments and lab work, you are encouraged to bridge scientific interests with social justice, in alignment with the mission of Saint Joseph's University.
Program Director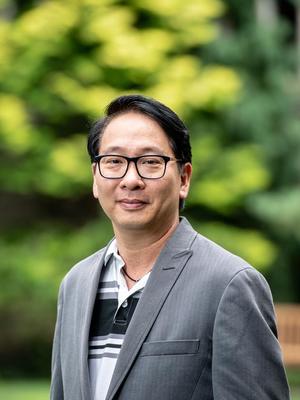 Associate Professor, Director of the Biology Graduate Program
Science Center 125
610-660-1888
At-a-Glance
Length
24 months
Start Terms

Fall and spring

Format
On campus
Credits and Fields of Study

Biology M.A.: 32 credits

Fields of study: Molecular Biology, Microbiology, Environmental Biology, Anatomy, Animal Behavior, Plant Biology, Physiology, Developmental Biology, Computer Modeling, Mycology

Full-time

9 credits per semester

Part-time
6 credits per semester
Tuition for 2022-2023

$941 per credit; $250 lab fee (per course)

Average Class Size

10 students in each course.

Admission Requirements and Work Experience

GRE test scores and work experience are not required for admission into the Biology M.A. program. Graduate Admission can provide more information about the admission process and required materials.

Graduate Biology Department Features

Learn more about the biology department's graduate program, student testimonials and fields of study.

Potential Career Paths

A Master of Arts in biology prepares graduates for science-related careers such as:

Ph.D. and medical programs
STEM professions
Science education

Graduate assistantships

Biology graduate assistantships are offered on a limited basis. Qualified students may find employment as assistants in introductory undergraduate laboratories. Please contact the program director for availability.

International Students

This program accepts candidates from across the globe and qualifies international students for Optional Practical Training (OPT).

Discount Eligibility

Alumni of Saint Joseph's are eligible to receive 10% off the cost of this program through our 

alumni discount

.
Completed a year or more of service with a recognized service organization? You may be eligible for our mission discount. 

Check with your employer to see if they are an Edcor or a Bright Horizons EdAssist member, which may entitle you to a discount on graduate programs. 

Note: discounts cannot be combined.

Veterans

Saint Joseph's is a yellow ribbon school that accepts GI education benefits. Our Office of Veterans Services can help you access and understand your benefits.
The Biology MS program at Saint Joseph's University is designed for students looking to complete their Master of Science in biology by enrolling in a full-time program that is focused on factual knowledge and professional growth as a skilled scientist.
The Clinical Mental Health Counseling MS program at Saint Joseph's University will prepare you to work as a licensed counselor serving clients, including individuals and families, who struggle with addiction, relational difficulties, self-harm, thoughts of suicide and mental health disorders such as anxiety and depression. The 60-credit program includes 700 hours of supervised fieldwork and an optional built-in certificate in addiction counseling.